Francesco Francavilla Athlete Posters – Celebrating Black History Month To The Olympics And Beyond
The Olympics come around every few years to remind us about the best of the best when it comes to sports. It's inspiring how people will push themselves in the pursuit of sport, and we're fortunate enough to sit on the sidelines (or on the couch) and watch them do it. One artist has dedicated Black History Month to creating art that highlights Black athletes who made history. The Francesco Francavilla athlete posters serve as a reminder of how many incredible Black athletes weren't just pushing the limits of their bodies and minds but also forging a way for future Black athletes to do their best.
Black Athletes Who Made History Posters By Francesco Francavilla
Francesco Francavilla is a creator and comic book artist with a unique retro-inspired style of art. In addition to co-creating series like The Black Coat and working for companies like Marvel, Francavilla takes to social media to put a spotlight on important movements and months. To celebrate Black History Month, Francavilla has been releasing digital posters that highlight Black athletes who made history at the Olympics and elsewhere. A new poster has been released each day in February 2022.
The first athlete highlighted is Jack Johnson. As shared in Francavilla's post, he was the first African-American man to hold the World Heavyweight Champion title in 1908 for boxing.
Another inspiring athlete featured in Francavilla's posters is Bonnie St. John. She is a former Paralympic skier, having had one of her legs amputated below the knee at the age of 5. Despite the challenge, St. John is known for being the first Africa-American to win medals at a paralympic event. She holds three medals (a silver and two bronze.) In addition to these inspiring feats, St. John went on to graduate from Harvard and has written six successful books.
The remaining posters feature athletes including Olympians, Athletes Of The Year winners, record-breakers, and other changemakers. Other highlighted names include Florence Griffith-Joyner, Fritz Pollard, Gabby Douglas, and Willye White.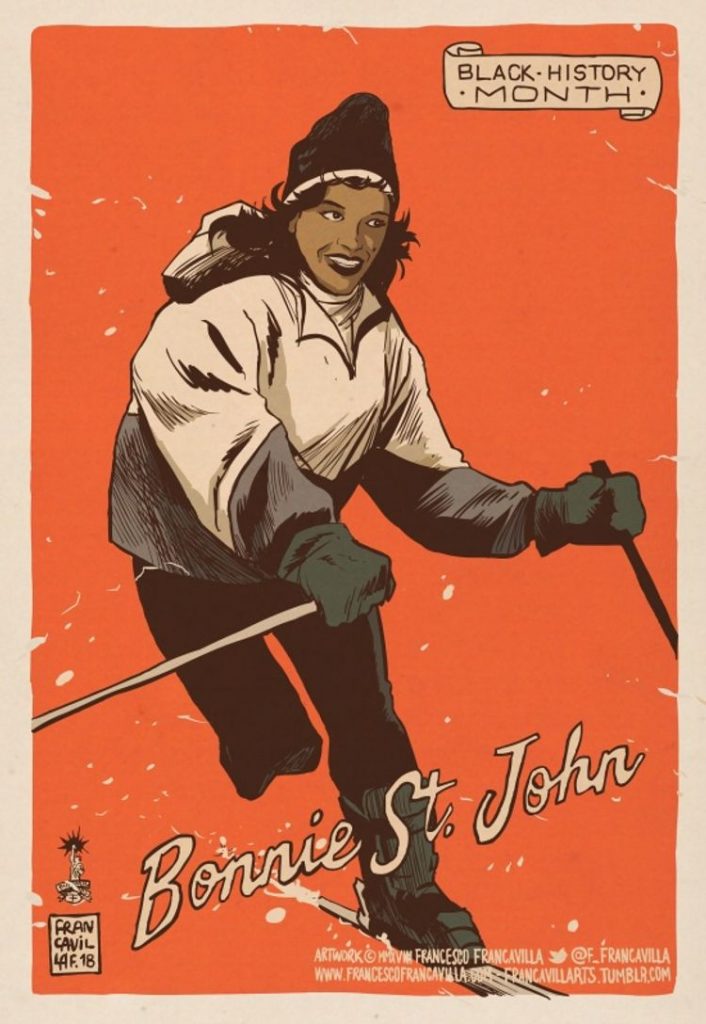 Image by Francesco Francavilla via Twitter.
Why These Posters Of Athletes Matter In A Month Of Black History And The Olympics
It's easy to forget just how recent many "firsts" are for Black athletes. Some of the posters feature changemakers from a century ago. Others are far more recent. For example, Olympian Gabby Douglas is featured in the Francesco Francavilla athlete posters. As explained in the caption, Douglas was the first African-American woman to win an all-around gymnastics competition at the Olympics when she was 16. This was only a decade ago, at the 2012 London Olympics. Black individuals continue to set historic "firsts" in all fields, especially sport.
Art pieces like these remind us of the beauty in sport and perseverance, while also highlighting how having people to look up to that look like you can change the world. Each athlete is not just competing for themselves, but for the younger generation watching them on television and in the news and wondering if they can be great like them. Diversity within these athletes helps even more people know that they can achieve greatness, too.
JACK JOHNSON
The first African-American man to hold the World Heavyweight Champion boxing title in 1908. He held onto the belt until 1915.#BlackHistoryMonth #BlackExcellenceInSports #Day1 pic.twitter.com/x2SMNRkaH6

— Francesco Francavilla (@f_francavilla) February 1, 2022
Francesco Francavilla Continues To Release Black History Month Posters Online.
Readers, what Black athletes who changed history are the most inspiring to you? Did the Francesco Francavilla athlete posters teach you anything new about Black athletes at the Olympics or elsewhere? Drop your thoughts in the comments and let us know how you're celebrating Black History Month.
Featured image via Francesco Francavilla on Twitter.
Meghan Hale is the kind of movie lover that has a "must watch" that is a mile long... and growing. When she isn't talking about the latest film and television news she is writing one of her many in-process novels, screaming film trivia at anybody who will listen, and working as a mental health care professional. Follow her on Twitter @meghanrhale for some fun theories and live reactions to all things entertainment.
Leave a comment