(EXCLUSIVE) After Surviving Brain Aneurysm, Erik Jensen is Ready for His Broadway Debut
Upon completing the Bachelor's program of Fine Arts in the early 1990s, Erik earned his debut role in the 1991 movie titled 'Dead and Alive: The Race for Gus Farace'. As small as this role might seem to many, Erik's career took off quickly after his debut appearance. We had an amazing opportunity to have an interview with the eminent actor, writer, and director Erik Jensen. 
Who is Erik Jensen?
Starting his acting career back in 1991, Erik has earned himself a status of a well-respected actor over the course of these 30 years. He started his career by doing smaller roles in movies such as 'What She Doesn't Know', 'Striking Distance', and 'Inflammable'. 
The year 2001 is a turning point in Erik Jensen's career. Accompanied by his wife Jessica Blank, he worked on his debut screenplay. Their work titled 'The Exonerated' changed the course of the film industry after its' 2002 premiere. It tells the story of an innocent man facing a death row punishment. 
From then on, he collaborated with many great actors in several TV series such as 'Modern Love', 'Quantico', 'Mr Robot', and of course, his latest work 'For Life'. Read the details from our interview with Erik Jensen.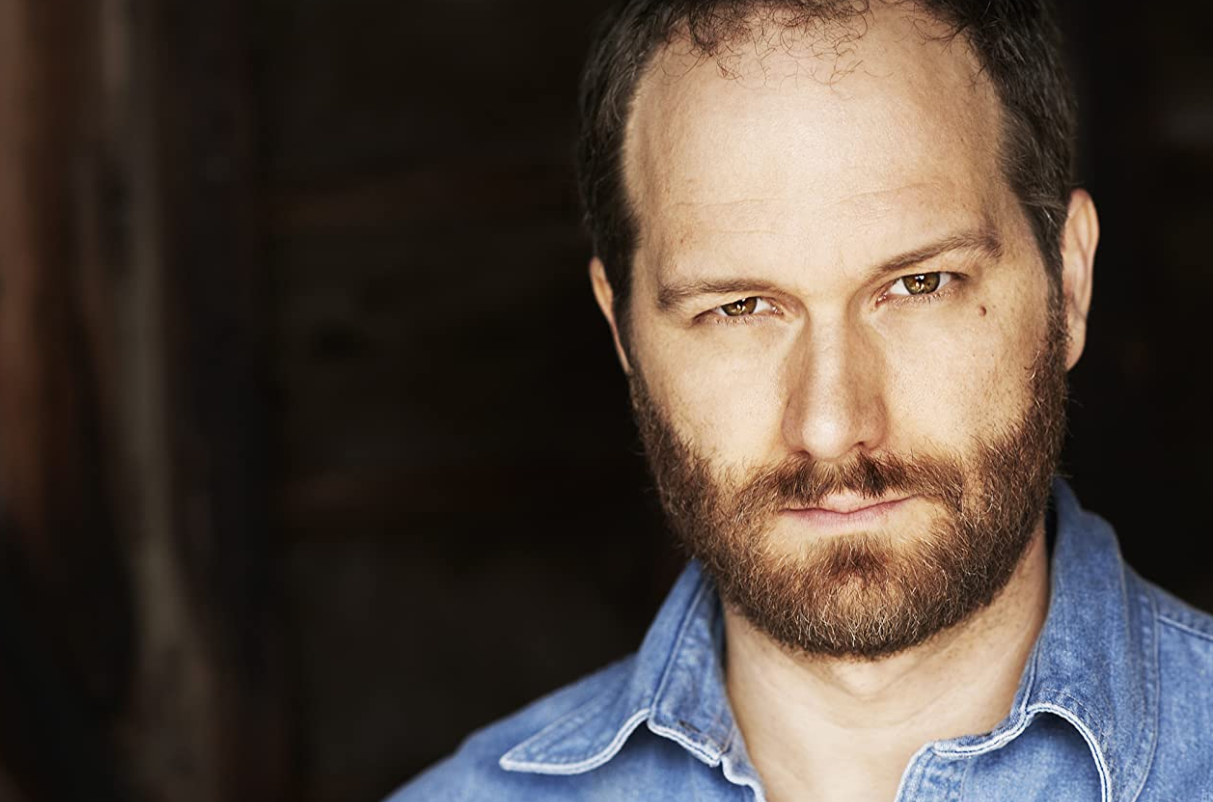 Erik Jensen, photo by Peter Konerko
Comic Years' Interview with Erik Jensen
Q: Let's start with your most recent performance in the 2020 series 'For Life'. The series follows a prisoner who faces a life sentence for a crime he didn't commit. For those following your work, this clearly resembles 'The Exonerated', which you and Jessica worked on together. 
Erik Jensen: "For Life" was a show led by the brilliant actor Nicholas Pinnock, inspired by the real-life experiences of Isaac Wright Jr. (who was railroaded into jail by a corrupt system). Mr. Wright, while incarcerated, taught himself law in order to secure his own release. It was an honor to play a part in telling the deeper truths of that story. And Nicholas is now one of my best friends. We just visited him in London and we recently partnered on something Jess and I are writing for him.
On "For Life" We had two seasons to see the court system from the perspective of a family deeply affected by being caught in the machine. Its not just one person. It's everyone that person knows. When you are innocent, or simply have a case that exhibits reasonable doubt— your situation during and after the proceedings doesn't matter in the eyes of the courts.
Your entire life gets chewed up a piece at a time. Family, money, and freedom. Those are the things that a massive court case will threaten to take from you. Those are the stakes, and those are the things you will lose if you don't "play ball". Thus the pressure to "cut a deal" by pleading guilty to something you didn't do is intense and perverse.
Based on the raw numbers it's clearly racist as f***. Our collective denial of that is disturbing to me as an artist and citizen. In that way "For Life" mirrors "The Exonerated" in terms of showing the dirty underbelly of our justice system. If we don't know what's broken we can't fix it. As an old friend said to me: You don't run around saying "What's right with my car?!" What's wrong with it is what you have to deal with.
Playing a conflicted DA with a clear character arc toward real justice was also refreshing and deeply gratifying. Because my Grandfather was a cop, and my Great-Grandfather was a county Judge. I came to my personal understanding of how the system actually works pretty slowly. But I also felt like, generationally, I had something to make up for. So, my current feelings about many (not all) police officers and prosecutors have probably disqualified me from jury service a few times.
My deep belief, and this comes from meeting people like Mr. Wright and interviewing 40-some formerly incarcerated people for our "verbatim play" 'The Exonerated" …. My deep belief is that our current system was formed to control certain populations. It was born in slavery and continues to be used to threaten, intimidate, and to hold power. Who benefits? I think we all know the answer. Or are in denial of it. You can read about how we made "The Exonerated" in Jessica Blank's and my sort-of-biography "Living Justice". You can also read about the impact of the play on former Gov. George Ryan in his book about ending the death penalty in Illinois called "Until I Could be Sure".
Erik Jensen and Paul Bettany, photo by Jeremy Daniel
Exploring the Sci-Fi genre: Podcast with Erik Jensen
Q: You've been actively taking on roles in crime dramas since the 1990s. Are there any other genres you would love to explore as an actor?
Erik Jensen: Sure. I was in a Ron Moore project with Nikolai Coster-Waldau (Game of Thrones) and Clea Duvall (in everything I love) called Virtuality that got great reviews but, sadly, didn't get a pickup. It stands on its own as a really great 2-hour science fiction movie. Right now, I'm really interested in Dystopian shows like 'Station Eleven', and fantasy/sci-fi projects 'Lord of the Rings', 'Star Wars'. I'd do anything like those given the chance.
I think this experience of being on Broadway with an "Avenger"—being Avenger adjacent– does not suck either. I grew up reading everything Stan Lee and Jack Kirby ever created so to find myself on the boards with Paul Bettany just tickles the hell out of me. (Not to mention making me a friggin hero in the eyes of my daughter.) But being a writer too has scratched the itch of being able to play in whatever genre floats my boat. 
I'm a big sci-fi nerd and wrote a Graphic Novel called "The Reconcilers" a few years back. Aintitcoolnews gave us an excellent review. And as our cover artist, the late LEGENDARY Neal Adams had this to say about working on the project.
The Reconcilers was my tribute to James Cameron's "team" movies like 'Alien' and 'The Abyss' and a nod to the science fiction trope of "Arena Battle for Power" popularized in the original Rollerball and the Hunger Games.  I'm influenced by Alan Moore, Jack Kirby, and Neal (obviously) and tried to give 3 dimensionality to flawed people portrayed on the page. Also, my characters were largely working class which comes from my roots so I was writing from the heart about that struggle under cover of some beautiful artwork by Shep Hendrix.

Erik Jensen's Graphic Novel 'The Reconcilers'
I'm also a giant lifetime Dungeons and Dragons guy and in addition to running a 4-year-long game, I co-host a show called "Bardquest Empire" about storytelling and Dungeons and Dragons where we interview industry folk: actors, musicians, showrunners, game designers, and storytellers like Scott Gimple from "The Walking Dead" about D and D and how it affected and continues to inform their work. Come late February/March my acting schedule opens up again so we'll see what comes up. No doubt it will be a surprise. It always is.
Upcoming Documentary Project
Q: Please give us a sneak peek regarding your upcoming project Behind the Glass AKA from the Other Side of the Glass (2023). How does it feel to be in the director's chair?
Erik Jensen: Heh heh. Well, "Behind the Glass" is a documentary my wife and I are directing about fabled sound engineer Eddie Kramer who was Jimi Hendrix's right-hand man behind the boards and helped build Electric Lady Studios. He also worked with KISS, Led Zeppelin, John Lennon, Bowie, The Beatles, The Kinks, Carly Simon, Clapton… I could go on and on.
For over half a century this guy has been finding the sound in artists' heads and helping them capture that sound. Eddies is one of my favorite people. We've done 50-plus hours of interviews already and once we hit spring we're hoping to get him into Electric Lady and walk us through the Hendrix and Zepp songs he recorded. I just LOVE talking music with him. His story totally deserves to be heard as LOUDLY as possible.
We're going to do the doc thing as docs are done… but I've recently run across an animator whose work I really like so we might get to put some of that animation to music. Animation direction is where it's at, baby!
The effect of Brain Aneurysm
Q: Can you briefly tell us how this whole situation with the brain aneurysm affected you? 
Erik Jensen: Yeah. I had what's called a "subarachnoid hemorrhage" in my brain in February. It was really scary. Basically, I was sitting at home on my couch doing a talk therapy thing online and I told my therapist "I have a headache" and I passed out.  Just completely out. She called an ambulance and our production associate let the ambulance guys in and they rushed me to the closest hospital.
My wife, who was rehearsing our play "Coal Country" at the time, left rehearsal and met up with me at the worst hospital in New York. She had to pitch a fit for 4 hours just to get me a simple CAT scan. Once the scan came in they woke the hell up and sent me to a better hospital.
I'm completely recovered now but this kind of thing kills 50 percent of people who get it. Of the 50 percent that survive, 80 percent have some kind of physical or neurological struggles. I had none of that. I'm the exception not the rule. I'm very fortunate to be alive. No issues since. Almost being "called home" as they say, has really changed me in ways I can only begin to describe. I don't hold alotta grudges, I'm deeply in love with humanity, I 'm more careful about who gets my time, I'm a better Dad, and I think more gracious with my wife.
God set my bucket aright and kind of said "Now what are you gonna do?" I guess the answer was "For starters, let's do Broadway." Working with people at the top of their game every night is my reward for becoming a better person maybe?  I don't know. I'm not the only person who has had this kind of experience. It's been almost a year. Whatever effect it had is sticking.
Family Project: Filming with Wife and Daughter 
Q: The next thing that interests us is your recent hint about your daughter's career. She is an aspiring young actress now. How does it feel to see her grow as an actress?
Erik Jensen: Yeah, my daughter wants to be in the family business. She had a bunch of callbacks for a big genre show last year and it was supposed to be a one off but she's a good actor just from being around all the wonderful people we get to work with. She's a quick learner and the cam loves her so why not. It's an honest living provided you stay away from the creepier sides of Hollywood.
In any event, Jessica and I just wrote a micro-budget indie for our daughter, and we are gonna play Dad/Daughter in the film. The working title is "Rebel Girl" (as in (Riot Grrl) but that'll probably change. It's about a Brooklyn kid who travels with her Dad to the Midwest to meet her extended family for the first time.
My wife and I created the script (with our friend Han Shan) and we'll be directing. We think we'll shoot in August provided we get the financing in time. Our first film was a cool little indie so it's familiar territory. It's gonna have a ridiculously good soundtrack.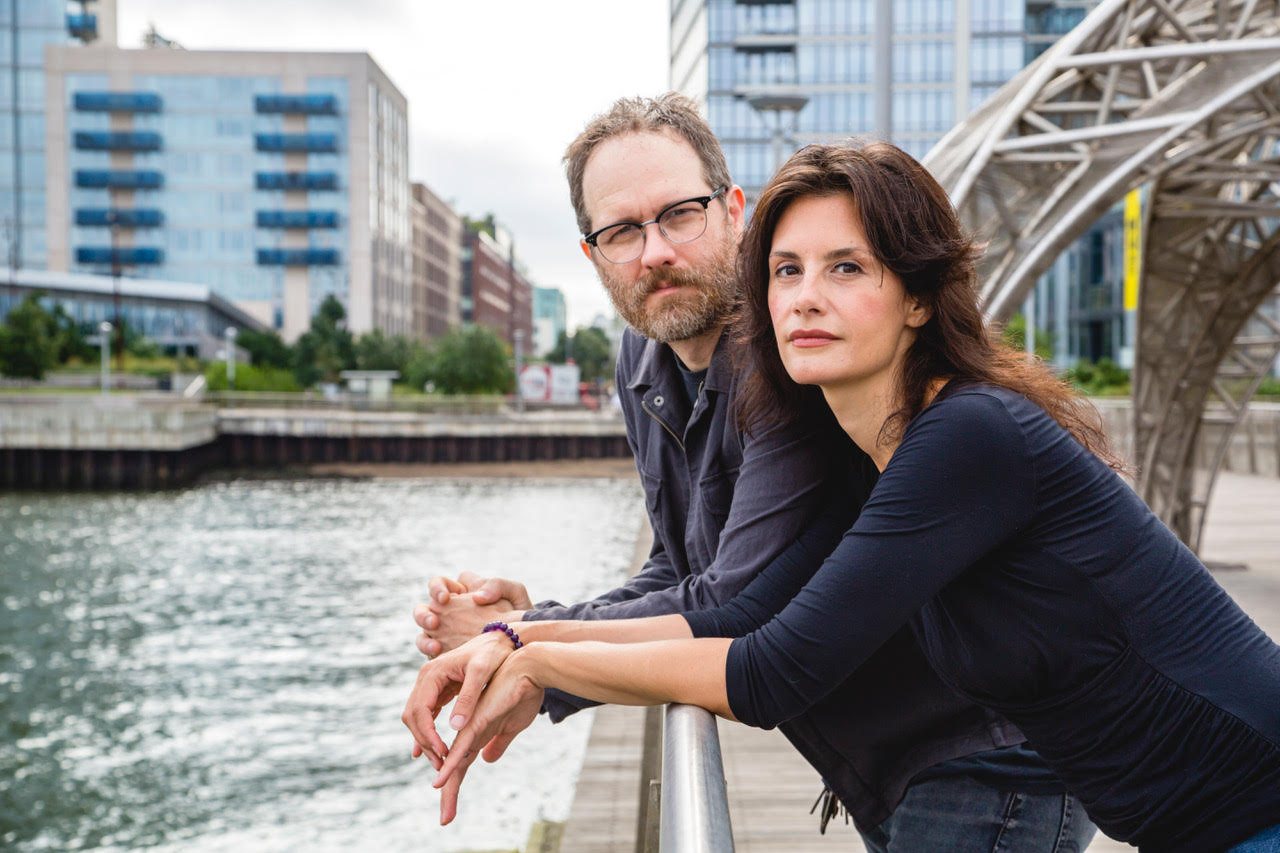 Erik Jensen and his Wife Jessica Blank
Stepping onto the Broadway Scene
Q: Apart from many directing and writing projects you have going on, you recently stepped onto the Broadway scene yourself. 
Erik Jensen: I'd been Broadway adjacent several times but nothing I was in had really clicked. Either my schedule would get jammed up with TV/Film or the show didn't quite get there. I had one truly awful experience with an abusive director that killed my desire for a while. But, aside from that I had sort of resigned myself to the fact that I was an Off-Broadway downtown type in terms of doing theater. And that seemed fine.
But I really met "my people" on this show. Director Kwame Kweh-Armah, writer Anthony McCarten, actors Krysta Rodriguez, Jeremy Pope, Paul Bettany. These are committed artisans. Committed to deep explorations of human behavior. Storytellers. I think maybe I thought that Broadway was less prone to hosting these types of artists because of the commercial nature of the Big Glitzy Beast. But I was wrong wrong wrong. So that's certainly a view that changed.
I had made this big sweeping judgement about something out of bitterness and really deprived myself of a new perspective. I think my brief encounter with death helped alter that assumption. And daily, I am grateful to the entire cast and crew for their individual commitments. They set a high bar which I finally had the power to reach. (Some nights I even jump over it.) I think the future will be filled with more artistic challenges and consequently more fulfillment. 
Future Career Goals
Q: Finally, what are your plans when it comes to your career? Are you planning on doing more directing and, perhaps, less acting in the near future?
Erik Jensen: NO way. Acting is an important part of my life. In the immediate, while acting on Broadway, I have a gig writing for David Simon (The Wire) , another with Ed Burns (also The Wire), and another TV thing with Tom Fontana (Oz). Like I said, I'm doing a movie with my wife and daughter later this year and while all that is going on we're prepping the Lester Bangs biopic "How to Be a  Rock Critic".
At times it feels like spinning plates but having a partner like Jessica Blank makes the work flow regardless. Despite all that I'm not gonna turn down another Broadway gig or a series or anything. It's been too much fun. We always find a way to make it work.
I'm a hyphenate. We have to be unapologetic about that. It's just how it is. I just have to accept that I'm cooking whatever thing is on the front burner. I really admire artists like Stephen Fry, Terry Gilliam, Tom Waits (and the late John Cassavetes) who do a bit of everything and don't attach labels to it. When I'm playing guitar or mandolin, for example, I don't suddenly stop using my left hand because the world has defined me as right-handed. I don't stop keeping time with my foot.
What artistic impulse am I supposed to cut off so I fit someone's definition? I think I've finally accepted that my job as storyteller, by necessity, must take many paths. The secret is knowing which lane you are in at any given moment. The other secret is love. Love everyone all the time. And mean it. Sincerely.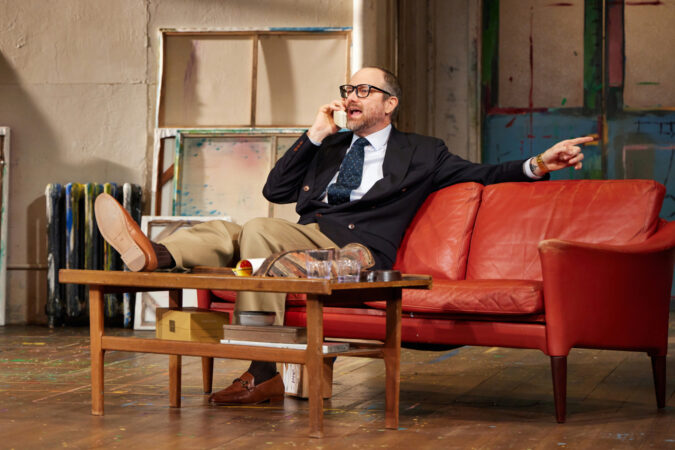 Photo by Jeremy Daniel
With that fantastic advice from Erik Jensen, we concluded our interview. Surviving a brain aneurysm may sound horrific. However, Erik found a silver lining in the entire situation. Having stepped on Broadway, he will continue to erase the boundaries for all the artists out there. We can't wait to see his upcoming documentary 'Behind the Glass', as well as the indie project 'Rebel Girl', in which he will play alongside his daughter.
Obsessed with anime, all-things magical, collecting rare editions and funko pops, Natalija is a young writer who strives to read every comic and manga out there!
Leave a comment