Man Camps On Disney World's Discovery Island, Gets Arrested
Have you been thinking about just how many places are empty right now? With a global pandemic going on, plenty of high-traffic attractions are closed. From tourist attractions to museums, all the hot spots are rid of people. Now, how neat would it be to get to visit these places and be all alone? It's a fun fantasy to have, but we all know that it can't happen. After all, things are closed because of the coronavirus, not so that people get to solo visit. However, one Disney World fan took that fantasy a little too far. A man was recently arrested for being on the Walt Disney World's Discovery Island location and was reportedly camping.
Man Gets Arrested For Camping At Disney World
The man arrested, Richard McGuire, is 42-years-old and from Mobile, Alabama. A pretty impressive search team, made up of Orange County officers using boats and helicopters, eventually found the man inside the Discovery Island location. He had been on-site for at least a few days before being found, sleeping inside one of the buildings. His excuse? He didn't realize that he was trespassing. But, if you were all alone in Disney World, you'd have to know that something was too good to be true.
In case you've considered wandering into a now-empty attraction, think again. McGuire was not only charged with a misdemeanor for trespassing but was also banned from Disney properties all over the world. So, a few days in paradise may not be the wisest move.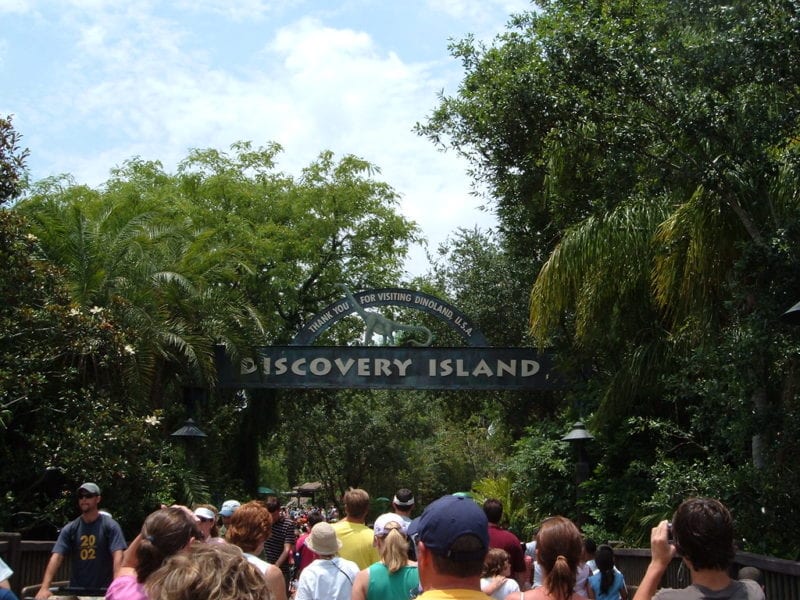 Crowded parks seems like a distant reality now. Image via Michael Gray.
A Temporarily Closed World
More than 50,000 guests visit some Disney World locations every single day. When you think of how long the park has been closed for, that's a lot of fun missed out on! While it's a shame that plenty of visitors had to cancel or postpone their vacations or daily getaways, we know that it's for the best. Such a busy place would be bound to spread a virus quickly if any attendee was infected.
The re-opening of Disney properties will be interesting. Disney World is located in Florida, while Disneyland is in California. Since the two parks are in states with very different plans, it's tough to predict when each will open. Though, if either park does open in the coming months, we're sure to see some serious social distancing rules set in place. Hopefully, Disney World has arrested its last man for trespassing, and until the parks re-open, we'll probably just be watching Frozen 2 on Disney+.
Featured image via Michael Gray.
Meghan Hale is the kind of movie lover that has a "must watch" that is a mile long... and growing. When she isn't talking about the latest film and television news she is writing one of her many in-process novels, screaming film trivia at anybody who will listen, and working as a mental health care professional. Follow her on Twitter @meghanrhale for some fun theories and live reactions to all things entertainment.
Leave a comment