DC Artist Robson Rocha Passes Away at 41, Due to COVID-19
If you've read any DC Comics since the New52 started, chances are, you've seen Robson Rocha's art. His credits include Green Lanterns, Aquaman, Batman/Superman, and a few dozen covers. You might have even used one of them as your phone's wallpaper. At just forty-one, he was a fast-rising star. He's also one of the youngest creators to get an exclusivity offer from a major comic book company. He was also an artist's artist. Sadly, we've learned today, that Robson Rocha, one of the most brilliant DC artists of the past decade, passed away from COVID-19 complications.
Fellow DC Artist, Jim Lee, Announced the Death of Robson Rocha With a Beautiful Tribute.
It's one thing to get DC publisher Jim Lee to handpick your work, but to become friends with him? That's impressive. After Robson Rocha started his artist tenure at DC Comics, Lee wanted to work more and more with the young talent. It wasn't long before Robson was a go-to cover artist, and penciling interiors for major franchises. It also fell to Jim Lee to announce Robson's passing to the world:
…the grace of his lines and the power of his compositions. My condolences first and foremost to his widowed wife and daughter, his many peers who admired and respected his talent, and the countless fans around the world who loved and cherished his art. #RIP #robsonrocha

— Jim Lee (@JimLee) July 11, 2021
Some of his best work was just this year, in DC Future State Week two and six, where he brought the new Justice League to life.  However, his work, both what he's accomplished professionally, and what he's just drawn for fun to post on Instagram, is always incredible. And we can see just how powerful his art is thanks to the many fans and colleagues posting their favorite work from Robson Rocha, some as a DC Artist, and some as just a guy with a pen:
So sorry to learn that Robson Rocha left us today. RIP Robson. So young and early… My condolences to his family, his loved ones and all his fans… ❤️ pic.twitter.com/pbyDUrX8aW

— Yildiray Cinar (@ycinar) July 11, 2021
RIP #robsonrocha . A brilliant artist. A terrible loss at a young age pic.twitter.com/lEWGFKDKKd

— Kevin Conroy (@RealKevinConroy) July 12, 2021
Having to change the cover you were thinking about using all day because of the untimely death of one of the modern greats is heartbreaking.. When this cover was released I instantly fell in love with it. RIP #robsonrocha pic.twitter.com/lO7TbyyZQG

— Seeking Superman (@TheGlenClark) July 12, 2021
#robsonrocha was a very fine artist. A penciler of great beauty and depth far beyond any an Aquaman cover he drew. His fluidity knew no bounds and if he had lived, he would have morphed into one of the greats.

My heart goes out to his wife Jussara Perdigao the kids, his family pic.twitter.com/HBlurs0rmB

— Jewel Shepard (@Jewelshepard) July 12, 2021
Always so horrible hearing of people passing, sad weekend for comic fans. Rest in peace Robson😖✌#RobsonRocha pic.twitter.com/kPymncSojm

— Cap ⍟ (@CapsComics) July 12, 2021
Thor by Robson Rocha#Thor pic.twitter.com/IJ98zfuPzg

— Rob Rogers (@theaginggeek) July 12, 2021
Wonder Woman by Robson Rocha #WonderWoman pic.twitter.com/ItwGlyNvIb

— Rob Rogers (@theaginggeek) July 11, 2021
Robson Rocha gave us some of the most dynamic DC covers in the past decades, but the artist was at his best when he hit us with a more quiet moment, such as this beautiful cover to Aquaman (2916) #57: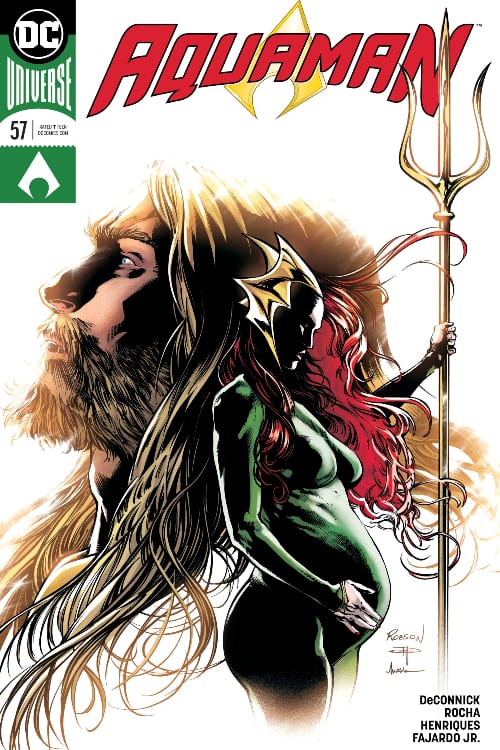 (Image: DC Comics)
DC, Marvel, and all other publishers only find a new artist like Robson Rocha a few times in a generation. He'll be greatly missed in the industry. A strong talent with a long career ahead of him, but taken far too soon. 
Featured Image: DC Comics)
Roman Colombo finished his MFA in 2010 and now teaches writing and graphic novel literature at various Philadelphia colleges. His first novel, Trading Saints for Sinners, was published in 2014. He's currently working on his next novel and hoping to find an agent soon.
Leave a comment