Daniel Radcliffe Interview – Star Explains Support Trans People
By now, everybody knows who J.K. Rowling is. As the writer of one of the most beloved series of all time, people worldwide know her name. However, in recent years, she's become more infamous. This is because of her anti-trans beliefs and statements against the transgender community. When she first made these comments in 2020, many Harry Potter fans were shocked. How could someone who wrote a book about acceptance and equality be so prejudiced against a marginalised community? In response, many stars from the Harry Potter series spoke out against Rowling's comments. Naturally, this included the lead actor. In a recent Daniel Radcliffe interview, the actor explained why he challenged Rowling's statements.
As part of this interview, Radcliffe explained that he needed to speak up about Rowling's anti-trans statements. In his own words,
"The reason I felt very, very much as though I needed to say something when I did was because, particularly since finishing Potter, I've met so many queer and trans kids and young people who had a huge amount of identification with Potter on that. And so seeing them hurt on that day I was like, I wanted them to know that not everybody in the franchise felt that way. And that was really important."
Clearly, this Daniel Radcliffe interview reveals the series' impact on him and his beliefs. Naturally, this makes sense. He was in all eight Harry Potter films! As such, people will forever remember Radcliffe for this role.
J.K. Rowling Controversy
Image: BBC News
Just two years, Rowling made her infamous beliefs about transgender individuals known. Taking to Twitter, she aired her ideas on this community. She stated:
"I know and love trans people, but erasing the concept of sex removes the ability of many to meaningfully discuss their lives. It isn't hate to speak the truth."
These tweets are part of the views referred to in the Daniel Radcliffe interview. Previously, Rowling also supported Maya Forstater, a researcher from London. In 2019, Forstater made several anti-trans comments, stating that transgender women were men. Additionally, she also said that people couldn't change their sex. As a result, the Centre for Global Development chose not to renew her contract, which she sued them for.
Of course, these views shocked and upset many fans of the Harry Potter series. After all, many adults had grown up reading or watching this franchise. Thankfully, Radcliffe and other stars rose to the defence of this marginalised community. As he mentioned in this Daniel Radcliffe interview, the star believed it was important to protect these people. He wrote a letter addressing Rowling's statements, which The Trevor Project later published on their website. This group supports young LGBTQ+ individuals, particularly in stopping suicide. Radcliffe stated:
"Transgender women are women. Any statement to the contrary erases the identity and dignity of transgender people and goes against all advice given by professional health care associations who have far more expertise on this subject matter than either Jo or I."
Furthermore, in this Daniel Radcliffe interview, he stated that he wouldn't be comfortable with himself if he didn't speak out.
Daniel Radcliffe Interview 2022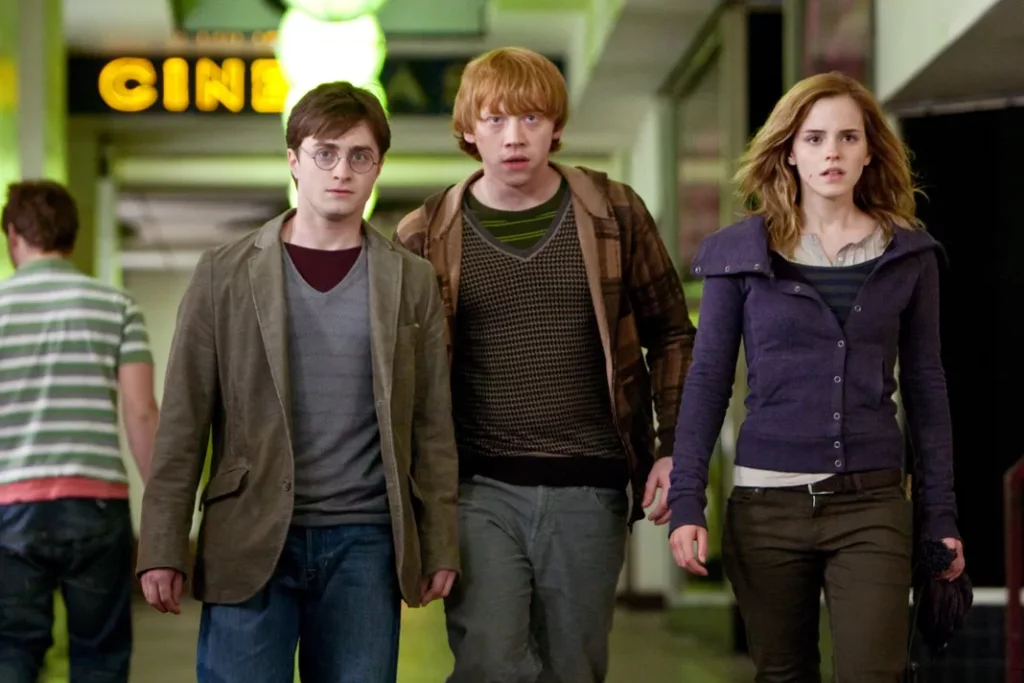 Image: Warner Bros
Naturally, it wasn't only the lead actor who spoke out in this Daniel Radcliffe interview. Other actors from the series, such as Emma Watson, challenged Rowling's views. She tweeted:
"Trans people are who they say they are and deserve to live their lives without being constantly questioned or told they aren't who they say they are. I want my trans followers to know that I and so many other people around the world see you, respect you and love you for who you are."
Additionally, Rupert Grint shared these same views:
"Trans women are women. Trans men are men. We should all be entitled to live with love and without judgment."
Furthermore, Tom Felton, who played Draco Malfoy, stated:
"I'm pro-choice, pro-discussion, pro-human rights across the board, and pro-love. And anything that is not those things, I don't really have much time for."
However, other individuals from the series did not share the same views as in this Daniel Radcliffe interview. For example, Voldemort actor, Ralph Fiennes, stated Rowling did not deserve the criticism. He stated, "the verbal abuse directed at her is disgusting, it's appalling."
You can catch Radcliffe in Weird: The Al Yankovic Story, exclusively on Roku, from November 4th.
Hi! I'm Arvyn, and I'm an English teacher from the UK. I've been teaching English online for over 4 years to students from all across the world and all ages. Outside of work, I'm a huge fan of reading, video games, and playing with my adorable kitties. See ya!
Leave a comment