In Conversation With Angela O'Hara – Shining A Spotlight On Art By Angela
There's no denying that the world is going through some pretty dark times right now. People everywhere are being forced to self isolate and distance themselves from their loved ones. Others are braving the public to contribute to essential services. Things are rough. Fortunately, one of the many mediums of joy out there is art, and art is always accessible. So, we've decided to spotlight some of the fantastic artists out there who have been impacted by Comic-Con and other event cancellations. I spoke with Angela O'Hara, the artist behind Art by Angela.
Shining a Spotlight on Art by Angela
Angela is based in London, Ontario, and works as a lead artist in the video game industry for Big Viking Games. This is her day job, but she also creates a variety of fantasy art on her own time. This is made up of fanart, original work, and comics.  She will also take on occasional freelance contracts for things like tabletop game art and book covers. A lot of her current time has been spent working on an upcoming tabletop game, Zafir: Tactical Roleplaying Game. It's safe to say that Angela is quite a busy artist!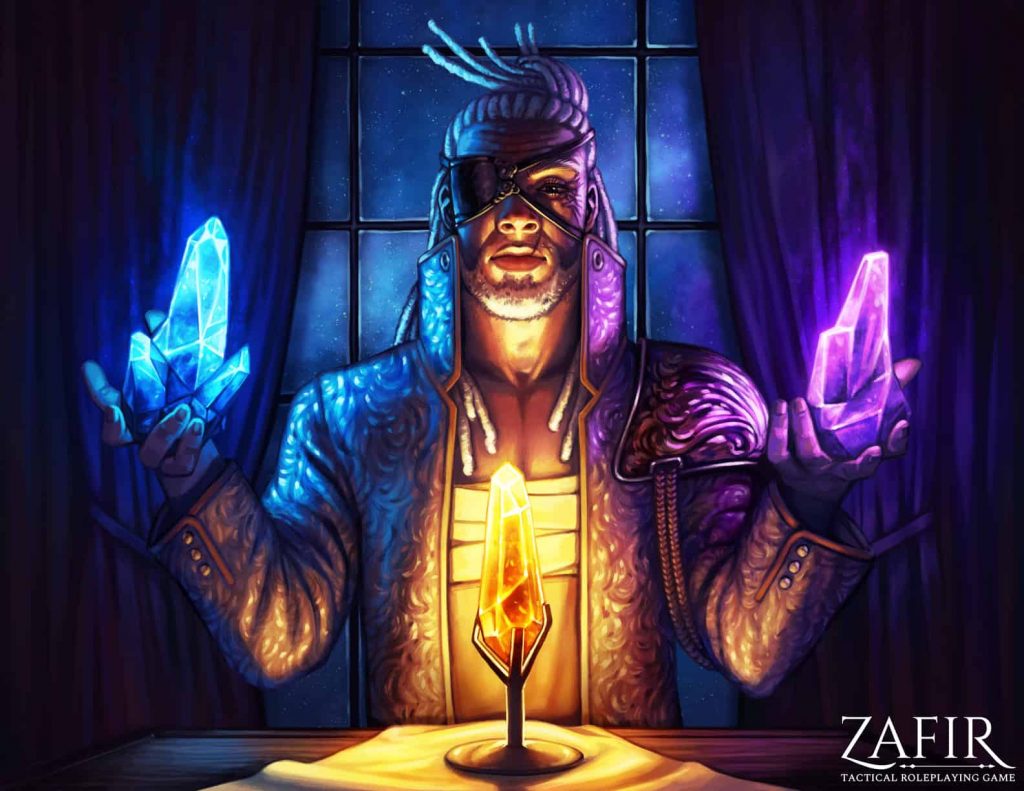 "The Crystal Mage" artwork for Zafir: Tactical Roleplaying Game. Image via Angela O'Hara.
A lot of Angela's following can be credited to some of her World of Warcraft fanart. Though, she adds that she's been branching out into more original fantasy artwork. The original work is clearly a passion for her, saying that "I just love drawing beautiful, powerful characters, especially elves. And I love playing with dramatic lighting and glowing, vibrant colors!"
So, What Is She Working On Now?
The Moonstone Diadem is an original fantasy comic book by Angela. It tells the story of Princess Georgina. She discovers that the crown jewels of her kingdom were stolen from a secret kingdom of elves hundreds of years prior. So, Princess Georgina makes a vow to return them back to where they came from. Why did Angela decide to create her comic book? "I really wanted to create my own story, with all the things that I love — a queer love story, elegant elves, cool costumes, and sparkly magic!"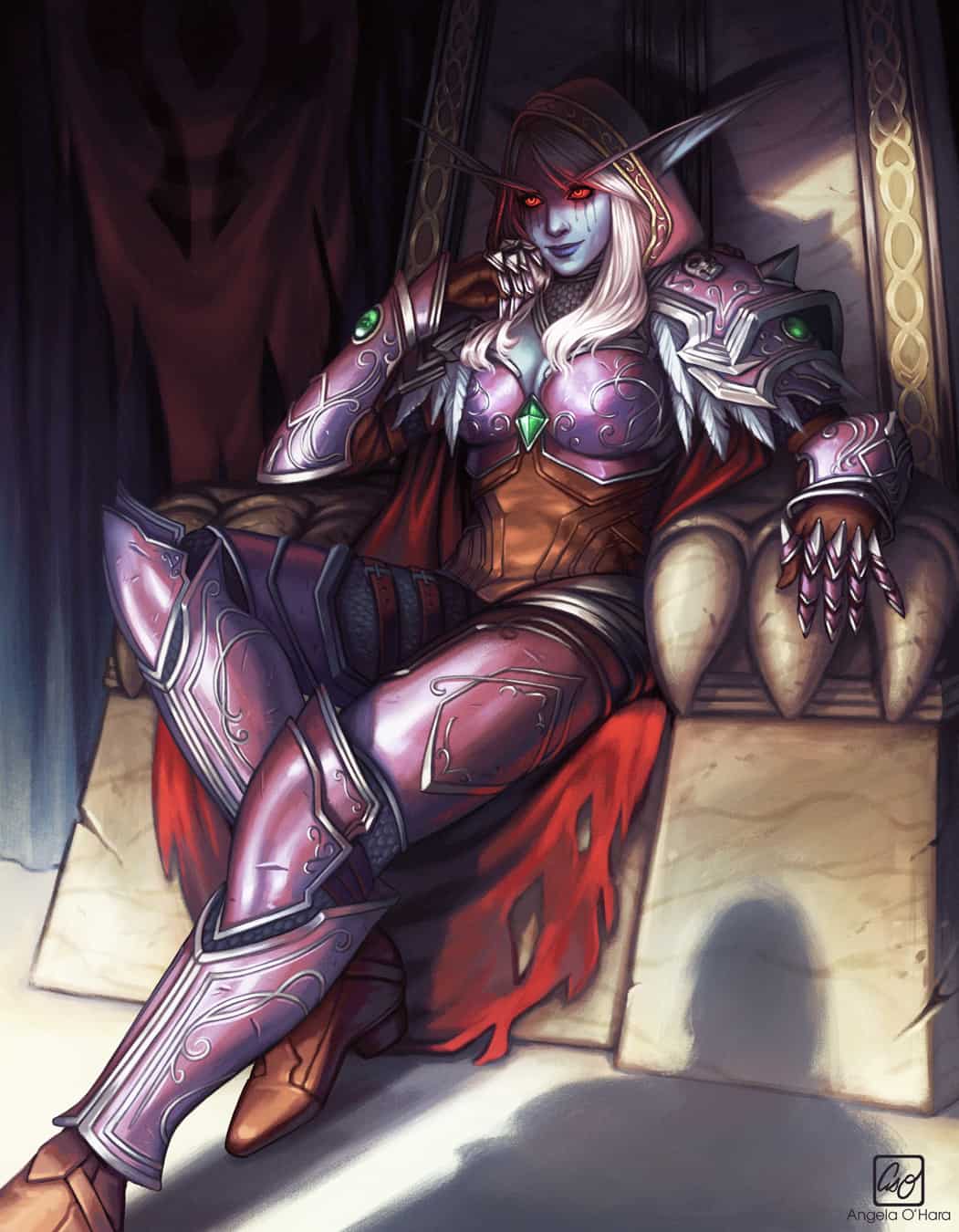 Warcheif Sylvanas.
The comic book evolved from something planned as an Inktober project. She took the summer to plan and pencil everything in and would ink one page a day using traditional inks during October. Though it was a "pretty huge challenge" to keep up with the one-month timeframe of Inktober, she certainly managed to come out of it with some beautiful work!
The comic book was originally planned to be printed and released as it was following October. Though, Angela did some color tests with the pages, and fell in love with the "watercolor, storybook look". She has plans to paint each page in full color and is prepping the book for print now. It is expected to be released by the early summer. Though, if you're intrigued, you can read the full comic in black-and-white
online for free right now
!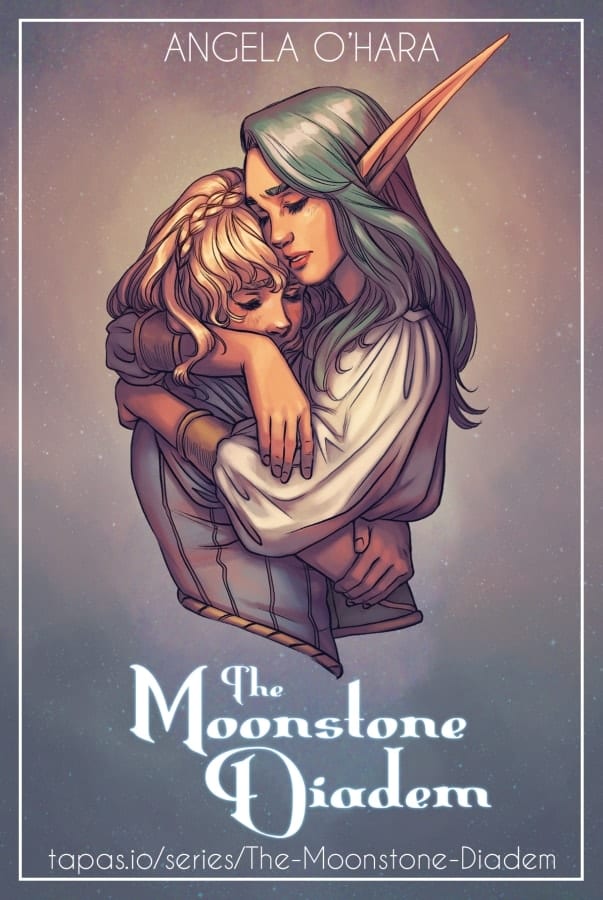 Artwork for The Moonstone Diadem. Image via Angela O'Hara.
So, Where Can You Find Art by Angela Online?
There are many ways you can find art by Angela O'Hara online. Her personal site can be found here. It's filled with information on where you can find (and take home!) more of her work. She's also active on Twitter and Instagram. You can also support Angela O'Hara on Patreon, where she goes by her nickname Fellimina, for exclusive art and perks.
Angela O'Hara is one of the many artists who have been impacted by cancellations related to the COVID-19 outbreak. You can read more about what Angela and other artists have to say about the impact of major
event cancellations because o the coronavirus here
.
There's never been a better time to start immersing yourself in some fantastic artwork. So, if you've found yourself with some extra time on your hands, you can keep busy by reading some original artwork, like The Moonstone Diadem!
Meghan Hale is the kind of movie lover that has a "must watch" that is a mile long... and growing. When she isn't talking about the latest film and television news she is writing one of her many in-process novels, screaming film trivia at anybody who will listen, and working as a mental health care professional. Follow her on Twitter @meghanrhale for some fun theories and live reactions to all things entertainment.
Leave a comment