Chris Hemsworth Shares On-Set Photos of his child then and now
Chris Hemsworth posts behind-the-scenes photos of his daughter on the Thor and Love and Thunder sets to show how much time has passed. The Thor actor shared a picture of his daughter taken 11 years before to her appearance in Thor: Love and Thunder on the Thor set. Since Robert Downey Jr.'s Tony Stark was brought to life in 2008's Iron Man, the Marvel Cinematic Universe (MCU) has gone a long way. Phase 1 was crucial to Marvel Studios' plans since they wanted to build a connected universe around the well-known superheroes. Chris Hemsworth's portrayal of the Asgardian God in the Thor movie series was another crucial component of that puzzle.
Iron Man, Captain America, and Thor served as the MCU's holy trinity, serving as its main ambassadors throughout Phases 1-3. With Avengers: Infinity War and Avengers: Endgame, however, everything is different because Iron Man paid the ultimate price to stop Thanos from performing the Snap. Sam Wilson has taken over as Captain America because Steve Rogers eventually retired and gave up his shield. Hemsworth recently returned to the character in Thor: Love and Thunder, the fourth movie in the series, so Thor is still a thing.
Thor Love and Thunder Featured Chris Hemsworth's Family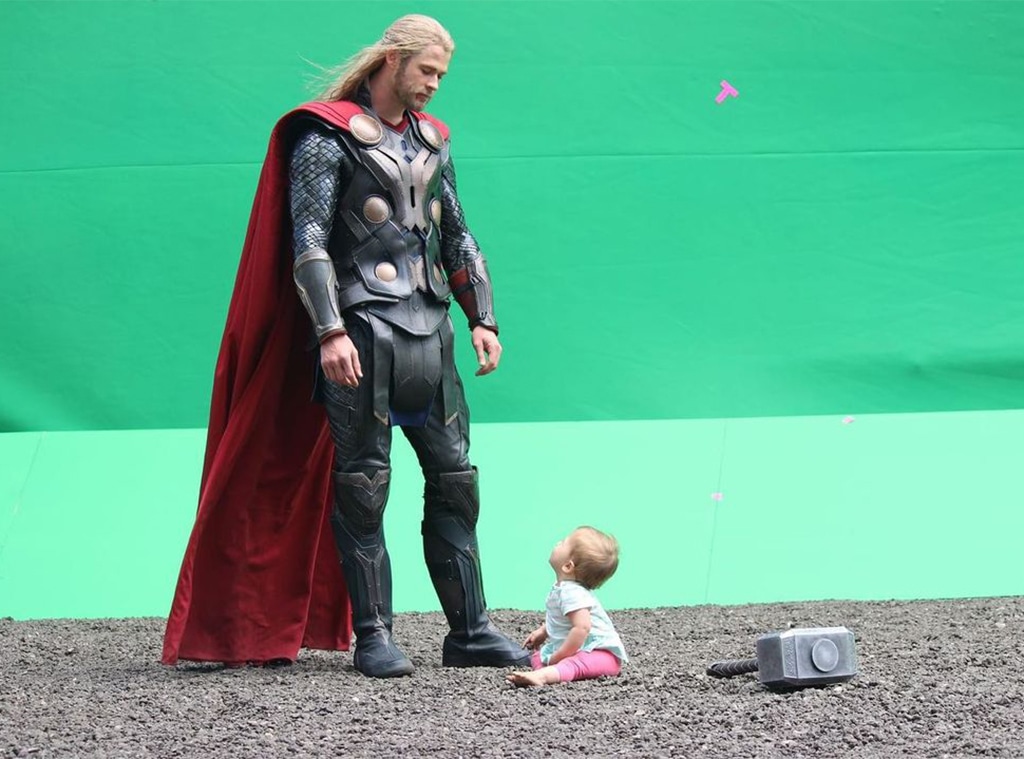 Source: EOnline.com
Thor: Love and Thunder featured a memorable Hemsworth family event with Thor being reintroduced to the MCU. A specific young woman who made her MCU debut may have been recognizable to viewers of Thor: Love and Thunder. India Hemsworth played Love, Gorr's (Christian Bale) daughter who played a crucial part at the movie's conclusion. Hemsworth shared a photo from Thor: Love and Thunder and one from India's first time on the Thor set on Instagram to commemorate her MCU debut. See Hemsworth and his daughter in the pictures below.
The young Hemsworth's character in Thor: Love and Thunder is first seen at the beginning of the movie as she and her father Gorr are eking out an existence while traversing a desolate desert. In the end, Love dies, which puts Gorr on the path to becoming the story's main adversary. In Thor: Love and Thunder, Gorr, who later turns into the God Butcher, changes his mind at the eleventh hour after being moved by Thor and Jane's romance. Gorr asked Eternity to bring Love back as Jane died, and he begged Thor to take care of Jane before passing away. As the movie comes to a close, Thor has adopted Love, and the two Hemsworth actors are now appropriately playing MCU father and daughter.
Keep in mind that he may stop playing Thor
after Thor 4 (highly unlikely)
His Daughter and Wife Looked Nice In Their Roles
Source: HUnter News
India is not the only family member who appears in Thor: Love and Thunder, despite how sweet Hemsworth's tweet was. Elsa Pataky starred as a wolf woman who was one of his loves in the distant past, while his twin sons Sasha and Tristan took turns playing young Thor in flashback scenes. Given how Thor: Love and Thunder ended, Love will undoubtedly return if Marvel Studios approves Thor 5, given how important she is to the Asgardian God.
The 2022 American superhero movie, Thor: Love and Thunder, stars the character Thor from Marvel Comics. Thor comes from Marvel Studios and released by Walt Disney Studios Motion Pictures. The Chris Hemsworth-led film is Thor: Ragnarok's 2017 follow-up and the 29th movie in the Marvel Cinematic Universe (MCU). Chris Hemsworth plays Thor in the movie, which is directed by Taika Waititi and also features Christian Bale, Tessa Thompson, Jaimie Alexander, Waititi, Russell Crowe, and Natalie Portman. Waititi and Jennifer Kaytin Robinson also co-wrote the script. When Gorr the God Butcher (Bale) tries to exterminate all gods, Thor (Bale) must go back to fighting and enlist the help of Valkyrie (Thompson), Korg (Waititi), and Jane Foster (Portman), who is now the Mighty Thor.
It grossed fantastically in the box office.
Have you seen Thor: Love and Thunder? What did you think of the movie? Do you like Chris Hemsworth as Thor? Share your comments with us down below!
Leave a comment