Bob Ross Movie With Owen Wilson Coming in 2023
The new Bob Ross movie is on its way. This time around, Owen Wilson will not make mistakes, just happy little accidents! If you're not convinced about Owen Wilson fitting the role, take a sneak peek at the movie trailer.
Owen Wilson to star in the new Bob Ross Movie
Can you imagine a better actor for the role of Bob Ross than Owen Wilson? Known for his famous 'Wow', Owen's peaceful and calming voice will bring out the best in the character.
Just days ago, the IFC production dropped the official trailer for the new Bob Ross movie. The movie follows the life of Carl Nagyl, an artist highly reminiscent of the artist icon Bob Ross.
Apart from the famous comedian actor Owen Wilson, the cast of Paint will include Wendi McLendon-Covey, Ciara Renée, and Stephen Root. Moreover, some lesser known Hollywood faces to appear are Michaela Watkins, Denny Dillon, Lusia Strus, and Lucy Freyer.
In addition, the world-renowned director Brit McAdams is serving as the director and the writer for the new Bob Ross movie. Amy Jarvela and Owen Wilson are part of the executive production team, while Sam Maydew and Peter Brant are producers.
We've seen many movies and series about the popular artist. However, we think Owen Wilson will bring something rather special to the role. The movie will officially air on April 7th, 2023.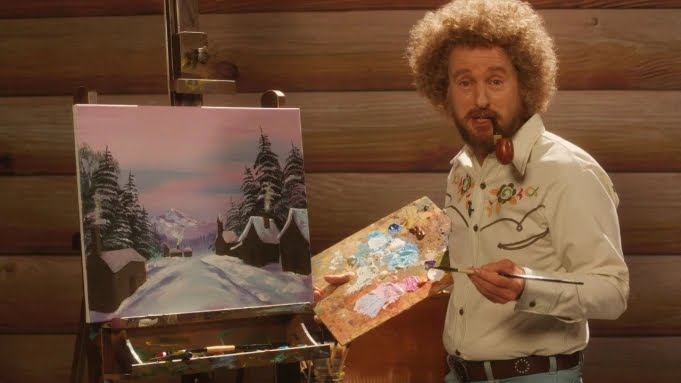 Who is Robert Norman Ross? 
If you're not a Bob Ross fan (few of us outside of America actually know about his work), read on to find out some details about him.
To start off, Bob Ross (Robert) is one of the most appreciated and known American artists. The popular painter and art instructor was famous for leading the PBS art instructional program.
From 1983 to 1994, his fans across the globe had an opportunity to watch his art tutorials in a weekly program.
Unfortunately, Bob Ross' program usually aired only across America, Canada and very few states in Europe. However, this was enough for him to become a worldwide paint idol.
His program under the title The Joy of Painting showed several amazing painting techniques. From painting soft clouds and sunshine (or as he called them 'happy clouds'), to creating amazing multidimensional paintings of nature, Bob Ross certainly raised the bar across the world.
While the TV host and artist passed away in 1995, his program and personality are so memorable that many still hold him dear. With the similar personality of Owen Wilson, we feel like he will perfectly fit the role.
Obsessed with anime, all-things magical, collecting rare editions and funko pops, Natalija is a young writer who strives to read every comic and manga out there!
Leave a comment