Bob Odenkirk Received A Star On The Hollywood Walk Of Fame
On Monday, Better Call Saul lead actor Bob Odenkirk received a star on the Hollywood Walk of Fame. The actor, writer, and producer, who has 16 Emmy nominations, received honors for his career during the event.
The ceremony was held at the former Redbury Hotel building near Hollywood Boulevard. It was attended by Bob's castmates on the Breaking Bad and Better Call Saul series, his wife, and fellow actor David Cross.
Bob Odenkirk's Star on the Walk of Fame
Both Cross and Better Call Saul's co-star Rhea Seehorn spoke at the ceremony, which streamed on the Walk of Fame's official website. Bob Odenkirk's star is the 2,720th on the Walk of Fame. They placed it next to the star of Bryan Cranston, the protagonist of Breaking Bad, the series from which the spin-off series about lawyer Saul Goodman, played by Odenkirk, derives.
Under the role of Saul Goodman, Odenkirk made his first appearance in the second season of Breaking Bad. Initially, he would only appear in three episodes. However, his character became so crucial in the series that he ended up having his own show.
With this spin-off, Bob received Emmy nominations for the first four seasons. He also received nominations as a producer of the series in all five existing seasons.
Present at the star award ceremony was Bob's wife, Naomi. In addition, fellow cast members Rhea Seehorn, Jonathan Banks, Giancarlo Esposito, Michael Mando, Tony Dalton, Patrick Fabian, and series creator Vince Gilligan applauded and cheered as Bob Odenkirk received his well-deserved star.
David Cross Honored his Partner and Friend
After Rhea Seehorn's speech, in which she admitted that talking about how much she appreciated Bob made her sentimental, it was David Cross' turn to speak. This actor and writer starred in and hosted Mr. Show With Bob and David with Bob Odenkirk. The show was an HBO sketch comedy from 1995 to 1998 and earned Odenkirk two Emmy nominations.
Image via HBO
Cross' speech brought laughter and joy to those in attendance. Jokes about his friend enlivened the ceremony. Cross even dared to joke about the minor heart attack Odenkirk suffered on the series set, which momentarily scared all his fans. "When Bob was alive he was known… oh, I'm sorry that was last year," said Cross while Odenkirk and other attendees laughed aloud.
When it came time to give his speech, Bob began by thanking AMC and Sony for nominating him and allowing him to play a character that "has made him look good." He also thanked Vince Gilligan and Peter Gould for creating his character. He thanked David Cross for "making him fun," Rhea, Bryan Cranston, and Michael McKean for making him a better actor. Odenkirk ended by thanking his wife and then posing with her, their dog, and castmates as he unveiled the star.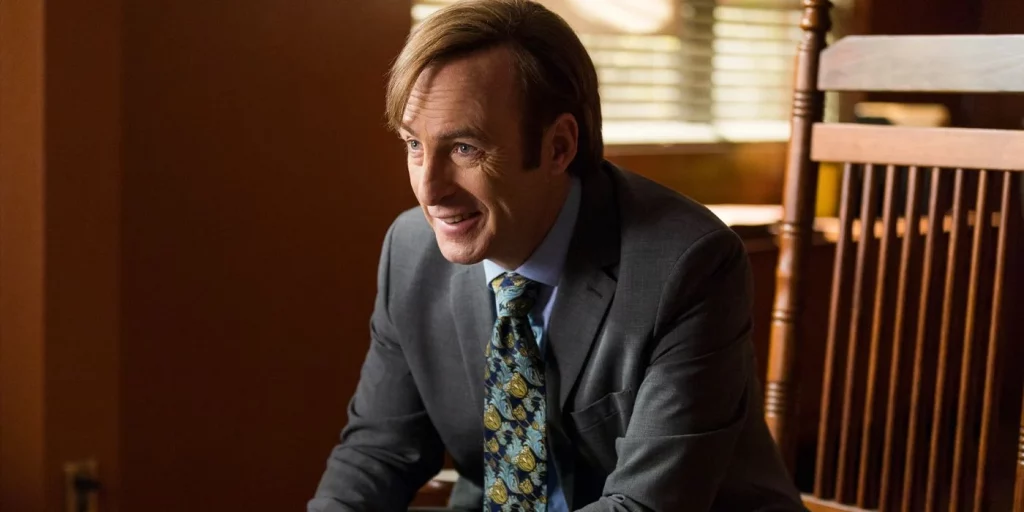 Image via AMC
Interestingly, this ceremony occurred on the same day as the premiere of the sixth and final season of Better Call Saul, which many are eagerly awaiting. Tell us in the comments which celebrity you would like to get their star on the walk of fame soon.
Featured Image via AMC
Leave a comment