Billie Piper Bad Wolf Adaptation – Doctor Who Star In Coming Undone for Netflix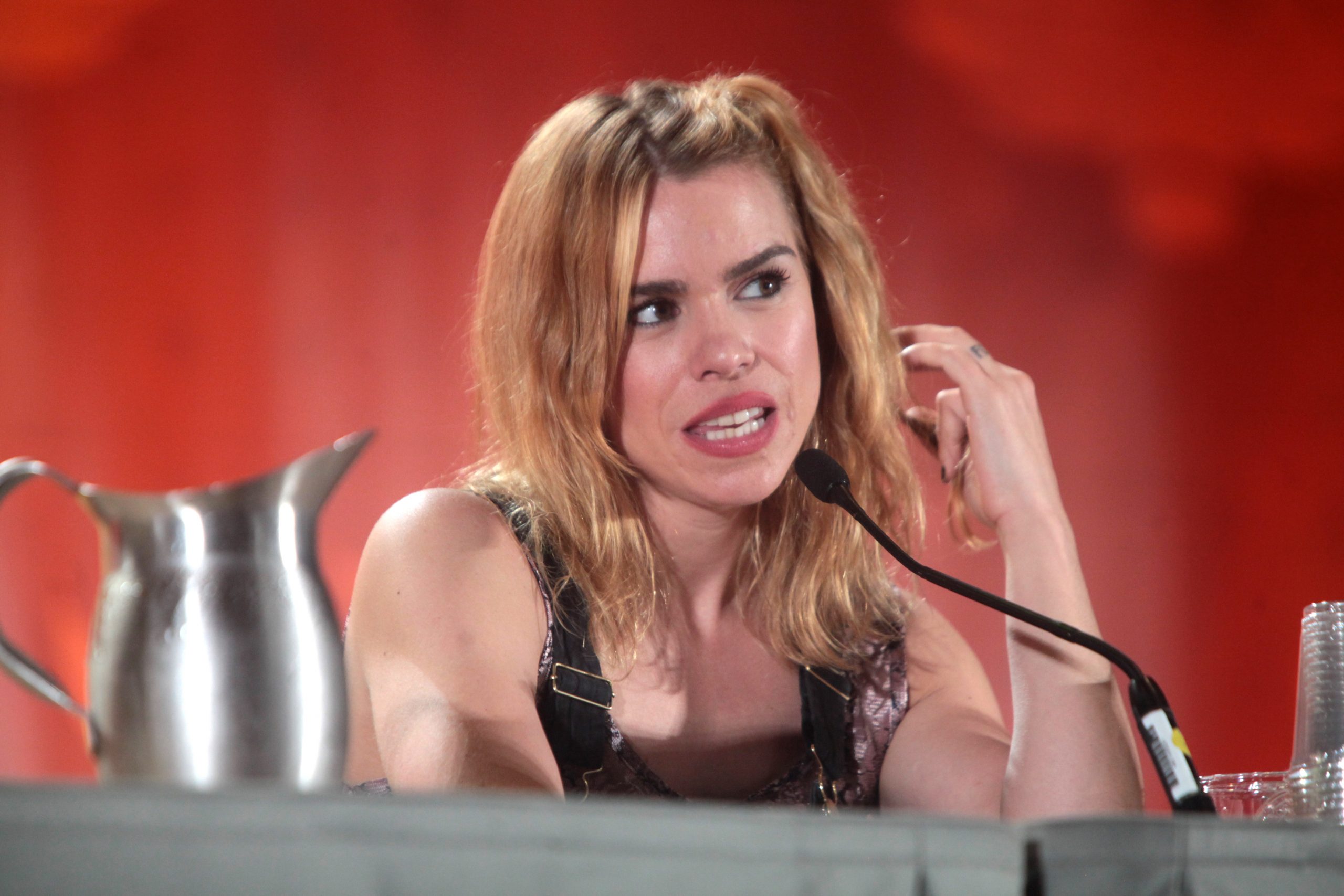 Former Doctor Who star Billie Piper was cast in an upcoming Netflix adaption of the 2020 memoir Coming Undone, produced by Sony and Bad Wolf productions. Also known for starring roles in I Hate Suzie, and Secret Diary of a Call Girl, Piper will executive produce Coming Undone. The presumed limited series is based on an intense-sounding story of mental illness and childhood abuse by British editor Terri White. For fans of Doctor Who, the words Bad Wolf sound awfully familiar. The company is behind Piper's 2020 BAFTA-nominated I Hate Suzie, but also HBO's His Dark Materials. Bad Wolf was co-founded by Julie Gardner, who worked with producer showrunner Russell T. Davies on the 2005 revival of Doctor Who. 
When Davies returns as showrunner in 2023, after a 13 year gap, Doctor Who will also be produced under Bad Wolf.  More to the point, Bad Wolf is a direct reference to a mystery involving Billie Piper's Rose Tyler. 
Image via BBC
Who is the Bad Wolf and What Did She Have to Do with Billie Piper?
The first season of the new Doctor Who starred Christopher Eccleston and Billie Piper. The latter was initially a controversial casting choice due to her background as a teen pop star in the UK. Piper quickly earned positive reviews as the plucky, earnest shop girl Rose Tyler, who went on adventures with the Doctor, and helped him heal from the trauma of the Time War.
A subtle, ever-increasing mystery in season one was the question of "bad wolf." This phrase appeared in background graffiti, a corporation name, in passing remarks by other characters, and more. In the two-part finale of season one, the viewers learn that the Bad Wolf is Rose made briefly super-powered after looking into the heart of the Doctor's time machine, the TARDIS. In addition to melting an entire fleet of fearsome daleks, Rose also sends the phrase "bad wolf" through time and space as a clue to herself. Since the Bad Wolf production company got its name from Billie Piper as Rose coming undone after staring into the infinitude of time and space, in a way, joining this adaptation is like coming full circle. 
Image via BBC
Billie Piper the Bad Wolf Still Haunts Doctor Who
When Eccleston's Doctor turned into David Tennant in the second season, Piper was there to help the audience adjust to this change. References to bad wolf popped up in season two and four of the series as well.
Since Rose left Doctor Who, Piper found work in shows including Peaky Blinders  and Netflix's Collateral. Rose returned in Doctor Who audio adventures from Big Finish, some of which even include her old companion David Tennant as the Tenth Doctor. Since 2019, Piper has her own audio series Rose Tyler: The Dimension Cannon. New episodes are scheduled for fall, 2022, and 2023, so Rose still lives.
We last saw Piper on the 50th anniversary Doctor Who special, The Day of the Doctor. Technically, she didn't play Rose, but took her form as a sentient weapon that debated "War Doctor" John Hurt over the righteousness of using it to end the Time War.

Wild rumors have accompanied the news of the return of Russell T. Davies as Doctor Who's showrunner. The most incessant is the dubious theory that David Tennant would somehow return as the next incarnation of the Doctor. Not gonna happen. However, Tennant is likely to pop in for another special or two over the years. Next year's 60th anniversary is a likely contender. It would be lovely to see Rose again, too. Nobody forget their first Doctor, but a first companion is equally memorable. The Rose saga ushered in a brand-new generation into the universe of Doctor Who— she always has a place there. In the meantime, however, Billie Piper keeps her personal connection to Bad Wolf in Coming Undone, a project undoubtedly worth a look.
Coming Undone is in pre-production at Netflix and has no release date. Let us know in the comments, who is your favorite Doctor Who companion? Are you excited for the return of Russell T. Davies? Would you like to see Rose back? Or do you prefer to keep moving forward in time?
Featured image courtesy of Gage Skidmore
Leave a comment