Alan Wake 2 Release Date And Preorder Revealed

It's been roughly 13 years since the first Alan Wake released. During that time, multiple fans have pondered the game's death. Yet, that's coming to an end this year. Alan Wake 2's release date has finally been revealed.
The second game has sparked a lot of discussions lately. The developer announced that it would focus more on horror. So, it's gotten fans (and me, especially) excited. It's a great year for franchise comebacks, too. Both a new Persona and Metal Gear Solid 3 Remake are coming as well. Needless to say, the nostalgia is strong in '23.
So, when is Alan Wake 2 coming out?
Alan Wake 2's release date finally announced
Thankfully, the graphics allow for ultimate immersion. (Image credit: Xbox)
In an official post, the developer shared a bunch of details about the upcoming title. They talked about the different projects they started and left. The game went through several iterations. But, they're happy about choosing the current one.
The developer talks about a shared universe between Control and Alan Wake. And, Control's AWE expansion seems to set things up for the upcoming title.
Alan Wake 2 is scheduled for release on PC, PlayStation 5, and Xbox Series X|S. Just keep in mind that PC players must get it from the Epic Games Store. As for the release date, you'll get to play the game on October 17th.
Alan Wake 2 now available for preorder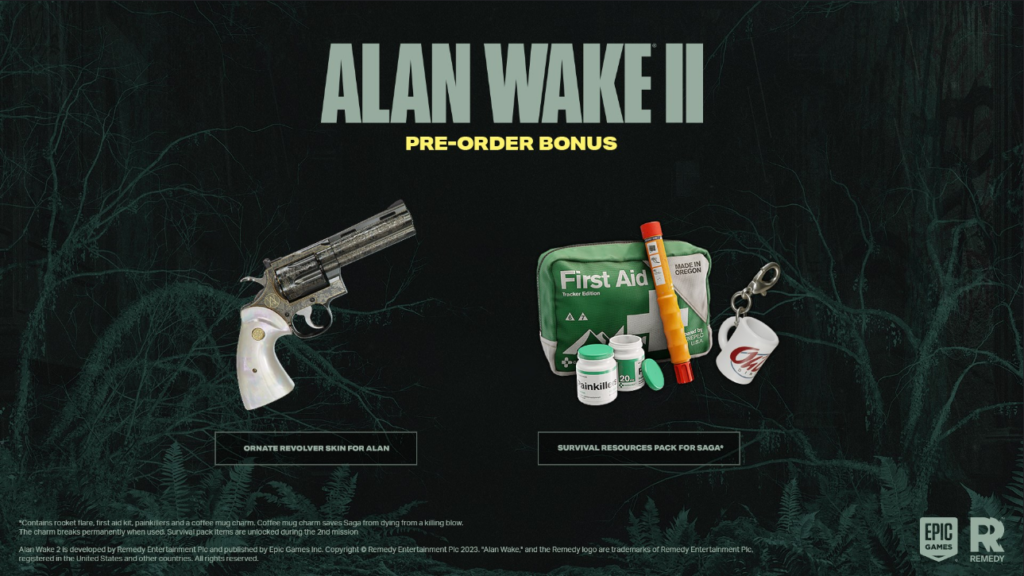 I'll be honest here; the rewards aren't particularly good. (Image credit: Xbox)
Alan Wake 2 is officially available for pre-purchases on all platforms. That includes the Xbox and Epic Games stores. Of course, you may also get it from the official website. The game will set you back $60 USD.
Naturally, preorders will also net you some helpful bonuses. This time, you'll get something for each character. Alan will get a revolver skin. On the other hand, Saga gets a bunch of survival resources. Sure, they're useful, but they're not a big deal.
There's also a Deluxe edition for $80 USD. With it, you get an expansion pass, a couple of gun skins, and two character skins. Both bonuses are split into one for each character. The expansion pass adds a couple of storylines to the game.
The developer's insights on Alan Wake 2
The new character opens up interesting plot points and dynamics. (Image credit: Xbox)
Luckily, the blog post also reveals a bunch of extra details about the game. Firstly, they state that the game is their first survival horror release. According to them, it was the best genre for the story. It also adapts perfectly to the atmosphere, gameplay, and pacing.
Sure, that means a darker tone to a lot of the game. Yet, it'll also feature daytime scenes, with humor and mystery. It sounds kind of hard to pull off. However, I think they can pull it off again. That said, horror and scares are still the main focus points.
Finally, the game will feature a second playable character: Saga Anderson. The FBI profiler will bring a new perspective to the story. Plus, they'll be connected in unexpected ways. Therefore, I'm looking forward to seeing how the two interact.
Featured Image Credit: Xbox.
Leave a comment