Hugo Awards Nominations Announced: 2022 Nominees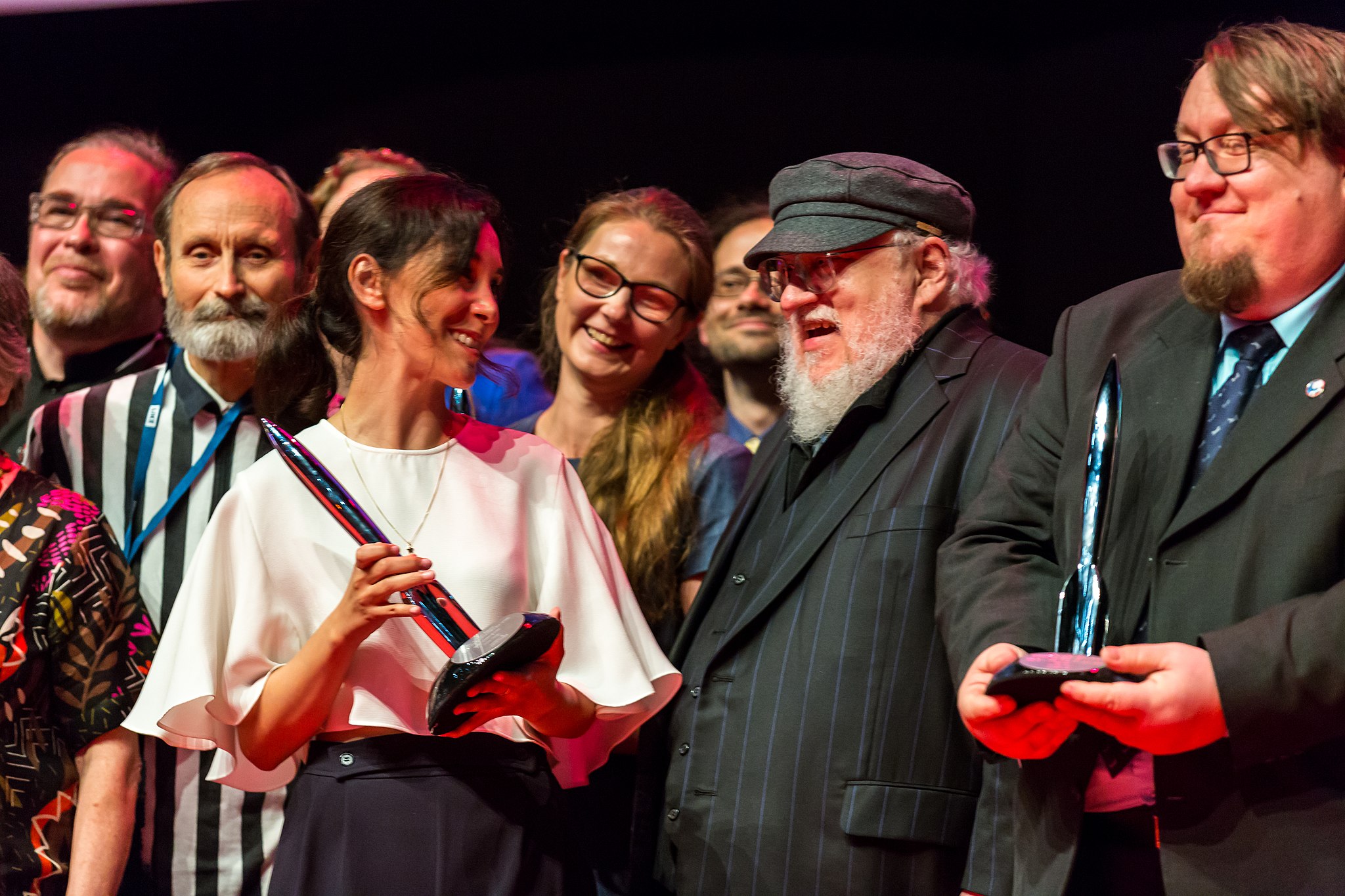 On Thursday, the 2022 Hugo Awards announced their nominees for the best in sci fi and fantasy books, comics, short stories, films, fanfiction, and more. Basically, this is the literary sci-fi and fantasy award. Novel is probably the most brag-worthy prize, but for anyone in the business of telling stories, it is a creative and popular victory just to be a Hugo Awards nominee. Members of the World Science Fiction Society pick the Hugo Awards nominations, and then the winners.
The 2022 Hugo Awards will be given out at the 80th World Science Fiction Convention (Worldcon) in Chicago on September 4.  Charlie Jane Anders and Annalee Newitz, cofounders of the site io9.com, and sci fi writers in their own right will host.   
The 2022 Hugo Awards Nominations Are In
Image Courtesy of Penguin Random House
Nominees for Best Novel: 
The frontrunner here might just be The Martian author Andy Weir, whose Project Hail Mary was enthusiastically received by many, including Hollywood who have already optioned it for a film. Another intriguing Hugo Awards nomination is the debut novel She Who Became the Sun, an alternate history of 15 century China. There is also the option of A Desolation Called Peace, which is the sequel to the 2019 Hugo Awards-winning best novel A Memory Called Empire.
A Desolation Called Peace, by Arkady Martine (Tor)
The Galaxy, and the Ground Within, by Becky Chambers (Harper Voyager / Hodder & Stoughton)
Light From Uncommon Stars, by Ryka Aoki (Tor / St Martin's Press)
A Master of Djinn, by P. Djèlí Clark (Tordotcom / Orbit UK)
Project Hail Mary, by Andy Weir (Ballantine / Del Rey)
She Who Became the Sun, by Shelley Parker-Chan (Tor / Mantle)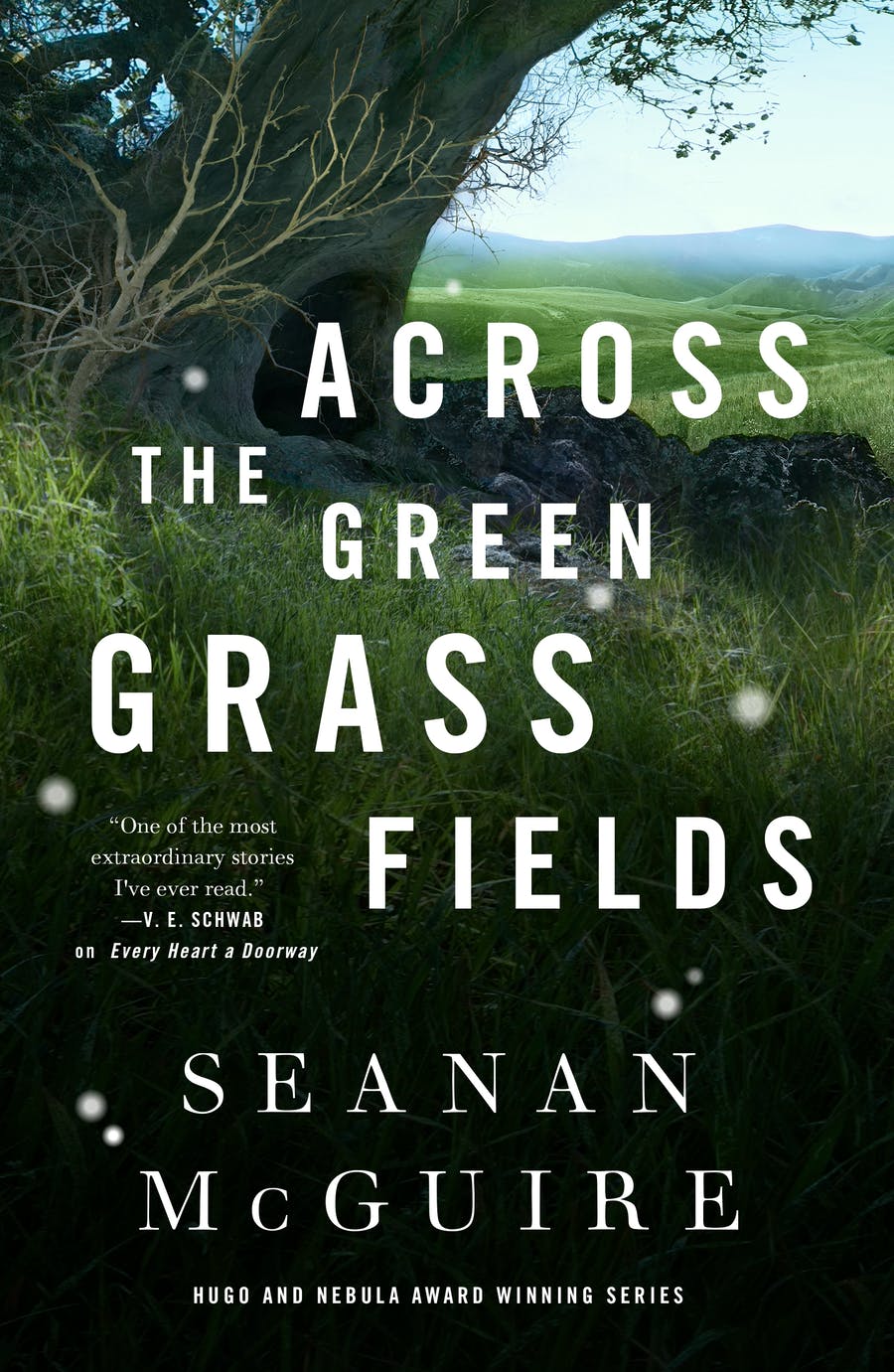 Image courtesy of Macmillan publishers
Nominees for Best Novella: 
Best novella is another prominent category. Seanan McGuire is a Hugo Awards nominations favorite, who broke records with five in 2013. Across the Green Grass Fields is the sixth story in her Wayward Children series of portal fantasies. Adrian Tchaikovsky is another prolific author whose Children of Time won an Arthur C. Clarke award in 2016. His Elder Race sounds appropriately Clarkian with its tale of a young hero going up against an ancient, magic-like power.
Across the Green Grass Fields, by Seanan McGuire (Tordotcom)
Elder Race, by Adrian Tchaikovsky (Tordotcom)
Fireheart Tiger, by Aliette de Bodard (Tordotcom)
The Past Is Red, by Catherynne M. Valente (Tordotcom)
A Psalm for the Wild-Built, by Becky Chambers (Tordotcom)
A Spindle Splintered, by Alix E. Harrow (Tordotcom)
Nominees for Best Novelette: 
The best novelette and best short story nominations are both a great reminder that the age of the short story may be over in most places, but not in the land of scifi and fantasy. A novelette, by the way, is longer than a short story, but shorter than a novella. You probably guessed that.
"Bots of the Lost Ark", by Suzanne Palmer (Clarkesworld, Jun 2021)
"Colors of the Immortal Palette", by Caroline M. Yoachim (Uncanny Magazine, Mar/Apr 2021)
L'Esprit de L'Escalier, by Catherynne M. Valente (Tordotcom)
"O2 Arena", by Oghenechovwe Donald Ekpeki (Galaxy's Edge, Nov 2021)
"That Story Isn't the Story", by John Wiswell (Uncanny Magazine, Nov/Dec 2021)
"Unseelie Brothers, Ltd.", by Fran Wilde (Uncanny Magazine, May/Jun 2021)
Nominees for Best Short Story: 
"Mr. Death", by Alix E. Harrow (Apex Magazine, Feb 2021)
"Proof by Induction", by José Pablo Iriarte (Uncanny Magazine, May/Jun 2021)
"The Sin of America", by Catherynne M. Valente (Uncanny Magazine, Mar/Apr 2021)
"Tangles", by Seanan McGuire (Magicthegathering.com: Magic Story, Sep 2021)
"Unknown Number", by Blue Neustifter (Twitter, Jul 2021)
"Where Oaken Hearts Do Gather", by Sarah Pinsker (Uncanny Magazine, Mar/Apr 2021)
Nominees for Best Series: 
Once again, have to root for those Wayward Children. The stories of kids who feel into different worlds, then got dumped back into the real one are poignant, funny, and imaginative character studies. The Kingston Cycle, however, is also a fun-sounding Hugo Awards nomination. The Edwardian era setting sounds perfect for a fantasy world of witches and wizards.
The Green Bone Saga, by Fonda Lee (Orbit)
The Kingston Cycle, by C. L. Polk (Tordotcom)
Merchant Princes, by Charles Stross (Macmillan)
Terra Ignota, by Ada Palmer (Tor Books)
Wayward Children, by Seanan McGuire (Tordotcom)
The World of the White Rat, by T. Kingfisher (Ursula Vernon) (Argyll Productions)
Nominees for Best Graphic Story or Comic: 
DIE, vol. 4: Bleed, written by Kieron Gillen, art by Stephanie Hans, lettering by Clayton Cowles (Image)
Far Sector, written by N.K. Jemisin, art by Jamal Campbell (DC)
Lore Olympus, vol. 1, by Rachel Smythe (Del Rey)
Monstress, vol. 6: The Vow, written by Marjorie Liu, art by Sana Takeda (Image)
Once & Future, vol. 3: The Parliament of Magpies, written by Kieron Gillen, illustrated by Dan Mora, colored by Tamra Bonvillain (BOOM!)
Strange Adventures, written by Tom King, art by Mitch Gerads and Evan "Doc" Shaner (DC)
Nominees for Best Related Work: 
The most fascinating Hugo Awards nominee in this sort of meta category has to be the Emily St. James Vox investigation into the backlash suffered by sci fi writer Isabel Fall after she wrote a surreal piece called "I Sexually Identify as an Attack Helicoptor" for Clarkesworld magazine.
Being Seen: One Deafblind Woman's Fight to End Ableism, by Elsa Sjunneson (Tiller Press)
The Complete Debarkle: Saga of a Culture War, by Camestros Felapton (Camestros Felapton)
Dangerous Visions and New Worlds: Radical Science Fiction, 1950 to 1985, edited by Andrew Nette and Iain McIntyre (PM Press)
"How Twitter can ruin a life", by Emily St. James (Vox, Jun 2021)
Never Say You Can't Survive, by Charlie Jane Anders (Tordotcom)
True Believer: The Rise and Fall of Stan Lee, by Abraham Riesman (Crown)
Movie or TV Hugo Awards Nominees
Image courtesy of Warner Bros.
Nominees for Best Dramatic Presentation, Long Form: 
The 2022 Hugo Awards nominations picked a lot of good films, but the winner has got to be Dune, right? That was a highly-regarded, Oscar-nominated film adaptation of one of the classics of sci fi. And it didn't even involve Sting this time! Second guess for the winning Hugo Award nominee has got to be WandaVision. That Disney+ show was critically acclaimed, and made a big cultural splash when it came out. 
Dune, screenplay by Jon Spaihts, Denis Villeneuve, and Eric Roth; directed by Denis Villeneuve; based on the novel Dune by Frank Herbert (Warner Bros / Legendary Entertainment)
Encanto, screenplay by Charise Castro Smith and Jared Bush; directed by Jared Bush, Byron Howard, and Charise Castro Smith (Walt Disney Studios Motion Pictures)
The Green Knight, written and directed by David Lowery (BRON Studios/A24)
Shang-Chi and the Legend of the Ten Rings, screenplay by Dave Callaham, Destin Daniel Cretton, Andrew Lanham; directed by Destin Daniel Cretton (Walt Disney Studios Motion Pictures)
Space Sweepers, written and directed by Jo Sung-hee (Bidangil Pictures)
WandaVision, screenplay by Peter Cameron, Mackenzie Dohr, Laura Donney, Bobak Esfarjani, Megan McDonnell, Jac Schaeffer (created by and head writer), Cameron Squires, Gretchen Enders, Chuck Hayward; directed by Matt Shakman (Disney+)
Nominees for Best Dramatic Presentation, Short Form: 
Now this is a fierce competition among the Hugo Awards nominees. Maybe we should give it to The Expanse, however. That beloved, but-not-quite-enough-to-get-another season, but-it-should-have series ended this year. On the other hand, the rest of the Hugo Awards nominations come from fabulous, television shows representing fantasy, hard sci-fi, comic book multiverse madness, alternate history, and comedic cartoon sci fi!
The Wheel of Time: "The Flame of Tar Valon," written by Justine Juel Gillmer, directed by Salli Richardson-Whitfield, based on The Wheel of Time series by Robert Jordan (Amazon Studios)
For All Mankind: "The Grey," written by Matt Wolpert and Ben Nedivi; directed by Sergio Mimica-Gezzan (Tall Ship Productions/Sony Pictures Television)
Arcane: "The Monster You Created," written by Christian Linke and Alex Yee; story by Christian Linke, Alex Yee, Conor Sheehy, and Ash Brannon; directed by Pascal Charrue and Arnaud Delord (Netflix)
The Expanse: "Nemesis Games," written by Daniel Abraham, Ty Franck, and Naren Shankar; directed by Breck Eisner (Amazon Studios)
Loki: "The Nexus Event," written by Eric Martin, directed by Kate Herron, created for television by Michael Waldron (Disney+)
Star Trek: Lower Decks: "wej Duj," written by Kathryn Lyn, directed by Bob Suarez (CBS Eye Animation Productions)
Nominees for Best Editor, Short Form: 
Can't speak to the best editors, but it is very cool that the Hugo Award honors them. It is a particularly good idea in a complication-heavy genre like sci fi. Good luck to all of these Hugo Award nominees! Editors need more love!
Neil Clarke
Oghenechovwe Donald Ekpeki
Mur Lafferty & S.B. Divya
Jonathan Strahan
Sheree Renée Thomas
Sheila Williams
Nominees for Best Editor, Long Form: 
Ruoxi Chen
Nivia Evans
Sarah T. Guan
Brit Hvide
Patrick Nielsen Hayden
Navah Wolfe
Hugo Awards Nominations for YA Books and New (If Not Young!) Writers
Nominees for Lodestar Award for Best Young Adult Book (presented by the World Science Fiction Society):
Comic Years loves Charlie Jane Anders, so we have to root for whenever she in nominated, especially for her first YA book. That is Comic Years law. Undoubtedly, the other Hugo Awards nominations are fantastic, however.
Chaos on CatNet, by Naomi Kritzer (Tor Teen)
Iron Widow, by Xiran Jay Zhao (Penguin Teen / Rock the Boat)
The Last Graduate, by Naomi Novik (Del Rey Books)
Redemptor, by Jordan Ifueko (Amulet Books / Hot Key Books)
A Snake Falls to Earth, by Darcie Little Badger (Levine Querido)
Victories Greater Than Death, by Charlie Jane Anders (Tor Teen / Titan)
Nominees for Astounding Award for Best New Writer (presented by Dell Magazines)
Tracy Deonn (2nd year of eligibility)
Micaiah Johnson (2nd year of eligibility)
A.K. Larkwood (2nd year of eligibility)
Everina Maxwell (1st year of eligibility)
Shelley Parker-Chan (1st year of eligibility)
Xiran Jay Zhao (1st year of eligibility)
Which Hugo Awards Nominees Did You Love?
Check out the full list of 2022 Hugo Award nominations and nominees over at their official website. The awards includes lots of fandom and semi-professional critic awards, which is another very cool thing the Hugo Awards nominations highlight.

What did you read and watch this year that won a Hugo Award nomination? Which 2022 Hugo nominees are you cheering for? Let us know in the comments!
Featured image courtesy of Sanna Pudas/Wikipedia Commons
Leave a comment