Xochitl Gomez : The 16 year old "Dr Strange 2" actress set to bring LGBTQ representation to the MCU
Xochitl Gomez: The 16-year-old "Doctor Strange 2" actress set to bring LGBTQ representation to the MCU
(Photo by Axelle/Bauer-Griffin/FilmMagic)
Xochitl Gomez is the new kid on the block as the actress makes her MCU ( Marvel Cinematic Universe) debut playing America Chavez; the first Queer Latina superhero with powers to travel the multiverse. Xiochtl pronounced  "soh-chee" comes from the Nahuatl language spoken in central Mexico. It means "flower". 
She was born in LA, to Mexican parents. They lived in Hollywood but moved to Echo Park when she was 5, bringing about Mexican influences in her upbringing. It is safe to say the young actress is very in touch with her roots. 
She isn't new to the stage as she participated in 22 musicals between ages 5-12. Her love for theatre transcended into on-screen performances beginning from commercials, and co-starring roles. 
Xochitl Gomez as America Chavez in Doctor Strange 2 
Before landing the role of America Chavez on MCU's Dr Strange, Gomez featured and starred in projects such as The Babysitter's Club where she played Dawn Schafer, as well as minor projects like Raven's Home and Gentefied.
During the pandemic, she faced difficulty auditioning for roles cause there were barely any. She "just happened" to audition for a discreet Marvel project which would later launch her into superstardom. Gomez didn't find out about the role until one day when her agent asked that hop on a Zoom call. "Welcome to the MCU", you're America Chavez",  Sarah Finn, head of casting for Marvel studios broke the news to her on the call.
The 16-year-old is one of the youngest actors to join the MCU in a leading role quite like this one. She auditioned at 13 and started filming for the role at age 14.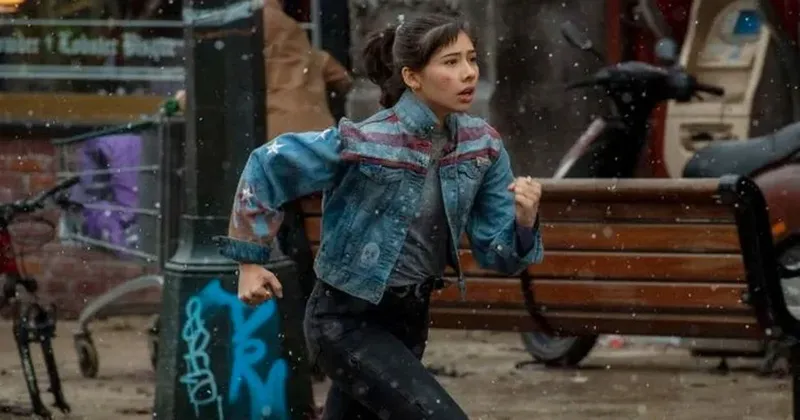 MARVEL
America Chavez LGBT Representation
America Chavez played by Gomez has powers that enable her to travel through the multiverse by punching holes between universes. She is raised by two lesbian parents in the film before they are killed by an accident caused by her powers. This LGBT inclusion brought about several reactions from people.
Through her character in the movie as well as in real life, Gomez always pushes for representation. She admits to not seeing enough people that looked like her on the big screens growing up, apart from Selena Gomez and Dora. Yes, Dora the explorer…
"America Chavez is supposed to help people feel seen", the Mexican-American told teen Vogue
"I feel like America represents so much in the MCU," says Gomez. "I'm excited for the world to meet America Chavez because she's a powerful, smart, charismatic, queer Latina, and the fact that Marvel brought her from the comics to the MCU is really exciting.". 
Xiochtl speaks more on her character's sexuality, highlighting that while it is important, it should not be the focus. Because Chavez is also a "leader and a problem solver", concluding that sexuality shouldn't define you. 
People were outraged at the Queer inclusion and some countries refused to air the film in their states if Marvel didn't cut out the scene from the movie, to which the studio refused. 
Gomez received a lot of social media hate after the movie aired, so much so that her TikTok account got banned . "I try to be careful on social media", she says. She added that she stays positive and focuses on the support instead of the "few haters".
The actress is grateful for the opportunity to do what she loves on such a big scale.
Leave a comment