Who Is Vulture? A Look At The Villains In The Spider-Verse
One of the most highly anticipated movies this winter is Spider-Man: No Way Home. Fans are eager to find out what will happen to Tom Holland's Spider-Man after the events of Far From Home (*SPOILER*: Mysterio reveals to the world that Peter Parker is Spider-Man). We already got the action-packed trailer that revealed that Peter will not only have to face off with supervillains from his own universe, but from the other Spider-Verses as well (hello Doctor Octopus and Green Goblin). Given that the trailer also showed fans that the multiverse is going to be ripped open, it's likely we'll be seeing a lot more characters from both the Spider-Verse and the MCU, which is why me and my Comic Years colleague (check out Roman's post on "Who Is Electro" as well as several others!) are going to be looking at a few of the supervillains that the webbed slinger has faced off with. In today's blog post, I'm asking: who is Vulture?
Who Is Vulture And What Are His Powers?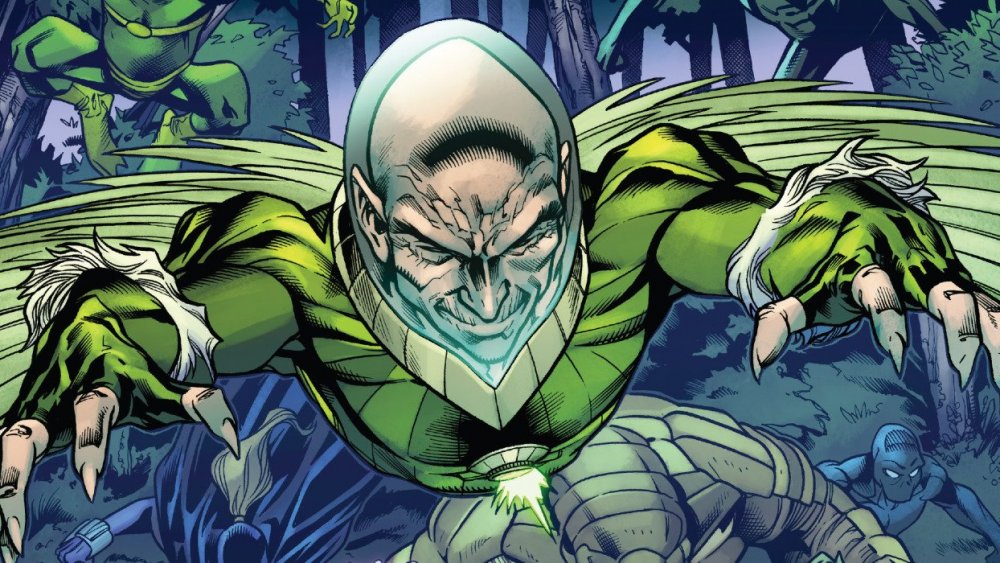 Image via Marvel Comics
Vulture (alias: Adrian Toomes) was a brilliant electronics engineer who designed a harness using old scraps from outer space and suit that allowed him to fly at great speeds. He turned to a life of crime after finding out that business partner, Gregory Bestman, was embezzling funds from him, leaving him jobless. Vulture became a recurring enemy to Spider-Man and was a founding member of the Sinister Six.
Vulture's electromagnetic harness is what allows him to fly, and his flight can be directed by a pair of artificial wings worn on his arms. The harness also houses an anti-graviton generator, which makes his flying more precise and quiet. He often wears a outfit made of synthetic stretch fabric when he's wearing the harness and wings, although in Spider-Man: Homecoming, Vulture wears metallic body armor and talons. The wings are made up of doubled sharp blades and can cut through objects in a scissor-like fashion. Because the harness was made using alien material (Chitauri technology to be exact), it gives Toomes enhanced strength and, some say allegedly increases his lifespan. Toomes is elderly and isn't in, shall we say, peak supervillain condition, so he ends up depending on the harness to augment his strength, vitality, and athletic prowess. There are some editions that claim that Toomes physical strength remains with him even after he takes his harness off, but that it fades after a period of time. Due to his prolonged use of the harness, Toomes can levitate without it, although  he still needs his wings to maneuver.
He's gifted intellectually (remember how he figured out Peter Parker was Spider-Man?) and has a great talent for invention. He's created a whole arsenal of weapons and equipment, such as the Matter Phase Shifter (turns portions of surfaces transparent, making it look like glass with a purple glow). He's also a skilled combatant and expert marksman.
The History of Vulture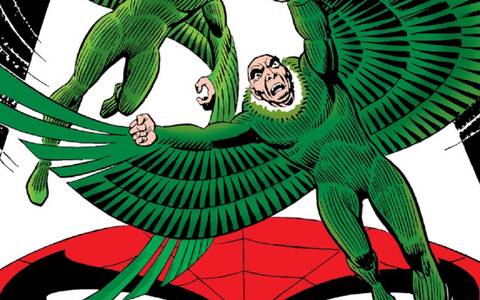 Image via Marvel Comics
Vulture was created by Stan Lee and Steve Ditko and first appeared in The Amazing Spider-Man #2 (May 1963). This was the Adrian Toomes version, who Lee had originally wanted to be heavy-set and based on the actor Sydney Greenstreet. There was a second incarnation of Vulture created in 1967 named Raniero "Blackie" Drago, who was created by Stan Lee and John Romita Sr. Lee created this second version because he felt like Spider-Man looked like a bully when fighting the elderly Toomes, but it turned out that fans preferred the original Vulture. Several other incarnations appeared through the years, including Clifton Shallot (an expert on bio-mutation and a professor at Empire State University that obtained one of Toomes' harnesses and costumes from the State Prison Authority); Jimmy Natale (a mutated vigilante who mercilessly kills and eats criminals); and Isidoro Scarlotti (an enemy to Human Torch and Toro). There was also a group called the Vulturions, which consisted of four members who wore Vulture costumes in different colors (their founder, Honcho, was a cellmate of Adrian Toomes).
Vulture has consistently always been a member of the Sinister Six and has a close friendship to Electro (played by Jamie Foxx in the movies). The Vulture incarnation that most often appears in pop culture is the Adrian Toomes incarnation. He was portrayed by Michael Keaton in the movies, but given that the multiverse is coming, it's possible we might see other versions!
Vulture In Other Media
Image via Disney/ABC
Besides comic books and Michael Keaton's version of the supervillain, Vulture has appeared in several other media. Let's look at them below:
Vulture In Television
The Vulture character has appeared in television for over 60 years, starting with the Blackie Drago "Vulture Man," who appeared in the 1960s Spider-Man animated series. More recently, Vulture was seen in the 2010s Spider-Man animated series as a middle-aged man whose suit is equipped with a neck-mounted device that enables sonic attacks, and in the Avengers: Black Panther' Quest animated series, voiced by Alastair Duncan for both. 
Vulture In Film
As mentioned before, Vulture appeared in Spider-Man: Homecoming, played by Michael Keaton. He's already confirmed he'll be back as the supervillain thanks to an interview on Jimmy Kimmel Live. "I'm shooting tomorrow. Some Vulture stuff," he said.
Vulture In Video Games
The character has appeared in several video games about and starring Spider-Man, and all of them appear to be the Toomes version. The first appearance was in the old school Sega CD version of The Amazing Spider-Man vs. The Kingpin. After that, Vulture has been everything from a playable character to a brief cameo.
Keaton's Vulture is set to appear in Morbius, but whether he'll also be part of the Sinister Six in Spider-Man: No Way Home is not known. Just as a reminder, Keaton's Vulture appeared in Spider-Man: Homecoming, so it wouldn't be surprising if he had a cameo in No Way Home. What do you think? In the meantime, watch this clip of Keaton-as-Vulture from Homecoming, for nostalgia's sake.
Spider-Man: No Way Home will be in theaters everywhere December 17, 2021.
We want to hear all your Vulture-related theories and comments! Let us know on social media or in the comments section below!
Featured image via Sony Pictures
Keilin Huang is a freelance writer that likes the Oxford comma, reading from her neverending pile of books from the library, and Reeses peanut butter cups. She thanks her Dad for introducing her to his Superman comics and probably majored in Journalism because of Lois Lane. Contact her at [email protected]
Adrian Toomes
Michael Keaton
Vulture
Leave a comment