Who Is Timothée Chalamet? The Revival of the Movie Star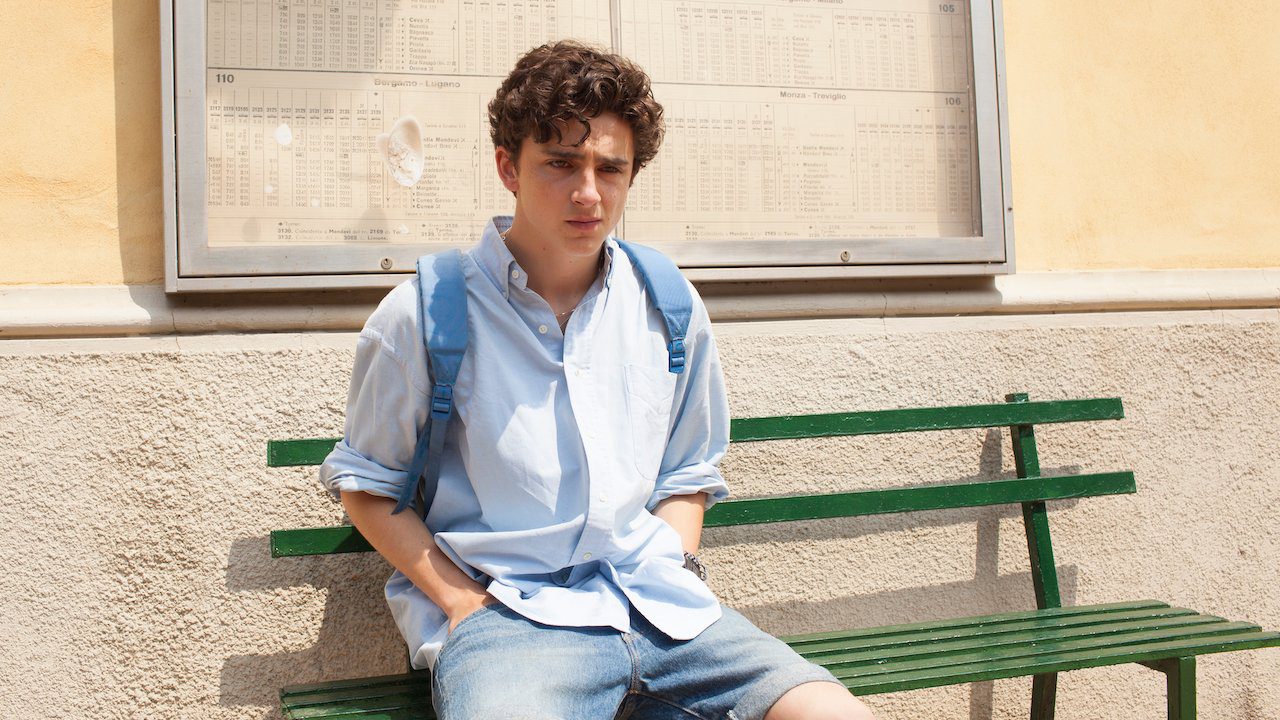 Recent headlines have heard whispers about the death of the movie star. They were everywhere near decades ago. There was Robert Redford, Harrison Ford, Tom Cruise, to name a few. But in the last decade, we have gone from familiar faces to familiar franchises. Few have stood out among the rest other than within their respective fandoms. That is, until now. Barely a decade into his career, one young actor has gone from the odd standout role to every standout role he can find. So, who is Timothée Chalamet?
Who Is Timothée Chalamet? But Also, Why Do We Need To Know?
There are plenty of fans who have fawned over 25-year-old Chalamet for years. His iconic performance in Call Me By Your Name amassed quite the crew, and his back-to-back performances in various young adult films only helped. In 2018, I stood in a packed theater for an opening of Felix van Groeningen's Beautiful Boy, where Chalamet would later arrive for a question-and-answer period. I was surrounded by like-minded young women who had spent hundreds on StubHub tickets to see him up close.
And why was I even there? This was months before my film reviewing days had begun, but something had been drawn me to him since my first viewing of Call Me By Your Name. It was not the charm or the cheekbones. It was a surprising ability to pull unexpecting emotions out of us no matter the role. And okay, maybe some of it was the cheekbones.
And there I was, desperate to snap a pic. Image via the author (Meghan Hale.)
The French Dispatch sees his character Zeffirelli turn writer Lucinda Krementz into as much of a fan as the people buying tickets. She struggles to remain neutral in her journalism after being won over by his eagerness to be a part of some sort of change in the world. Director Wes Anderson knew that we would all relate. In fact, the role of Zeffirelli was essentially formed for him. Did he know from the moment he began penning the script back in 2018 that we would be as drawn to him as Lucinda?
Everything That Came Before The Oscar Nominations And Franchise Leading Roles
Born to a French father and an American mother, Chalamet had early privileges of seeing the world. His dual fluency in French and English was made easy from spending summers in rarely heard French villages, and he would eventually be able to take these natural identities to his film career.
After acting in the odd commercial and a pair of short films (Sweet Tooth and Clown), Chalamet attended a school designed to push him further into the industry. The LaGuardia High School of Music & Art and Performing Arts is no stranger to producing stars. Their alumni include Jennifer Aniston, Sarah Michelle Gellar, Ansel Elgort, and Sarah Paulson, to name a few.
Around this time, Chalamet began appearing on television. This included episodes of Law & Order, Royal Pains, and Homeland. 2011 brought his on-stage debut, where he would play a tween in the middle of their sexual awakening in The Talls, earning him a handful of rave reviews.
From Made-For-Television Films To Christopher Nolan
Despite an impressive cast including Adam Sandler, Kaitlyn Dever, and Jennifer Garner, 2014's Men, Women & Children went largely unnoticed by mainstream audiences. Though, it does mark Chalamet's feature film debut. Coming after a small role in Loving Leah, a made-for-TV film in 2009, the Jason Reitman drama helped introduce Chalamet to the magic of the big screen. He would need this soft introduction, as he would star in a Christopher Nolan film later that year.
Chalamet plays 15-year-old Tom in Nolan's Interstellar before Casey Affleck's takeover of the adult version. The film is massive in scale, bringing an intimate story of love into a space epic. Thanks to its plot, Timothée is far from the most memorable part of the film despite his best attempts. He revealed in a 2018 interview with Emma Stone that the final outcome made him weep because it was smaller than he had hoped. If only he knew what was coming.
A Series of Breakthroughs Come Next
The next two years were busy enough for an up-and-coming actor, but we'd imagine them to be a walk in the park when compared to his current schedule. 2015 brought One & Two, The Adderall Diaries, and Love the Coopers. 2016's Miss Stevens, a comedic drama following a young woman accompanying her students on a field trip, gave Chalamet another chance to put his all into a character. His role as Billy Mitman is filled with a passionate monologue and an opportunity to display his on-screen energy on a small scale.
He also returned to the stage in 2016, playing Jim Quinn in Prodigal Sun at the Manhattan Theatre Club.
Calling Him By My Name
Call Me By Your Name. image via Sony Pictures Classics
The next acting venture provides Chalamet with a once-in-a-lifetime role with Call Me By Your Name. The Luca Guadagnino-directed film based on James Ivory's 2007 novel of the same name earned Chalamet a closet full of accolades, including a nomination for Best Actor at the 90th Academy Awards (which he lost to Gary Oldman in Darkest Hour.)
The film follows Elio, a young boy staying in Northern Italy in 1983. A talented musician and overthinking introvert, Elio comes to learn how to love when he meets his father's graduate student for the summer, Oliver (Armie Hammer.) The role is a perfect arena for displaying the subtleties of love, and his performance was particularly praised for its youthful approach to self-discovery.
Though the film did amass some controversy for its on-screen age gap (where Elio is 17 and Oliver 24), it also grew a fandom not often seen in the queer romance genre. Chalamet was the winner of this, and he would leave the film's production with some trophies and a few million more fans.
Climbing The Ranks Of A High Profile Actor
2017 was another busy year for Chalamet. After CMBYN, he goes on to star in Hot Summer Nights, an Elijah Bynum-directed film giving Timmy another opportunity to come of age. Later in the year, he is seen in supporting roles in Greta Gerwig's Lady Bird and Scott Cooper's Hostiles.
His last quiet year for the foreseeable future is 2018, where he only stars in the above-mentioned Beautiful Boy. The biographical drama sees Chalamet play Nic Sheff, a young man who fell to the alluring voice of methamphetamines. Though it failed to earn him another Academy Award nomination, it was still considered a hit for Chalamet as he acts confidently against his on-screen father, Steve Carell.
A next venture goes mostly unnoticed thanks to its disgraced director. 2019's A Rainy Day in New York by Woody Allen barely received a premiere thanks to its behind-the-camera controversies. Chalamet ended up donating his salary for the film to various charities, including Time's Up. Whether it was a genuine act of selflessness or a clever ploy to boost his CMBYN Oscar campaign is up for debate, but it helped nonetheless.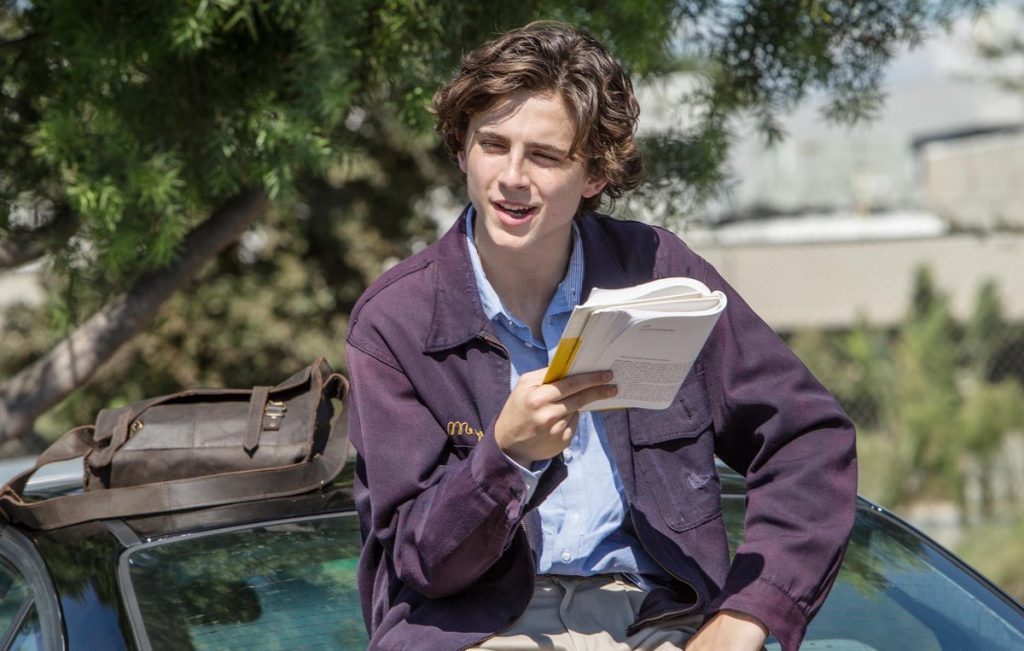 Lady Bird. Image via A24.
A King Amongst Little Women
Other 2019 features include Little Women and The King. The former gave him a chance to reunite with director Greta Gerwig and co-star Saoirse Ronan, whom he had previously worked on in Lady Bird. The unforgettable role of Laurie Laurence is a classic amongst book fans, and he confesses his undying love to Jo March effortlessly. However, it is the latter that would tell filmmakers whether he was ready to carry a franchise.
Netflix's The King brings Timmy front and center in a role that isn't just about coming of age. Playing King Henry V of England, Chalamet is forced to stand up to his country's enemies and go to war. The film earned average-at-best reviews, but the acting was praised. It had been decided: Chalamet is competent enough to be the next big movie star.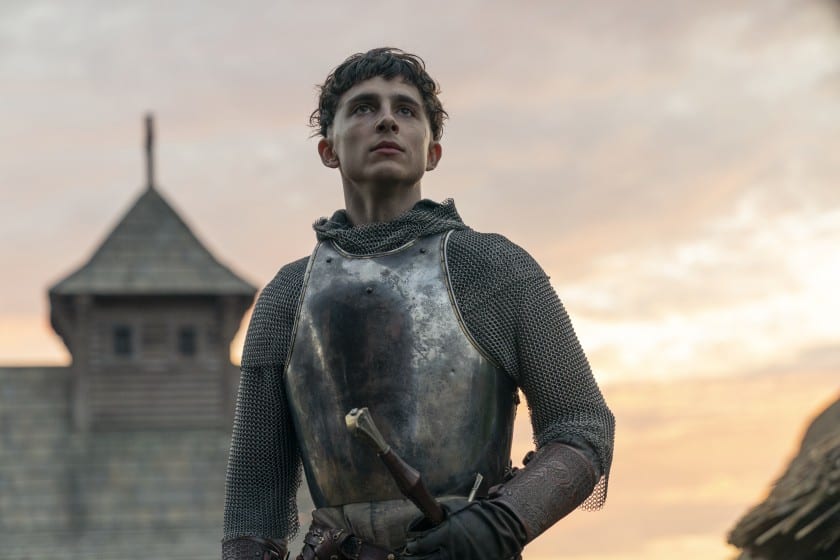 The King. Image via Netflix.
Who Is Timothée Chalamet? The Face of Franchises, Of Course
In an era marked by franchise success, earning a leading role in one of them is the latest sign of truly "making it." And while Chalamet would earlier fail at his audition to play Spider-Man (a role that went on to Tom Holland), he wouldn't even need to beg for a part in something almost bigger. For Dune, the latest sci-fi blockbuster and adaptation of a timeless novel, the director had Chalamet in mind from the earliest stages. In fact, he reportedly started with the casting of Paul and built the rest around Chalamet.
The role of Paul Atreides is nothing short of a challenge. He must pass as a young leader, brought to power too soon in life. Though, equally, he must hold the power of a messiah that leads millions. It's easy to let your star power take center stage when leading a film, but Chalamet slips into the role of Paul with surprising ease.
This sort of casting is proof that Timothée Chalamet is past the need to audition. One only needs to turn on a streaming service to see what he's capable of. And based on the recent reviews of Dune, it's certain that Chalamet didn't cry from a small performance. As the film continues to demand a sequel, Chalamet isn't going anywhere any time soon.
Dune. Image via Warner Bros.
Nothing Is Too Big Or Too Small For Chalamet
Despite the recent big roles, Timothée Chalamet has shown that he is no stranger to picking up odd or small roles. His start is founded on risk-taking, and his future proves it. The French Dispatch doesn't hold a candle against his screentime in Dune, yet it shows a commitment to working with directors across various genres in order to build his resume.
His upcoming films include a small role in Adam McKay's Don't Look Up and a reunion with Luca Guadaggnino in Bones & All. The second will be a new test for Chalamet, as he will be testing out the genre of horror. We have seen him smile, cry, and fight, but can he scream?
And finally, another larger-than-life title approaches. Wonka, a 2023 musical prequel to Charlie and the Chocolate Factory, will give Chalamet a chance to get silly and singsong-ey. It might seem like an unnecessary film, but his presence might make us buy a ticket or two.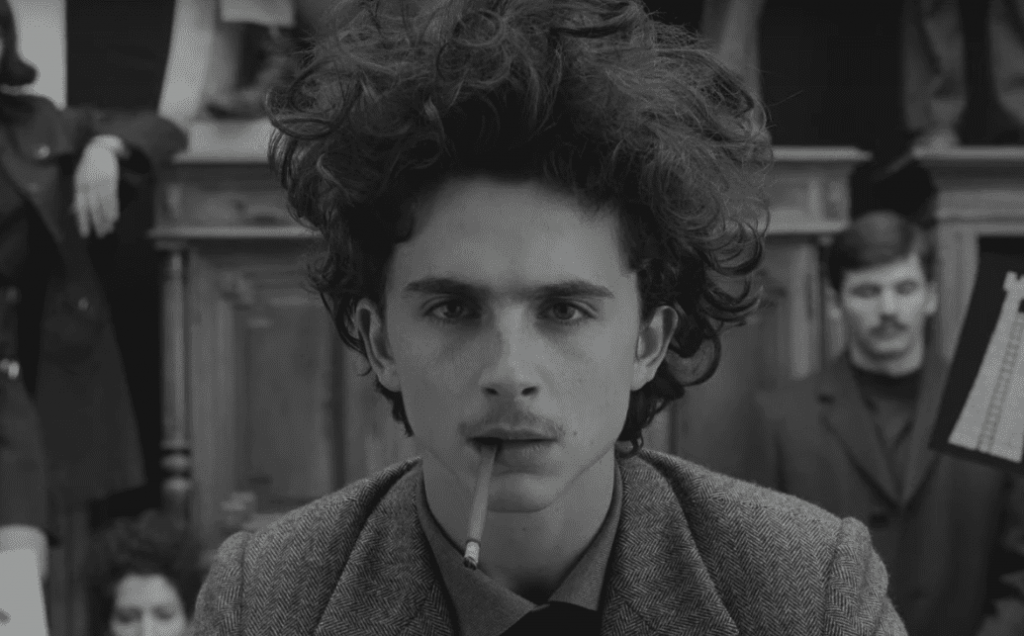 The French Dispatch. Image via Searchlight Pictures.
Timothée Chalamet Is The Future Of Forseable Filmmaking
At only 25, Chalamet has acted in more high-profile films than many actors get to do in a lifetime. He is undoubtedly fortunate to come from a background that nourished this career and has benefited from early relationships with influential directors. But leading franchises and winning awards doesn't come from lazy work. With so many films on his plate and put behind him, along with an even longer list of films he lost out on, Chalamet is somebody that continues to prove that he's in it for the long run.
You asked, "Who is Timothée Chalamet?" We answered. He's starring in Dune and The French Dispatch, both of which are in theaters now.
Readers, what is your favorite performance by Timothée Chalamet? Are there any roles you'd like to see him take in the future? Drop your thoughts in the comments below!
Featured image (Call Me By Your Name) via Sony Pictures Classics.
Meghan Hale is the kind of movie lover that has a "must watch" that is a mile long... and growing. When she isn't talking about the latest film and television news she is writing one of her many in-process novels, screaming film trivia at anybody who will listen, and working as a mental health care professional. Follow her on Twitter @meghanrhale for some fun theories and live reactions to all things entertainment.
Leave a comment