Who Is The Final Member Of The Sinister Six In Spider-Man: No Way Home?
Doctor Octopus. Green Goblin. The Lizard. Sandman. Electro. 1-2-3-4-5…but the most infamous villain team in comics has six. Yet, so far in all the Spider-Man: No Way Home trailers, we've only seen these five. All of them are classic team members, in one iteration or another, but we still have several other possibilities based on the Spider-Man movies we already have. So, who is the final member of the Sinister Six? Here are the most likely options.
The Villain Who Fills Out the Final Member of the Sinister Six Probably Appeared in a Spider-Man Movie Already
(Image: Sony Pictures)
Over eight movies, Spider-Man has faced thirteen villains. The five previously mentioned are all the main villains from the Raimi and Webb movies. However, there were secondary and minor villains in the previous films, not to mention some important MCU characters too.
From the Amazing Spider-Man Universe:
We already have the Lizard and Electro, but we had two other villains that would make great additions to the Sinister Six. Even better, since we know that the No Way Home Multiverse is more extensive than just tossing in old villains, we could see the same actors again but as variants. So who is left that can be the final member of the Sinister Six?
First up, we have one of my favorite villains, Rhino. In Amazing Spider-Man 2, we only saw Paul Giamatti's iteration in the very beginning, before he became the Rhino, and at the very end, after Oscorp suits him up in a walking armored tank. However, one of the worst choices in Amazing Spider-Man 2 was the ending. Rhino is charging at Spider-Man, who's about to swing a sewer lid into his face and – cut to black. Bastards. Sony robbed Giamatti, who was the perfect choice for Aleksei Mikhailovich Sytsevich. Maybe he'll get a chance to reprise the role.
The other Amazing Spider-Man 2 villain who could be the final Sinister Six member is Hobgoblin. Dane Dehaan's Hobgoblin. Dehaan is to Hobgoblin as Topher Grace is to Venom (we'll get there). They tried making Hobgoblin the dark mirror version of Peter Parker. That doesn't mean Dehaan was the problem, just as Foxx wasn't the problem with Electro. But do we really need two Goblins? Probably not.
Topher Grace's Venom Could Be the Villain Who Becomes the Final Member of the Sinister Six
(Image: Sony Pictures)
Okay, so everyone hates Topher Grace's iteration of Venom. Even Topher Grace hates Topher Grace's Venom. Yet the multiverse has already erupted, so how could they make it work. Ever the good sport, Grace joked about his appearance in No Way Home in a recent Reddit thread:
"Please keep it between us but yes, I am in it. The plot starts with Peter Parker (Tom Holland) bummed that everyone knows his identity and then some crazy shit happens with Dr. Strange and Dr. Octopus (Alfred Molina) comes into his dimension. Then Electro and the Green Goblin hop out of one of those 'energy circles' and they're like "It's spider stompin time". Then Tom Hardy and I pop out and battle each other and I win (obvi), it's like not even a fight I just kick his ass immediately. Not to give too much away but there are also some actors from the original 70s Spiderman show, Aquaman and Batman (Affleck, not Keaton) crossover, and thanks to Disney Han Solo's ghost from Rise of Skywalker, and that Eve robot from Wall-E. Again, please keep between us."
Joking aside, this is kind of in the same vein as Paul Bettany's humor. When discussing the WandaVision finale, Bettany said that he got to work with "someone he wanted to work with his entire life." That person? Himself. So, there might be a nugget of truth in this. If they had Grace pop in just long enough for Hardy's Venom to bite his head off, the audience would go nuts.
An MCU Spider-Man Villain Could Also Be the Final Member of the Sinister Six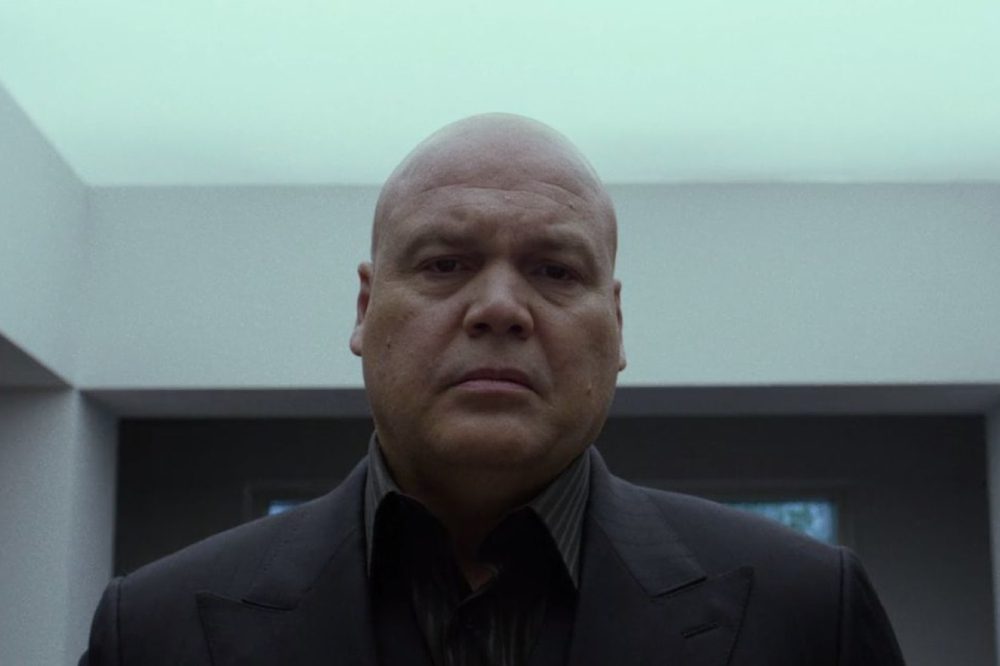 (Image: Netflix/Marvel Studios)
Did we all forget that we already have villains in the MCU? Of course, these characters are possibilities, especially since one of them "died fighting Spider-Man." From the MCU, we have two major villains who might be the final member of the Sinister Six.
Obviously, we have the Vulture. We already know that we're going to see Michael Keeton's character again in Morbius, and he's one of the few people who knew Spider-Man's identity before Mysterio revealed it to the world. The only reason he hasn't retaliated against Peter is that he feels like he owes him. Peter saved his life, so he protected his identity. Will he still care about his truce when the world knows the truth? Or will that make him become the final member of the Sinister Six?
Then we have Mysterio. Come on. Who out there believes that Mysterio is actually dead? His whole thing is making things look real when they aren't. If he's going to reappear, coming back as the final member of the Sinister Six would be the best way to do it.
Also, while not in one of the Spider-Man movies, we shouldn't rule out Kingpin from Netflix's Daredevil. Since Charlie Cox is reprising his role as Matt Murdock in No Way Home, Kingpin could show up to take advantage of the chaos – and squash the punk kid in a costume who keeps beating up his hardworking henchmen.
The Minor MCU Villains Are Possibilities Too
(Image: Sony Pictures/Marvel Studios)
While Marvel did a great job developing Kingpin, Vulture, and Mysterio, they did give us a few other Spider-Man villains. Though he wasn't in his green costume yet, Scorpion made his debut in Homecoming. The first Spider-Man MCU installment also gave us the Tinkerer, an underrated villain used amazingly in the Spider-Man: Miles Morales video game. But the most likely B-lister who could be the final member of the Sinister Six? Shocker. He fights Spider-Man in the school bus parking lot. Herman isn't the most intelligent Spider-Man villain, but he is one of the most destructive. Unfortunately, we only got a taste of his capabilities in Homecoming.
One of Sony's Featured Villains Could Be the Final Member of the Sinister Six
(Image: Sony Pictures)
Sony and Marvel aren't just playing ball anymore; they're creating a new game. Sure, we knew they patched things up to make one more Spider-Man movie, but then we got the mid-credit scene of Venom: Let There Be Carnage, in which our anti-hero buddies are shunted into the MCU. Before that, the Vulture popped up in the first Morbius trailer, blowing our minds. Additionally, Sony recently cast Aaron Taylor-Johnson as Kraven the Hunter.
Now, it might seem obvious that Venom will be the final member of the Sinister Six, but don't count your symbiotes just yet. In the new Sony Spider-Man Universe, Venom is a hero. A "lethal protector." In that mid-credit scene, it certainly looks like he's going to go off and try and eat Peter Parker. They might battle it out, but it will be in the same way Thor and Iron Man fought in The Avengers. By the end, they'll be on the same side fighting the Sinister Six, including the villain that does become the final member.
Morbius would be a lot less likely. We're finally going to see his origin story in January 2022, but his movie was supposed to come out in July 2020. Considering that they wanted us to know the movie had ties to the MCU (Michael Keaton's cameo), they might have been trying to lay the groundwork for his arrival in No Way Home. However, it's unlikely they would have planned for Morbius over Venom, since they already knew that Venom could bring in box office bucks.
Could Aaron Taylor Johnson Return to the MCU in No Way Home?
Of all the Sony Pictures characters, Kraven the Hunter would be the most interesting choice and work the best. Since the movie just started pre-production, his intro in No Way as the final member of the Sinister Six could make people excited for his solo film—kind of like Black Panther in Civil War, but nowhere near as monumental. And if audiences aren't keen on the character, they could shut down the solo film before losing any money. But again, if any of these characters round out the six, it will be Venom.
The Final Member of the Sinister Six Could Be Someone Who Pivots the MCU
(Image: 20th Century Pictures)
As if exploring the multiverse in No Way Home isn't enough, some Spider-Man villains would forever change the MCU. While I still think Stilt-Man could be the final villain who joins the Sinister Six, there are some heavy hitters to consider. One that is literally a heavy hitter.
A few months ago, Deadpool made his MCU debut in a video with Korg, promoting Free Guy together. So it's only a matter of time before we get the MCU X-Men. The question, though, is how. No Way Home could do this by having Juggernaut as the final member of the Sinister Six. Some of the most classic Spider-Man battles involved Cain Marko. Also, bringing in Juggernaut is a great way to bring in Deadpool (and X-Force). Can you imagine Deadpool meeting three Spider-Men? Just hand them the Oscar.
And finally, a Spider-Man villain who we keep waiting to appear but never does might be the final member of the Sinister Six. Mephisto. Or maybe Stilt-Man is Mephisto!
Spider-Man: No Way Home debuts in theaters across the globe December 15-17, 2021. 
Of course, it could also be any number of Marvel villains or heroes. It could even be an evil version of Peter Parker. Heck, our own Joshua M Patton thinks that Peter's best friend Ned will become the Hobgoblin with Willm DeFoe as his mentor. It could be a new character altogether. It's anyone's guess.
What's yours?
(Featured Image: Sony Pictures/Marvel Studios)
Roman Colombo finished his MFA in 2010 and now teaches writing and graphic novel literature at various Philadelphia colleges. His first novel, Trading Saints for Sinners, was published in 2014. He's currently working on his next novel and hoping to find an agent soon.
Deadpool
Doctor Octopus
Doctor Strange
electro
Green Goblin
Juggernaut
Kraven the Hunter
lizard
MCU
Morbius
Mysterio
Rhino
Sandman
Scorpion
Shocker
Sinister Six
Sony
Spider-Man: No Way Home
Venom
Vulture
X-Men
Leave a comment