The Opening Box Office Numbers for the Venom Sequel Are Here and Are Breaking Records
The past few months have given us a new source of hope when it comes to the ongoing coronavirus pandemic. At first, nature was healing. But now it looks like the box office is. The opening box office numbers for the Venom sequel, Let There Be Carnage are here, and they've surprised us all. Additionally, another familiar face is thriving overseas, with Bond's No Time To Die. Are things finally back to normal in theater world?
The Opening Box Office For Sequel Venom: Let There Be Carnage Blows Us Away
Venom: Let There Be Carnage, the follow-up to 2018's Venom, brings back Tom Hardy's Eddie Brock in a big way. Pitting the symbiote host against Woody Harrelson's Cletus Kasady, host to the ruthless symbiote Carnage, the film is as much intense action as it is fun. After a surprisingly positive critical response to the first film, expectations were much higher for its second installment. Fortunately, the box office is reflecting this hope.
The film scored an incredible debut of $90 million. This beats its predecessor, which earned $80 million domestically in its first weekend, and also soared past expectations that seemed optimistic only days ago.
So, how did it get here? One of the biggest tools to its success was the theatrical-only model. 2021's earlier release, Black Widow, was set up as one of the year's biggest releases. However, it was released simultaneously on Disney+ with their premiere access model, taking some of its rightfully deserved box office money and putting it directly into the pocket of the mouse. For Venom: Let There Be Carnage, there was only one way to the top.
The film also benefits from another earlier superhero release, Shang-Chi and the Legend of the Ten Rings. The strong opening for this film encouraged Venom to release earlier than anticipated while also helping theater-goers feel more comfortable going to busy screenings.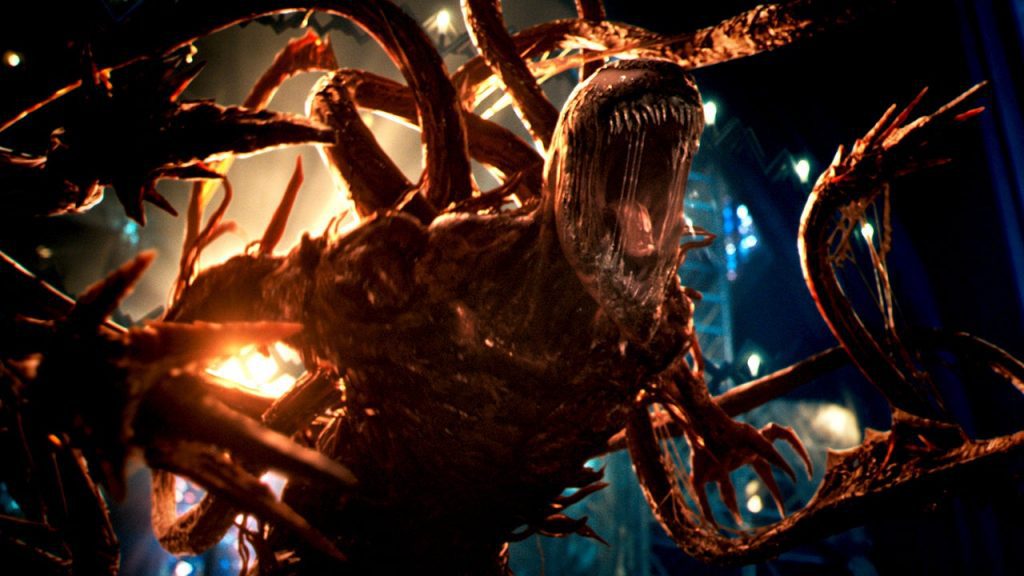 Image via Sony Pictures Releasing.
What Is Going On Across The Pond?
This weekend also marks a big difference in our box office discussions. So few big releases have dropped over the past few months that each weekend seems to bring only one big name. But October has a plethora of highly anticipated premieres, including none other than Bond. James Bond. The long-awaited No Time To Die has begun its worldwide rollout, starting internationally before making its way to the United States later this week.
No Time To Die has already impressed the international box office with a delightful $113 million opening. This bodes well for its domestic premiere, with box office predictions around $65 to $85 million. So many films exceed projections, and we won't be surprised if it lands on the high end of these numbers. It may even shoot past it, beating Venom. But we aren't so sure yet.
When it comes to the overall box office for the year, No Time To Die will also have an easier time going to the top for worldwide numbers. The film will release in China, a big enough market to help any movie. It will compete with Dune later this month, making way for the #1 spot of the year.
Image via Universal Pictures
Things Are Finally Exciting Again
Many of our recent box office predictions and summaries have discussed the big hits that the pandemic has pushed on films. But this landscape is changing quickly now that more releases are competing with each other. People are also more excited to go out than ever before.
In addition to the worldwide No Time to Die numbers and the opening box office numbers for the impressive Venom sequel, the weekend also saw The Addams Family 2 pulling in an okay $16 million. Shang-Chi also continues to sit comfortably in the top 5, now at third place. The Many Saints of Newark, the prequel to The Sopranos, debuted to an expected #4 spot with $5.3 million. And in the fifth spot is Dear Evan Hansen, bringing only $2.4 million to its overall numbers.
Readers, are you surprised by all of the impressive numbers, including the opening box office for the Venom sequel? Let us know which tallies you're contributing to and what you're looking forward to seeing next! If you haven't decided if Venom: Let There Be Carnage is on your must-watch list, head over to our spoiler-free review and see if it's for you.
Featured image via Sony Pictures Releasing.
Meghan Hale is the kind of movie lover that has a "must watch" that is a mile long... and growing. When she isn't talking about the latest film and television news she is writing one of her many in-process novels, screaming film trivia at anybody who will listen, and working as a mental health care professional. Follow her on Twitter @meghanrhale for some fun theories and live reactions to all things entertainment.
Leave a comment