Venom: Let There Be Carnage Ending Explained And Where He'll Show Up Next
Ever since Into the Spider-Verse was a hit, astute Marvel fans realized that Sony Pictures was not just limited to a single Spider-Man. Yet, in a (real) world where shared universes are all the rage, it seemed strange when in 2018 Sony released a standalone movie about Venom, an iconic Spidey villain. It was their second bite at this particular symbiotic apple after Spider-Man 3. Yet, honestly against the odds, Venom was a hit and plans went into motion. We're going to talk about those plans and what their possible fruition might be. Since Spider-Man is in the Marvel Cinematic Universe, what about all of Sony's characters? We've already seen Michael Keaton's Vulture in the Morbius trailer. We break down what it all means. Have the ending of Venom: Let There Be Carnage explained, both in the story and in the real world.
Of course, this means we'll have to spoil the movie in a big way. So, if you have not yet seen the movie, check out our Venom: Let There Be Carnage spoiler-free review. Then pop back here after the single mid-credit scene, and we'll work it all out. In the meantime, enjoy this trailer for Spider-Man: No Way Home. (It might be relevant!)
The Ending of Venom: Let There Be Carnage Explained and What It Has to do with the MCU
Okay, now that all the spoiler-free folks are gone, the rumors of Tom Holland cameoing in the movie were true. We see Holland on Eddie Brock's TV in the spider-suit with his mask off. Honestly, it could be B-Roll from Civil War. What matters is that Venom and Spider-Man are in the same universe. Now, that universe happens to be the MCU, but I don't think this means that Venom, Morbius, Kraven, or any other Marvel character controlled by Sony is in the MCU now. In fact, they've been pretty clear that the MCU (possibly even the MCU multiverse) is a separate and distinct entity from the Spider-Verse.
In June, a Sony executive said that they have a big plan for the around 900 Marvel characters they control the rights for. He said there was a "plan" and that what it is should be evident "soon." When everyone thought Spider-Man was exiting the MCU, the split between the companies felt acrimonious. It apparently took a (drunk) Tom Holland to work out the issue. When they did work out a deal, Kevin Feige gave away the game.
Image via Sony Pictures
"Spider-Man is a powerful icon and hero whose story crosses all ages and audiences around the globe. He also happens to be the only hero with the superpower to cross cinematic universes, so as Sony continues to develop their own Spidey-verse you never know what surprises the future might hold."
Thus, the ending of Venom: Let There Be Carnage is easily explained: Venom is not in the MCU, rather he and Tom Holland are in the Spider-Verse. In the scene when the hotel room "changes," the effect looked a lot like a real-world attempt to replicate the dimension hop used in the animated film. If Tom Hardy and Venom are in Spider-Man: No Way Home, he will almost certainly also show up in a post-credits scene. And, let's not forget that the post-credits scene to Venom was a tease for the first Into the Spider-Verse.
It's possible that the next Spider-Man and Venom movies will be Spider-Man v Venom: Dawn of the Spider-Verse. However, it seems more likely to me that Tom Holland and Tom Hardy will show up in the sequel to Into the Spider-Verse. Either way, any Holland crossovers into the Sony films is outside the MCU.
"But wait," you may say, "what about Michael Keaton in Morbius?" Keaton is, for now, a villain that has only appeared in a Sony film. He may be a Vulture but he may not be the Vulture from Spider-Man: Homecoming. In fact, earlier images from Morbius showed the Tobey Maquire Spider-Man suit and none of Holland's suits. In fact, since the last Marvel Studios and Sony deal contained a monetary benchmark, the realities of the box office during COVID might mean the partnership is going to end.
What Is Sony's Plan for the Spider-Verse and How Badly Do They Need Spider-Man?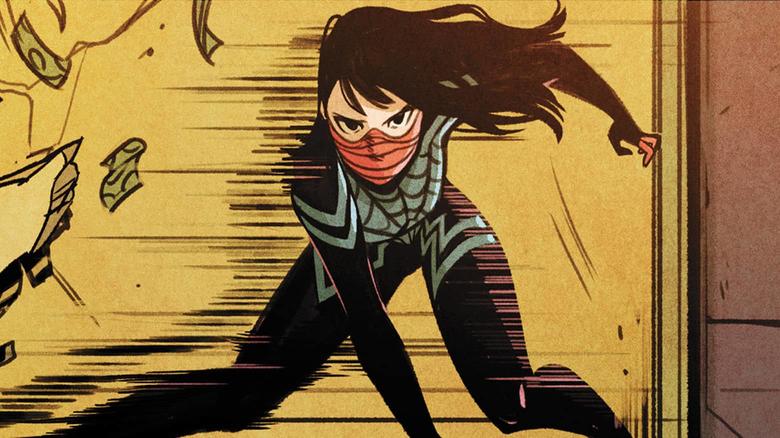 Image via Marvel.
The depth of Marvel characters that Sony has access to is impressive. They could spin out dozens of franchises that have nothing to do with Spidey. So, if he were to stay in the MCU, that's just good for everyone. Especially if the new partnership allows Tom Holland's Spider-Man to pop on over to a Miles Morales movie or Ghost Spider flick, all the better. But along with movies, there is a whole slate of Sony and Marvel series set to go to Amazon Prime. So, there definitely is a plan. And with characters like Silver Sable or Black Cat or Madame Webb, Spider-Man might only get in the way of their first solo outing.
Still, we know from the last deal that Tom Holland is supposed to appear in one more Marvel Studios film. Many folks suspect that he may play a part in Doctor Strange in the Multiverse of Madness, while others think that it may be a team up movie some years in the future. Who knows, the MCU may want to introduce a Miles Morales of their own. Honestly, at this point, anything can happen. Spider-Man is Sony's most valuable property, and they won't want to over-saturate the character. So, it's anyone's guess how the character will be used going forward and who might be playing him. Yet, as Director Andy Serkis said, it was a late decision just how much Spidey would be in the movie. It's definitely a tease for something.
Even if this is the beginning of the end of Spider-Man in the MCU, we had a great run. The past has shown us that even if the current deal falls apart, they can be repaired. So, there will be plenty of Spider-Man one way or another. The best way the Venom: Let There Be Carnage ending can be explained is that Sony is connecting its properties and letting fans imply the rest.
Venom: Let There Be Carnage is currently in theaters.
How do you feel about how I explained the ending of Venom: Let There Be Carnage? Do you think I'm right or do you think there is more synergy between Marvel Studios and Sony Pictures? Let us know your thoughts, theories, and hopes for the future in the comments below.
Featured image via Sony Pictures
Joshua M. Patton is a father, veteran, and writer living in Pittsburgh, PA. The first books he read on his own were comics, and he's loved the medium ever since. He is the greatest star-pilot in the galaxy, a cunning warrior, and a good friend. His book of superhero short stories, Tales of Adventure & Fantasy: Book One is available as an ebook or paperback from Amazon.
Leave a comment