Venom 2 Started Filming According to Deleted Tom Hardy Instagram Post
Tom Hardy is Sony's big live-action Spider-verse star, after 2018's Venom surprised everyone with an over $800 million gross. Yet, he's more like Marvel's Mark Ruffalo when it comes to spoilers. In a deleted Instagram post, Tom Hardy appeared to confirm that Venom 2 started filming. Earlier, he posted a picture of himself with Venom 2 director Andy Serkis, which he deleted because Sony had not yet announced it. While it might seem like a late start for a film that has an October 2021 release date, this tracks with the production schedule for the original symbiote film.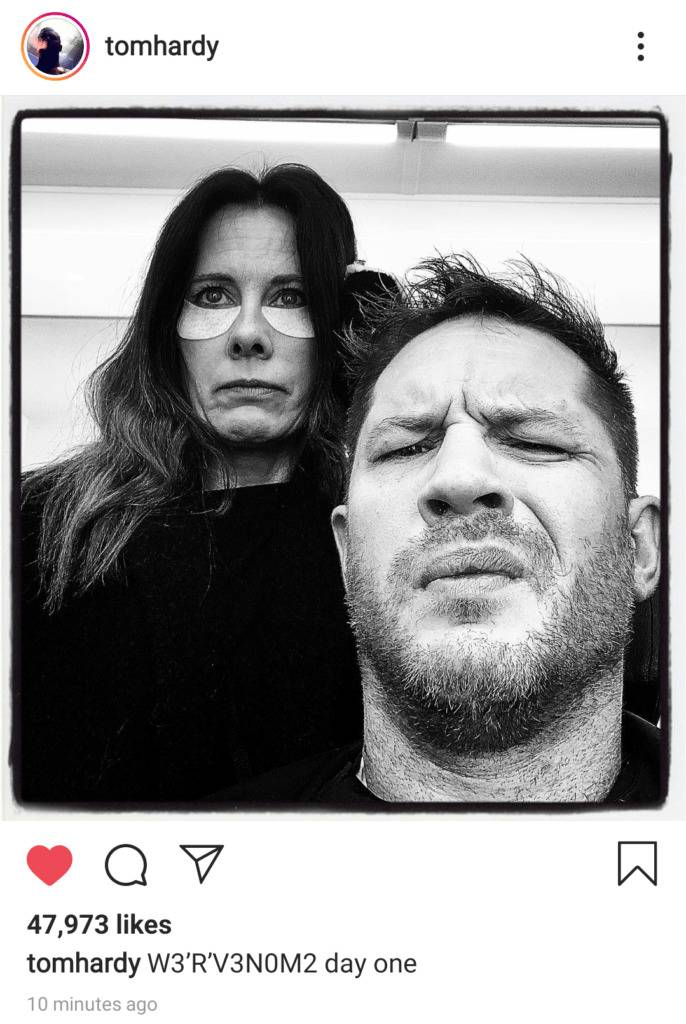 Image via Reddit
In the above image, captured by a Reddit user, Hardy writes in a kind of code. The message is easy to figure out, though. "We are Venom 2, Day One," it reads. In the image, Hardy makes a scrunched-up face while writer and frequent collaborator Kelly Marcel stands next to him. The image apparently amassed nearly 50,000 likes in just ten minutes. However, strangely, the pictured ended up deleted. We suppose it is always possible Marcel or Hardy didn't like the image and took it down. However, it strikes us more like it was a directive from Sony.
It's unclear why the studio wouldn't want the image announcing that Venom 2 started filming to stay up. Though, we do get why Hardy deleted the image of his pet bulldog which featured the shooting title of the film: Fillmore. Movies like Venom 2 will use different titles after they've started filming in the hopes of reducing looky-loos at location shots. However, it almost never works.
What to Expect Now that Venom 2 Started Filming
Image via Reddit (edited)
Sony is secretive about this sequel. Venom is the cornerstone of what they're calling the Sony Marvel Cinematic Universe. When a new deal between Sony and Disney kept Tom Holland's Spider-Man in the MCU, Kevin Feige explicitly stated that Spider-Man is unique in that he can travel between the MCU and Sony's Spider-Verse. That means it's possible that Holland could cameo in Venom 2, which would explain the extra secrecy. Though a rumor suggests Holland filmed a cameo for the first Venom, but Marvel Studios asked them to cut the scene. So, there will be plenty of people watching for signs of Spidey's inclusion in the sequel. Adding to this speculation, an image of Tom Hardy dressed as Spider-Man from Infinity War was posted and then deleted from his Instagram.
Otherwise, the only thing to expect will be fan photos and videos of Venom 2 filming, the likes of which started popping up online during the filming of the first one. Interestingly, fan response wasn't all that positive to that leaked footage. Arguably, their lowered expectations allowed Venom to pleasantly surprise and score big at the box office. Venom 2 has higher expectations to meet. Putting Woody Harrelson's Carnage, Naomie Harris's Shriek, and Spidey is either genius or a fatal flaw. Looking back to Amazing Spider-Man 2, the biggest complaint about the film was that it ignored the story and central characters in favor of massive setups for movies that never happened.
What do you think will happen now that Venom 2 started filming? Will the buzz be positive or negative? Share your thoughts, theories, and hopes in the comments below.
Featured image via screengrab.
Joshua M. Patton is a father, veteran, and writer living in Pittsburgh, PA. The first books he read on his own were comics, and he's loved the medium ever since. He is the greatest star-pilot in the galaxy, a cunning warrior, and a good friend. His book of superhero short stories, Tales of Adventure & Fantasy: Book One is available as an ebook or paperback from Amazon.
Leave a comment