Universal Studios Makes a Dumb Decision, AMC Theaters and Regal Cinemas Join Forces to Go to War
Today was a dramatic day for the movie industry. After Universal announced that they would release digital and theatrical simultaneously in the future, AMC and Regal took it as a threat. What happened? Trolls: World Tour made more money as an online rental than the first movie made in its entire theatrical run. Universal took this as a sign that people wanted to see the new movies in their home immediately. Moving forward, they want to release digitally and theatrically simultaneously. But for AMC and Regal, that's bad news. They split their ticket revenue 50/50 with Universal. The problem is that all three companies are thinking very shortsightedly.
Universal Studios Got Way Too Excited Over the Success of One Movie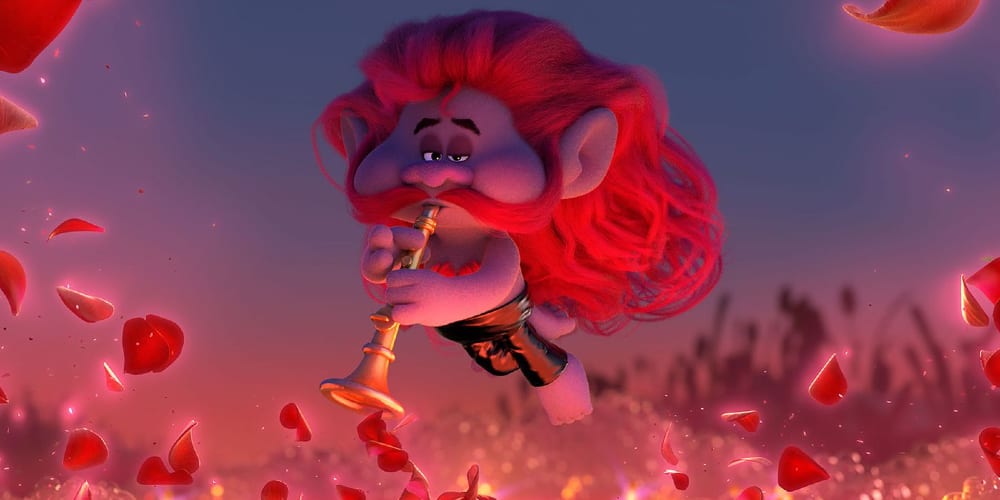 This movie caused corporate warfare. This one. (Image: Trolls: World Tour, Universal Studios)
Granted, Universal has good reason to feel excited. When they rent their movies, they get 80% of the revenue instead of 50%. That's why movies need to make at least double their budget to be considered a success. So, they made a lot of money off of Trolls: World Tour and they want to enjoy more of that instant cash. But on their way to pissing off Regal and AMC, Universal forgot a small detail. THERE'S A NATIONWIDE QUARANTINE IN PLACE. That means most Americans are stuck at home to slow the spread of COVID-19. And while a lot of parents are trying to teach 3rd-grade math, they also have to work from home. To do this, they need to keep kids entertained. Trolls: World Tour provided a new, perfect distraction.
Of course, it's not just kids. The film would have been a success in theaters too, most likely. The first one developed some goodwill. And the reviews for World Tour are really solid. People wanted to watch the film regardless, but the only option was to watch it at home. Universal had no means of comparison to know why the film did so well. Is it because it was one of the few new releases during a global pandemic? Or is the idea of renting a new theatrical release appealed to audiences? It's like assuming a drug will cure the Coronavirus because one or two people got better after taking it.
AMC Skipped Talking to Universal Studios and Went Straight to the Nuclear Option
Prepare for Battle! (Image: Trolls: World Tour, Universal Studios)
While Universal stands to make more money with the PVOD/theatrical releases, Regal and AMC will lose a lot of money. AMC Theaters, who are always fast to act and respond to changes in the movie business, fired back. "This radical change by Universal to the business model that currently exists between our two companies represents nothing but downside for us and is categorically unacceptable to AMC Entertainment," CEO Adam Aron wrote in the letter to Universal chairman Donna Langley. AMC's new policy? If Universal—or any studio—wants to release at home and theatrically simultaneously, they won't show their movies. Aron went on:
"This policy affects any and all Universal movies per se, goes into effect today and as our theatres reopen, and is not some hollow or ill-considered threat. Incidentally, this policy is not aimed solely at Universal out of pique or to be punitive in any way, it also extends to any movie maker who unilaterally abandons current windowing practices absent good faith negotiations between us, so that they as distributor and we as exhibitor both benefit and neither are hurt from such changes."
Universal should have negotiated with AMC and other chains first. However, AMC went from zero to a hundred. No opening for dialogue or discussion. War just started between Universal and AMC. But it just got bigger.
Regal Cinemas joins AMC in the Universal War™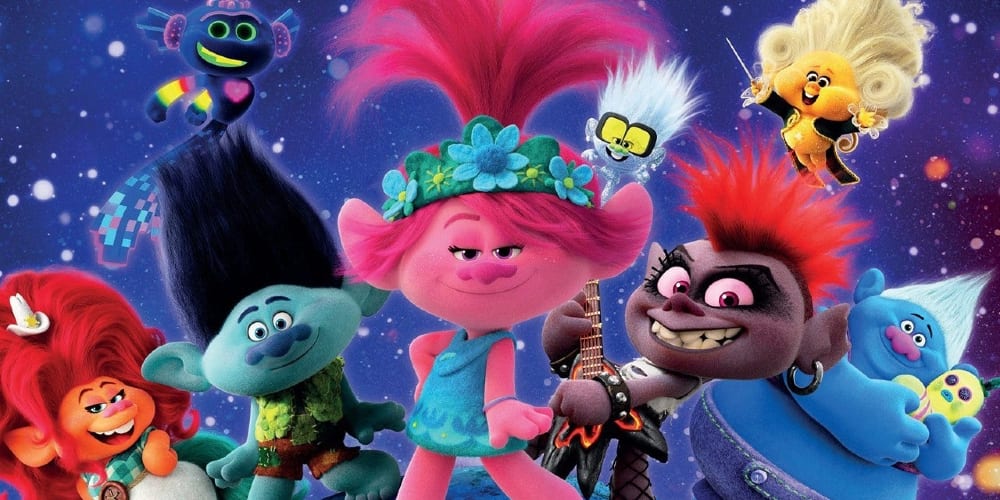 Oh—It. Is. ON! (Image: Trolls: World Tour, Universal Studios)
Not long after AMC's announcement, Regal Cinemas joined the fight, matching bomb for bomb. "Today we make it clear again that we will not be showing movies that fail to respect the windows as it does not make any economic sense for us," the company wrote in a statement. But why did join now? It might be because of Universal's response to AMC's letter:
"Our desire has always been to efficiently deliver entertainment to as wide an audience as possible. We absolutely believe in the theatrical experience and have made no statement to the contrary. As we stated earlier, going forward, we expect to release future films directly to theatres, as well as on PVOD when that distribution outlet makes sense. We look forward to having additional private conversations with our exhibition partners but are disappointed by this seemingly coordinated attempt from AMC and NATO (National Association of Theater Owners) to confuse our position and our actions."
AMC is the biggest cinema chain in the United States. Regal Cinemas is the second. If Universal felt safe attacking AMC back, that's probably no longer the case. This is like Darkseid and Superman teaming up. Mandarin and Iron Man. USA and Russia.
But None of this Matters Right Now, and Probably Won't Stay This Way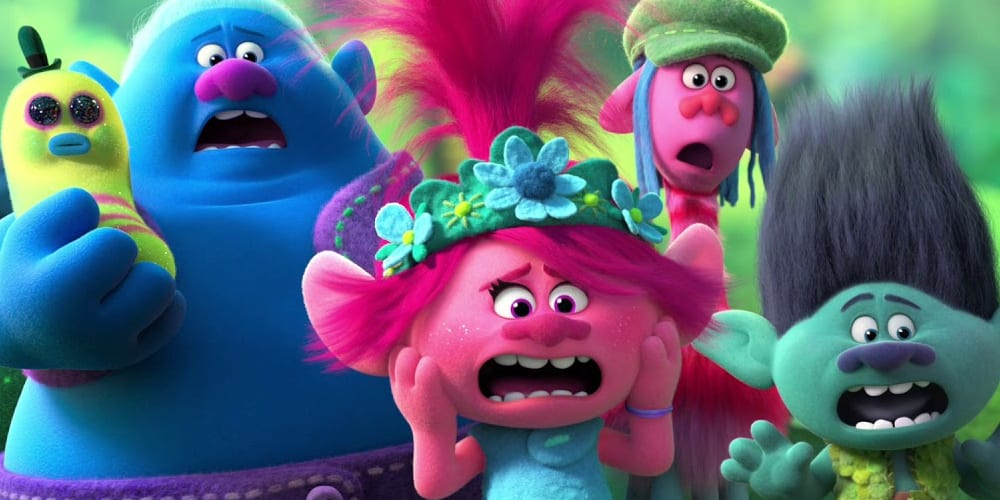 The entire entertainment industry right now. (Image: Trolls: World Tour, Universal Studios)
Blame the quarantine. Everyone's nerves are frazzled. And all three companies have thousands of employees depending on them. Curiously, a week ago, AMC was facing bankruptcy. But after the opening shots with Universal, their stocks went up 12%–at a time when the stock market is plummeting. Still, overall, things just aren't good right now.
Universal, Regal, and AMC are making rash decisions during a chaotic period. In the coming months. Hopefully, things will slide back to normal. In the meantime, you can enjoy Troll: Infinity War World Tour at home.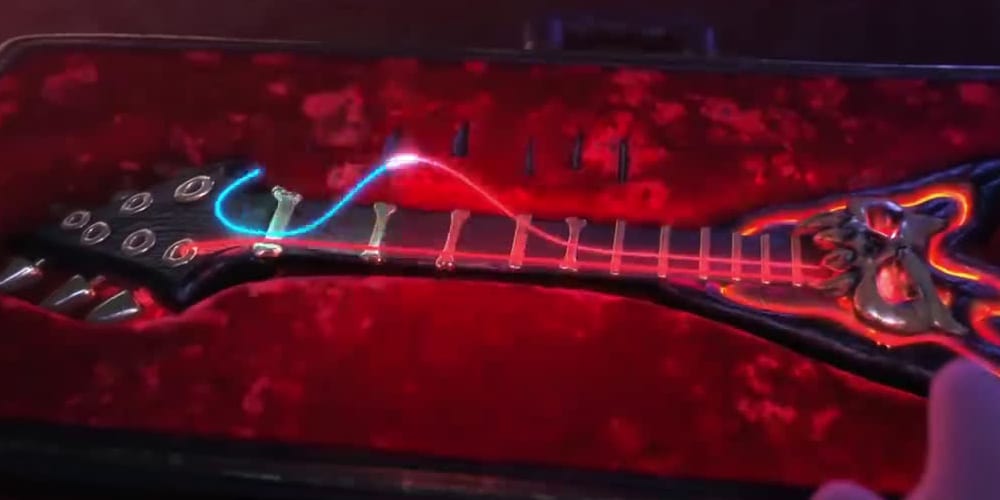 (Image: Trolls: World Tour, Universal Studios)
Seriously. The villain of the movie wants to unite six powerful stones strings of different colors to wipe out half the population of the universe all other music. Does anyone else notice this?
(Featured Image: Trolls: World Tour, Universal Studios)
Roman Colombo finished his MFA in 2010 and now teaches writing and graphic novel literature at various Philadelphia colleges. His first novel, Trading Saints for Sinners, was published in 2014. He's currently working on his next novel and hoping to find an agent soon.
Leave a comment