The First Uncharted Movie Trailer is Here and It's Looking Good
The current run of Sony PlayStation exclusives titles is substantial. With great games often come great stories. The Uncharted series is a great example of that. When the games picked up steam in the PS3 era, many applauded Naughty Dog for what they accomplished. Yes, it was a video game. But in reality, the developers melded together the best that gaming and movies had to offer. You played out a really wide-scope action movie. The set pieces, the characters; everything about Uncharted felt like a big-budget film. Why not turn that game into an actual big-budget film? In our first look at the upcoming film, Sony released an Uncharted movie trailer that actually looks pretty darn good. Here's what the teaser showed fans of the series and newcomers.
Uncharted Movie Trailer Rundown – What We See, Like, and Still Have Questions About
Image Credit: Sony Pictures Entertainment
In our first look at Uncharted, I'm feeling pretty optimistic about the film. Overall, people need to go into this realizing that things aren't going to be a straight adaptation. The story is a prequel to the games, starring Holland as a younger Drake, showing us details of how he came to meet and befriend Sully. If you've played the games, then you'll notice the trailer borrows a few set pieces from the later games. It's all part of the melding of game elements into a full-blown action series. Personally, I don't know why you'd want a scene-for-scene remake of the games. This is a good route to take and it seems to be effective.
Tom Holland as Nathan Drake and Mark Wahlberg as Victor "Sully" Sullivan pass the vibe check in this trailer. I think their chemistry is solid, but it'll be interesting to see how it plays over the course of a whole movie. Director Ruben Fleischer is clearly pulling for a familiar yet fresh presentation of Drake and Sully here. The writers, Art Marcum, Matt Holloway, and Rafe Judkins, seem to know what they're doing too. This is just a teaser, but we know that bad video game movies aren't usually just bad; they're horrible. Sony seems to want all of its properties to serve a purpose in various media. It's why we keep hearing rumblings of a God Of War movie.
Uncharted isn't the first Sony-exclusive video game to get a movie. Ratchet and Clank received the big screen treatment to minimal success. These grittier, adult-oriented films might fare better. Plus, there are some cool moments in the trailer fans will definitely notice from the games.
Uncharted Easter Eggs Fans Will Notice from the Movie Trailer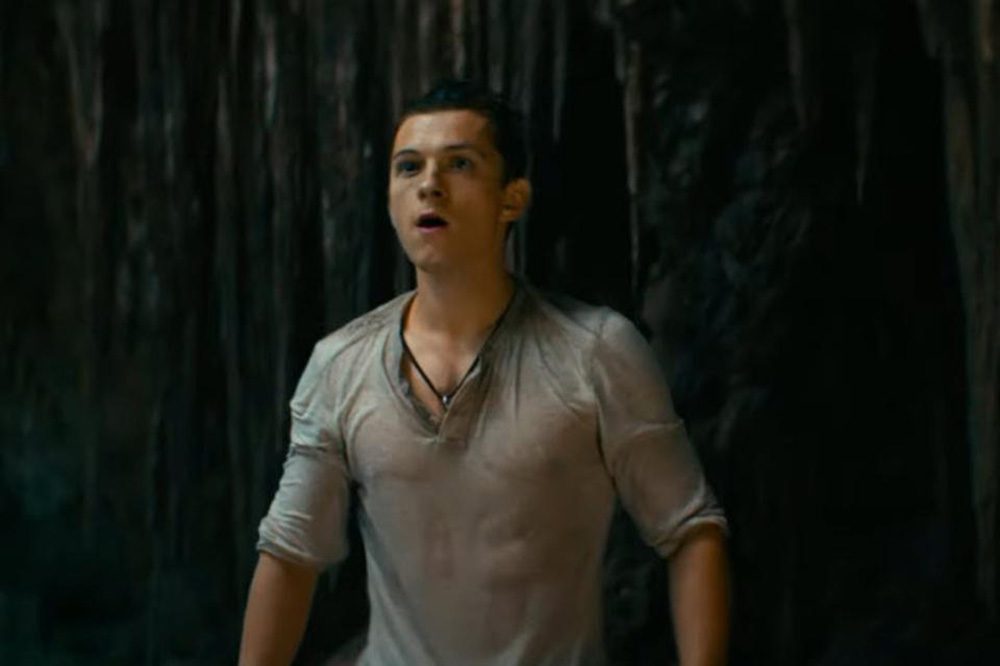 Image Credit: Sony Pictures Entertainment
Immediately, gamers who played entries in the Uncharted series will notice a few key scenes and set pieces. In the trailer, we see a glimpse at the famous cargo plane scene from Uncharted 3. We also get a wet shirt Nathan Drake scene and pirate ship discovery, scenes used in past games as well. All of these set pieces are in various entries in the video game series. As we can see, they're not going to tell us a single story from one game. Instead, the film is going to try to build a story of its own with familiar ingredients.
Fans online did immediately mention that Mark Wahlberg looks more like video game Nathan Drake than Tom Holland does. That's ironic, considering that Wahlberg was originally attached to the video game movie adaptation of Uncharted years ago. Now, the prequel style will follow a younger Drake, with Wahlberg's Sully guiding the way, albeit without that iconic mustache from the games.
Sony is set to release another adaptation of a Naughty Dog series soon. The Last Of Us HBO show is arriving in 2022 and more plans to adapt games into other media are certainly on the horizon.
The Uncharted Movie is Expected to Arrive February 18, 2022
In post-production now, Uncharted is expected to arrive in theaters on February 18, 2022. Given the slew of film delays, we're hoping that the date sticks. Another big delay of Disney movies announced this week proves that major studios are still reworking their lineups following the pandemic. It's evident that the COVID-19 impact on movie theaters is far from over.
If you're excited about the release of the new Uncharted movie trailer, then let us know in the comments! Thanks for reading Comic Years for all things movies, comics, and pop culture.
Featured Image Credit: Sony Pictures Entertainment
Taylor is the Gaming Editor of Comic Years and a lifelong fan of video games. He holds two degrees in Political Communication and wrote a Master's Thesis on resistance movements, race, and the exploitation of college athletes. His wife and two Toy Australian Sheppards keep him sane.
Leave a comment