Tyrese Gibson Thought Martin Scorsese Loved Morbius – Mocked For Sharing Fake Tweet
Tyrese Gibson thought Martin Scorsese had loved Morbius, but he was tricked by a fake post. Gibson is one of the actors in the recently released Marvel Universe movie Morbius cast. He wrongfully shared a fake tweet attributed to one of the most iconic movie directors and critics in the film world, which triggered a viral show on social media.
Image via Sony Pictures
The actor plays the part of Simon Stroud, an FBI agent in the Morbius movie. He investigates the events that unfold around the character when Morbius accidentally turns into a vampire. Despite his excitement for the film, Gibson can't overlook the movie's score on Rotten Tomatoes. So, fans believe that he shared the post as a way to improve their image, although he never imagined it was a joke. Had the statement it would have been a really big deal, since Martin Scorsese has spoken many times about how he doesn't think comic book movies are "cinema." (Spoiler Alert: They certainly are.) 
Gibson Shares Fake Tweet from Martin Scorsese
Tyrese Gibson found a fake tweet attributed to the famous director Martin Scorsese, which spoke highly of the movie. Gibson shared the Tweet on his Instagram and later deleted it, but it was all over the internet by then. The fake Tweet commented: "I was aghast to find out it was based on a comic book. This is the truest height of cinema and even I cannot top it. A wise man admits when he is wrong and I was wrong, I apologize to all comic book movies."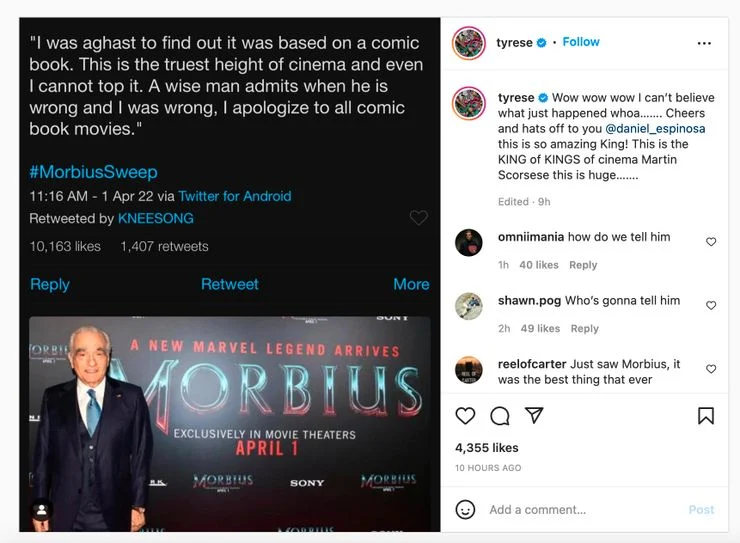 Image via Instagram
Upon seeing this, Gibson shared it, stating, "Wow, wow, wow, wow, I can't believe what just happened, whoa… Cheers and hats off to you @daniel_espinosa this is so amazing King! This is the KING of KINGS of cinema Martin Scorsese this is huge…"
Upon posting the fake Tweet, the rumor spread fast until Gibson discovered that the same was false. Although it was too late, Gibson removed the post from his Instagram account since many fans were already making jokes about it. 
Fans Mock Tyrese Gibson on Social Media
The actor's fans and haters mocked him all over social media. They ridiculed Gibson's statements and more after he deleted the original post. 
The mockery was both by chat and in publications and comments. Gibson, so far, has had to endure the barrage of ridicule. It is not yet known if he made the post knowing it was false or if it was just a mistake. But what is certain is that it made many people laugh on social networks.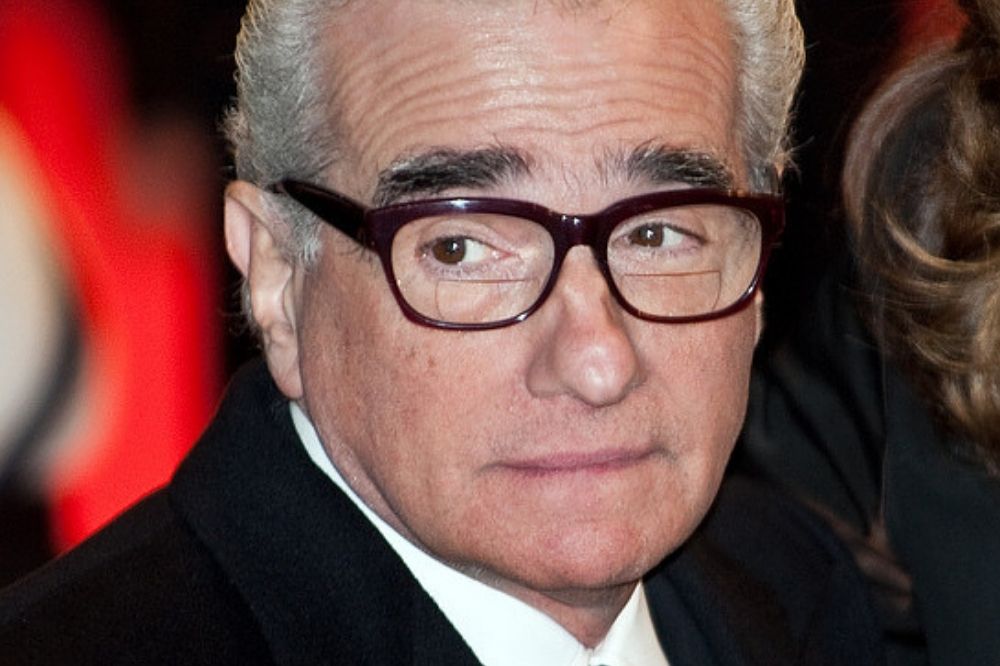 Image via Siebbi, CC BY 3.0, via Wikimedia Commons
As you can see, the release of the movie "Morbius" in theaters has brought a lot of comments. Although it has had some success at the box office, many critics have labeled it a terrible movie, especially for a comic book character.
Actor Gibson thought he had found a light amidst the darkness, a positive review of the film from one of cinema's most renowned critics and directors. He shared the post with excitement without imagining that it was false, which generated a series of jokes and mockery towards himself and the film.
As you can see, Morbius' premiere has been full of many events, both positive and negative. What is certain is that the public has sure had their share of fun thanks to the film.
Featured Image via Sony Pictures
Leave a comment