Turning Red Full Trailer Releases The Panda And I Love It!
This summer, we were treated to the adorable Turning Red teaser trailer, which introduced us to Meilin Lee, your average teenage girl living in Toronto. Except for one tiny little issue: she somehow turns into a giant red panda whenever her emotions get the best of her! Well Disney and Pixar just released the Turning Red full trailer and besides being super cute, it gives us a little bit more background on the whole turn-into-a-red-panda thing. Meilin is a go-getter and we see her acing all her classes and squealing over her favorite boy band, 4*Town, with her friends. She's going to have "the best year ever" until the day she wakes up and finds that she's furry and has a tail.
What Did We Learn From The Turning Red Full Trailer?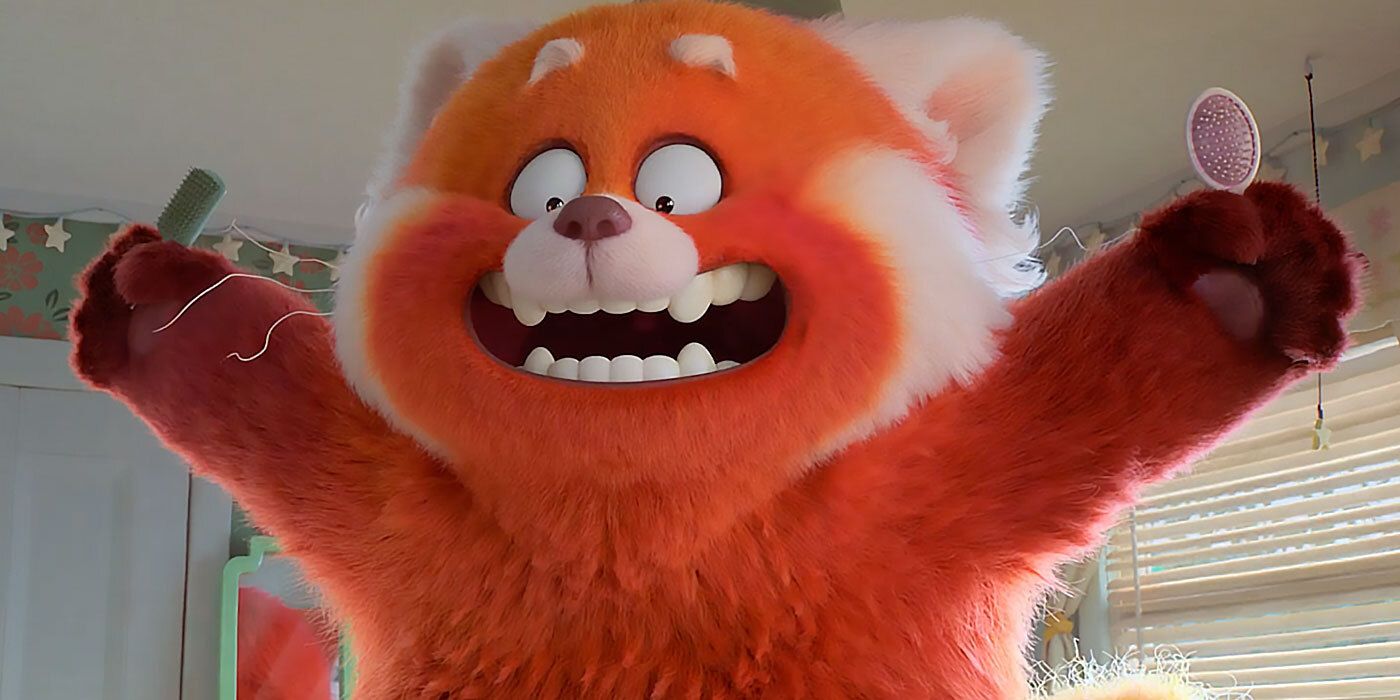 Image via Disney Pixar
While the teaser trailer was unclear as to why this was happening to Mei, the full trailer gives us a little more background. Apparently Mei's mother's side of the family has a "mystical connection with red pandas." It seems like there's a chosen person from the family who has to embody the red panda spirit and they end up turning into the animal when they're feeling emotional. The purpose of this isn't known, but it's definitely going to be a pain for Mei as she now has to navigate being a teenager AND a red panda. As Mei's mother said, "Any strong emotion will release the panda."
One thing I'm really looking forward to? The music! Both the teaser trailer and the full trailer featured songs from the popular boy bands of my youth (holla at Backstreet Boys and N*SYNC!), so it makes sense that Turning Red is going to have a kickass soundtrack. Pixar asked singer-songwriters Billie Eilish and FINNEAS to write the songs that 4*Town will sing, and there's a few more you'll be able to hear when the movie comes out. The film is directed by Domee Shi, who won an Academy Award for her short film, Bao. Meilin Lee will be voiced by Rosalie Chiang and her mother will be voiced by Sandra Oh.
Turning Red will come out in theaters everywhere March 11, 2022. 
What did you think of the Turning Red full trailer? Let us know in the comments below!
Featured image via Pixar
Keilin Huang is a freelance writer that likes the Oxford comma, reading from her neverending pile of books from the library, and Reeses peanut butter cups. She thanks her Dad for introducing her to his Superman comics and probably majored in Journalism because of Lois Lane. Contact her at [email protected]
Canada
domee shi
Pixar
Sandra Oh
turning red
Leave a comment