The Mighty Thor and Valkyrie In New Thor: Love and Thunder Shot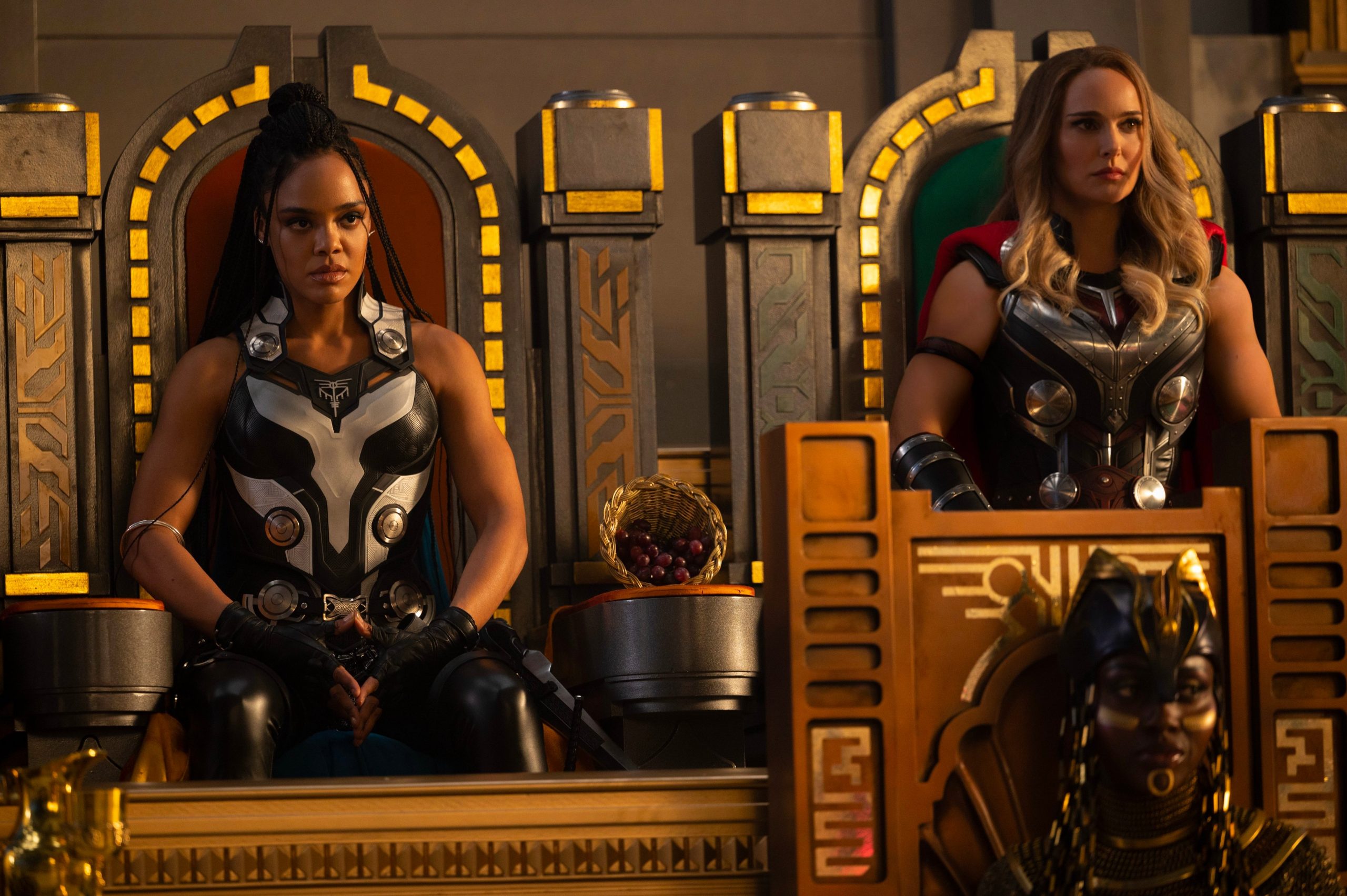 Thor: Love and Thunder introduces a new glimpse at King Valkyrie, played by Tessa Thompson, and Natalie Portman as The Mighty Thor. These two could be the next rulers of New Asgard.
Valkyrie searches for her new queen of Asgard, and judging by the shot below, she got it. Thompson and Portman's Female Thor sit side-by-side on a throne. Marvel just revealed a photo of Portman's character with Chris Hemsworth's Thor. Another photograph has been revealed, this time including not just Jane Foster, but also Tessa Thompson's Valkyrie. While it isn't brand new footage, it is something.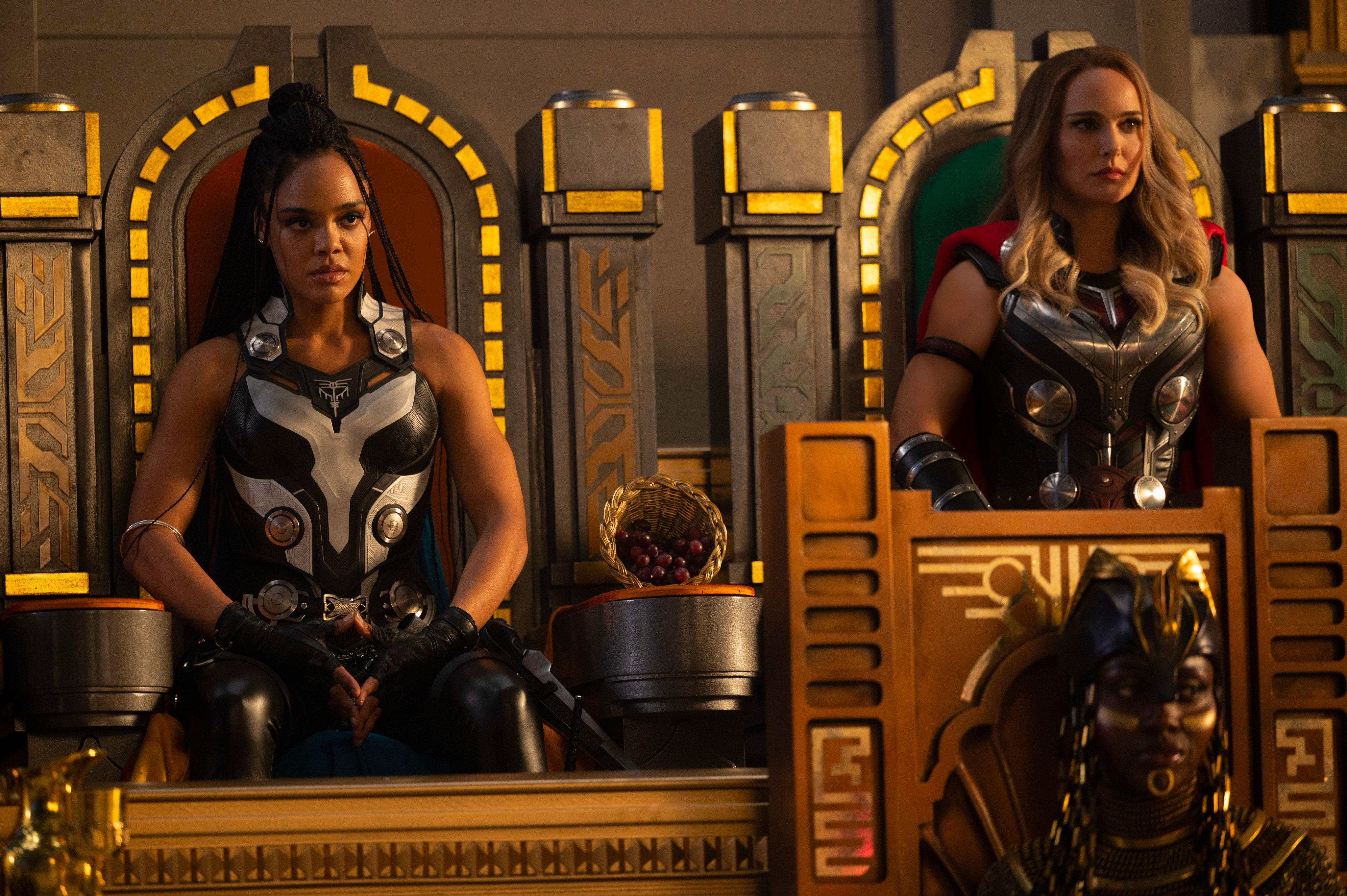 Source: Twitter @lovethundernews
Taika Waititi Has Thoughts About Jane Foster and Valkyrie
Interestingly, director Taika Waititi previously stated that there will be no love story between Jane Foster and Thor.
"I always think about it in real-time, for humans who have been watching the movies," Waititi explained. "So it's been about eight years. She's had a whole other life, and then the love of your life comes back on the scene, and is now dressed like you. It's a real mind-fuck for Thor. But I can't promise anything. I think most people will assume that the love story is between Chris and Natalie. I can't promise that what people think is going to happen in this film will happen."
Considering that's what's represented in this photograph, it's safe to presume they've assembled to discuss Christian Bale's Gorr the God Butcher. The villain has presumably taken off a few targets already. Perhaps assembling a slew of gods in one location isn't the best idea when a highly powerful zealot is on the hunt for those particular gods.
Other than Valkyrie and The Mighty Thor, Thor's Place Is Also In Question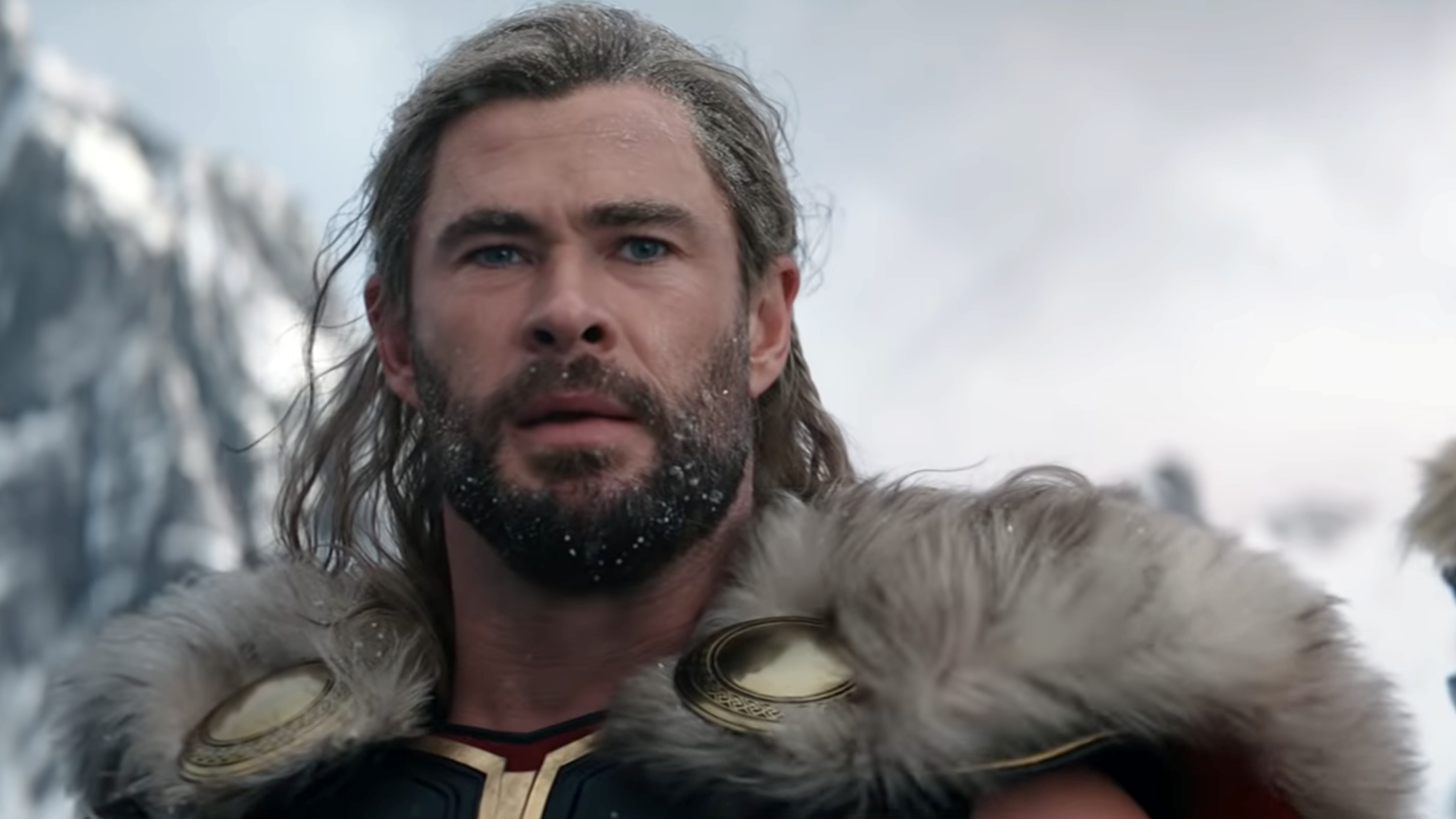 Source: Disney
Another unanswered question: where is Hemsworth's Thor in all of this? Perhaps Odinson is healing from a heavy thrashing from Bale's Gorr, so he had to cancel our meeting. Granted, he may also sit just outside the picture. The synopsis of the film goes as follows:
The film finds Thor (Chris Hemsworth) on a journey unlike anything he's ever faced–a quest for inner peace. But a galactic killer known as Gorr the God Butcher (Christian Bale), who seeks the extinction of the gods, interrupts his retirement. To combat the threat, Thor enlists the help of King Valkyrie (Tessa Thompson), Korg (Taika Waititi), and ex-girlfriend Jane Foster (Natalie Portman), who–to Thor's surprise–inexplicably wields his magical hammer, Mjolnir, as the Mighty Thor. Together, they embark upon a harrowing cosmic adventure to uncover the mystery of the God Butcher's vengeance and stop him before it's too late.
Thor: Love and Thunder Is a Phase 4 Movie Centering a
After 
the 
events 
of 
Avengers: 
Endgame, 
the 
original 
God 
of 
Thunder
finds 
himself 
unsure 
about 
what 
he 
wants 
to 
do 
with 
his 
life 
in 
the 
future 
MCU 
film.
His 
quest 
for 
inner 
peace comes into an
abrupt
interruption, however. This occurs
when 
a 
cosmic 
killer 
named 
Gorr 
the 
God 
Butcher
embarks 
on 
a 
campaign 
to 
destroy
all 
gods.
Thor must now enlist the assistance of his foreign buddy Korg (Taika Waititi), New Asgard's King Valkyrie, and his ancient flame Jane Foster / The Mighty Thor to stop the evil.
The first trailer of Thor: Love and Thunder
became viral around a month ago. In the first 24 hours, it had over 200 million views. It has plenty of action and wild visual effects set to Guns N' Roses' "Sweet Child o' Mine." It concludes with a shot of Portman reprising her role as Jane Foster. This time, she comes with a remastered Mjolnir as Mighty Thor. Since the film's announcement at the 2019 Comic-Con, fans wondered how a human figure like Jane Foster discovered this new force. We all also wish to know how Mjolnir was rebuilt. With a theatrical release in less than two months, the second trailer for the next Marvel Studios film might be out soon.
Leave a comment