The Matrix Resurrections Review (Spoilers!) How Lana Wachowski Made Us Love Reloaded And Revolutions
When the Matrix sequels came out, there was an incredible amount of excitement…followed by an enormous number of groans. Fans thought they wanted bigger action and more style, but Reloaded and Revolutions lost the grittiness of The Matrix. Granted, they had their moments. The car chase in Matrix Reloaded will be hard to top for decades to come. Neo and Agent Smith's final battle was one of cinema's most badass and emotionally raw fights. Re-watching the – and this feels so weird to say for The Matrix – the original trilogy, they were much better than we remember. The expectations were just too high back then. But even so, Lana Wachowski does something unique. In this review it's great to say that The Matrix Resurrections enhance the entire series without going over the top.
Let's Review the Plot of The Matrix Resurrections First – It's Complicated
(Image: Warner Bros Studios)
All we knew from the trailers was that Neo and Trinity would return. That's all that mattered, really, right? Well, the story isn't that they need to return to defeat the machines and the Matrix. That would be too easy. It would probably still be a fun movie, but, like Reloaded, not a smart one. The most important aspect of The Matrix Resurrections is that it doesn't undo the developments of the previous films. It's like Wachowski took into account every review of the sequels and used Matrix Resurrections to simultaneously say "I hear you" and "Go jack yourself." (You know, as in "jacking into the Matrix…not…the other thing). Wachowski is like a proud mother of her kids, putting all their artwork on the fridge.
So, here's the plot. Ready for spoilers? Good. After Neo's sacrifice, the machines had a civil war. On one side was the Architect (though he's never named). The Architect and the Oracle want to honor Neo's sacrifice and the peace he created. On the other side is the Analyst, who wants to use Neo and Trinity's tragic relationship to power a new Matrix. He won. The Oracle and presumably the Architect were both purged from the Matrix update. But here's the catch. The power didn't come from Neo and Trinity's union. Instead, the power comes from their desire. The Analyst realized that if he kept them incredibly close but just out of reach, their emotions would power Machine City for centuries. He just needed to keep their bodies from aging too much.
So, What About the Peace Neo Created?
(Image: Warner Bros Studios)
That peace still exists. There are machines still loyal to Neo, and they've been working with, even living with, humans. Zion is gone – at the fault of humans, no less. Now they have Io. And leading this new city co-existence? Jada Pinkett-Smith's Niobe. The actress returns in heavy makeup and a 100% BAMF attitude. She's happy to see Neo again, but she's not intimidated or even impressed, really. When Neo tries to claim responsibility for Bugs, the captain who found and freed him, she retorts, "do not rob my captain of her agency." She's a strong leader, and she cultivates the machine/human bond to do amazing things. They have a sky now. Machine intelligence and human ingenuity, combined, can make strawberries. Remember, they ate goop back in the day. Now they have gardens. Some Machine programs even use magnetic nanobots to construct a human-ish appearance.
Wachowski manages to create a new conflict without negating Neo's sacrifice. And the results are beautiful. But, as we'll discuss in this review, not every aspect of The Matrix Resurrections was perfect.
What About the Newcomers in The Matrix: Resurrections?
(Image: Warner Bros Studios)
This is one area all four films struggled with. They have large casts, but we only get to know a handful of characters. In the first film, it was Neo, Morpheus, Trinity, Cypher, and Smith. In Reloaded, we cut out Cypher, but none of the new characters felt developed. Even fascinating ones, like the Merovingian, felt inconsequential to the story. By the way, he briefly returns in The Matrix Resurrections. HeMatrixlonger the sophisticated Frenchman giving women digital satisfaction. He's, well, more than a little crazy. His program, in the new Matrix, no longer serves a purpose. It's just a cameo, but opens up a big can of worms.
For Matrix Revolutions, the Wachowskis tried to maMatrix Kid a lovable character, but that fell short. Actually, the Animatrix suggested that the Kid – not Neo – was the one. He freed himself from the Matrix without any assistance. So, he seemed like he'd be a big deal, but then nothing.
In The Matrix Resurrections, we get a new version of Morpheus, a construct Kevin Anderson makes trying to review memories he isn't sure are real. Except, he combines Morpheus with Agent Smith. So, this version of Morpheus has the theatrics of the original mixed with the pragmatism and disillusion of Smith. It oddly works, mainly because Yahya Abdul-Mateen II is brilliant. Our other new, interesting – but underdeveloped – character is Bugs. However, Jessica Henwick is so endearing that it's easy to love the character despite being underdeveloped. The other new characters? Remember Switch and Apoc? They got better development. And I bet half the readers needed to Google them.
The New (ish) Villains are a Mixed Bag
(Image: Warner Bros Studios)
We only get two new villains. Well, more like one and a half. Jonathan Groff plays the new Agent Smith, but even though he has some cool lines and scenes, he's no Hugo Weaving. Thankfully, he doesn't try to be. So, while he's not the best addition, he certainly tries to make the character his own.
The movie's big villain, The Analyst, is by far the best new character. That is entirely because of Neil Patrick Harris. He's funny, but after a while, the humor becomes menacing. He never glares or scowls or screams, "Mister Anderson!" His intimidation is in the way he acts like nothing is serious, but he's still in control. He's the opposite of the Architect. The Architect spoke in a deep voice with a thesaurus nearby, and didn't smile once. He was serious with a capital S. The Analyst is like his child who doesn't want to be seen as his cruel father, but is actually ten times worse. But without NPH, the role wouldn't work.
The Oddest Part of this Review: The Matrix Resurrections is the Greatest Love Story Ever Told
(Image: Warner Bros Studios)
Elizabeth Bennet and Mister Darcy? Guess what? You're both pretentious and boring. Pat and Tiffany? Here's your silver lining: two hot people played you. Daisy and Gatsby? They should have both ended up in that pool. Harry and Sally? I wish you never met. Jack and Rose…just…no. Hell, Romeo and Juliet? Come on, you didn't fight one superpowered agent together. Neo and Trinity have the greatest romance ever written. If you disagree with this part of the Matrix Resurrections review, see a doctor. There is something wrong with your heart.
Without Trinity, Neo is nobody. Without Neo, Trinity is lost. It was Trinity's belief that convinced Neo he was thMatrix He was, in a sense. The one fMatrix. All of his power came because of her love for him. In Reloaded and Revolutions, he had to watch her die. The first time, her Reloaded death, took place in the Matrix. Since Neo could control the Matrix, he was able to save her. But her Revolutions death took place in the real world. This was – as far as Neo knew – permanent. It's what made him at peace with sacrificing himself. In the original trilogy, they kind of were a Romeo and Juliet. But with a lot moMatrixther, latex, and guns.
Lana Wachowski, however, does much more than reunite them after death. As we said earlier in this Matrix Resurrections review, their love is so powerful it fuels the entire Matrix. But it goes beyond that, just a bit.
How Neo and Trinity Went from a Great Love Story to the Greatest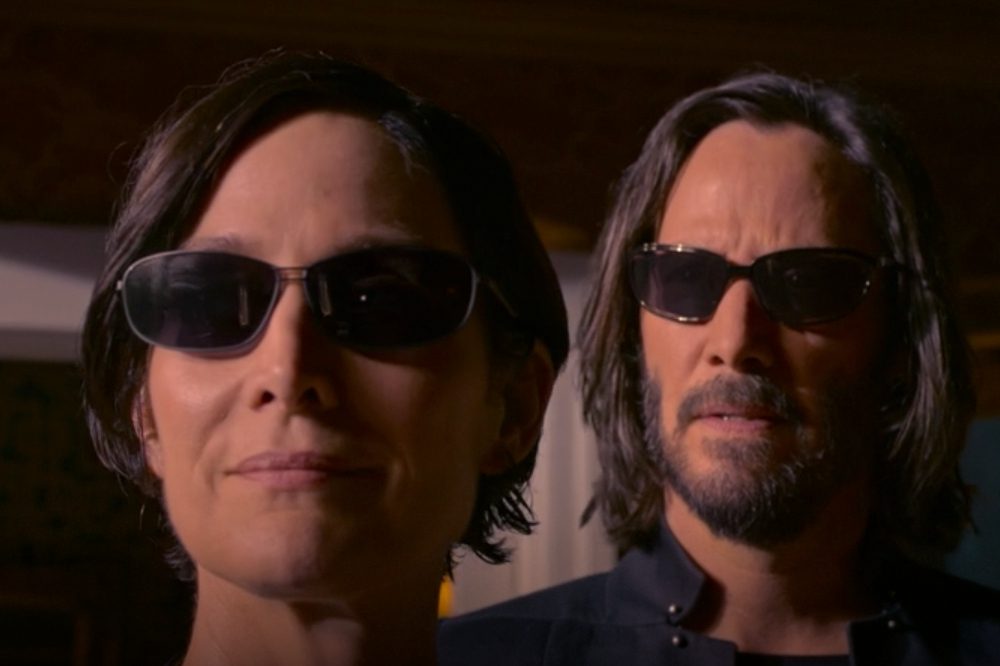 (Image: Warner Bros Studios)
The ending of The Matrix Resurrections was one of the most perfect endings anyone could write, and the best kind to review. Wachowski took Neo and Trinity's past tragedies and used them to turn the duo into something more. Now, instead of having "the One," we have "the Two." As Neo struggles to rediscover his old powers, Trinity finds her own – and she flies, saving both of their lives. She can see the Matrix now, and is equal to Neo in every way. After they confront the Analyst (and Trinity has some fun horrifically wounding him and then making him whole), they fly off together, bound to create a new Matrix together. Their first "child."
Que awesome outro music.
The Last Question We Have to Ask in this Review: Will There be More After The Matrix Resurrections?
(Image: Warner Bros Studios)
There better be. The first movie ended so that it concluded the story but kept it open enough for more. The Matrix Resurrections ends similarly (complete with both of them flying past the camera). But this time, even though it tells a complete story, there is so much more to explore. Why do sentinels still hunt people if there is peace with Machine City? What about the other captains from Neo and Niobe's era? If the Machines can bring back anyone, what about the real Morpheus? Can they create human bodies for programs? Why did Santi, the little girl/computer program in Matrix Revolutions, age? How does she feel grief for her murdered parents? How do you murder a computer program? Why is Bugs' mind so similar to Trinity's? And most of all, will the gardeners of Io successfully make blueberries?
Hopefully, the Matrix Resurrections does well enough on HBO Max and in theaters so that this is far from the last review we write about the franchise. To have Lana Wachowski, Keanu Reeves, and Carie-Anne Moss return for The Matrix Resurrections is awesome enough. But they also brought back to life a franchise that we all thought should have stayed dead. But, just like we see in the movie itself, resurrections are more than possible.
If you want to see more Matrix movies after Resurrections, reply to this review with your craziest theories of where they can go next!
(Featured Image: Warner Bros Studios)
Roman Colombo finished his MFA in 2010 and now teaches writing and graphic novel literature at various Philadelphia colleges. His first novel, Trading Saints for Sinners, was published in 2014. He's currently working on his next novel and hoping to find an agent soon.
Leave a comment