The Marvels Is Officially In Production With Brie Larson and Samuel L. Jackson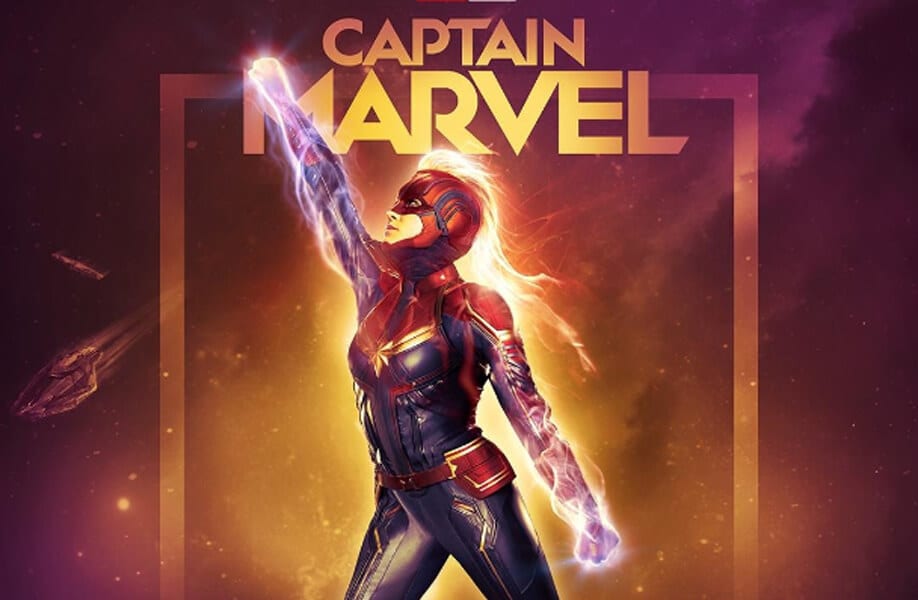 It has been three years since we got our first female-led superhero movie in the MCU with Captain Marvel. Now she is headed back to the big screen with the sequel The Marvels that has officially entered production. Brie Larson is returning as Carol Danvers, alongside Samuel L. Jackson who is returning as the iconic Nick Fury. Let's take a look at what we know about The Marvels – the upcoming sequel to Captain Marvel.
Samuel L. Jackson Dons His Iconic Facial Hair For The Marvels
Image via Marvel Studios
Jackson confirmed the news on Instagram with a teaser photo of his fake facial hair for the character. He also provided a punny caption: "Guess what time it is! Back in the box, just in The Nick of time!" Jackson of course appeared in Captain Marvel as a younger version of Nick Fury. And soon he will helm his own Disney+ show with Secret Invasion. The events of that series will also likely play into the story of The Marvels. It is unclear exactly when Secret Invasion will air on Disney+  but it is likely that it will air before the release of The Marvels.
Brie Larson Is Back As Captain Marvel
Image via Marvel Studios.
Larson also acknowledged that she was back on set filming the Captain Marvel sequel as production begins for The Marvels. In an interview with Sirius XM Radio, she describes the experience of filming a Marvel movie as 'epic.'
"It's a really unique experience. I'm a huge fan of Disneyland, so to me it feels like I get to go to my own private Disneyland every single day. Because they're building all of these insane worlds that no one else knows about, no one else gets to see. You'll see it when the movie comes out but for now it's just mine. I'm in sets that are bigger than you can imagine right now. It's really special."
Multiple Marvels At Play In This Sequel
Image via Marvel Comics
The Marvels is set for release in November of 2022, as part of Marvel's Phase 4. Director Nia DaCosta is onboard for the film that will see Carol Danvers reunite with Monica Rambeau (Teyonah Parris) as an adult. As production for The Marvels begins, we know that these two powerful women will also be joined by Iman Vellani as Ms. Marvel/Kamala Khan. This character will be introduced in her own show on Disney+ – Ms. Marvel – at the end of the year. Is this why the movie title is The Marvels? We've got Captain Marvel and Ms. Marvel, how many other Marvels can we fit into one movie?
The Return of Monica Rambeau In The Marvels
Image via Disney+
It is also interesting to note that The Marvels was written by Megan McDonnell, who was also a staff writer on WandaVision. In that series we saw Monica Rambeau as a major character, and also witnessed her gaining powers of her own through her exposure to the Hex.  Since The Marvels should take place well after the events of WandaVision, that means Monica will have her own powers that might see her team up superhero-style with Captain Marvel.  So maybe the film will finally address Monica's obvious deep-seated issues with Carol, that were hinted at in WandaVision. And who knows, maybe this will be the beginning of Monica's run as Captain Marvel herself.
The Marvels is set for release on November 11, 2022. We'll certainly be keeping an eye on the production of this film and all of the Phase 4 projects in the MCU. To stay up to date on all of the latest news, be sure to follow Comic Years on Facebook and Twitter today.
Emily O'Donnell is a writer and photographer with roots in some of the earliest online fandoms. She cut her genre teeth on the Wizard of Oz books at the tender age of 6 years old, and was reading epic adult fantasy novels by the age of 10. Decades later, she still consumes genre fiction like there is no tomorrow. She is delighted to be living through the golden age of sci-fi and fantasy popularity. She is unashamed of the amount of fanfiction that still lingers online under her name.
Leave a comment