The IMAX Star Wars Episode IX: The Rise of Skywalker Poster Has Way Too Much Photoshop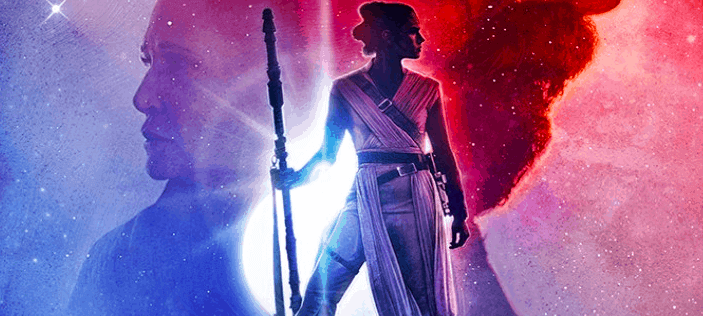 As if we needed more reason to go to IMAX for Star Wars Episode IX: The Rise of Skywalker, we now know what the free poster will look like. Who doesn't love a free poster to awkwardly hold on to for three hours and then leave in your car where it is inevitably bleached out by the sun? How many of us have slipped on those discarded or forgotten posters in the aisles? But yeah, free poster. So, what does it look like?
The Rise of Skywalker IMAX Poster is a Bit of a Mess
Image via Lucasfilm
What is happening here? What is the artist trying to accomplish on that right side? Is that Chewbacca merging into Luke merging into Kylo merging into Adam Driver's hair? Why are there teeth above the beard? Is this supposed to make some kind of shape? Will the IMAX Rise of Skywalker poster turn out to be one of JJ Abrams mystery boxes?
There Might be One Rise of Skywalker clue in the Poster
No, not the weird teeth (have you spotted them yet?). The poster—which I'm told doesn't have Chewbacca in it, focuses on just four characters, Luke and Leia, the brother and sister of the original trilogy, and Kylo and Rey, the new blood of the last trilogy (or so we're told). Obviously, these four will be important, but what's striking is putting Kylo and Rey alongside the most famous siblings in sci-fi history. Even more interesting is that we're looking at the two suns of Tatooine, where Luke grew up. So…will the old fan theory that Kylo and Rey are brother and sister, or maybe cousins, turn out to be true? Sure, they did have some sexual tension in The Last Jedi, but remember…Luke and Leia made out once. Maybe we'll experience the same awkward reveal in Rise of Skywalker—but in full IMAX glory!
And seriously…what are those teeth?!!?
You see them, right? (Image via JoBlo)
Featured Image and Source: JoBlo
Roman Colombo finished his MFA in 2010 and now teaches writing and graphic novel literature at various Philadelphia colleges. His first novel, Trading Saints for Sinners, was published in 2014. He's currently working on his next novel and hoping to find an agent soon.
Leave a comment