'The Good, The Bart And The Loki' Short Film Is Well Worth Your Loki-Loving Time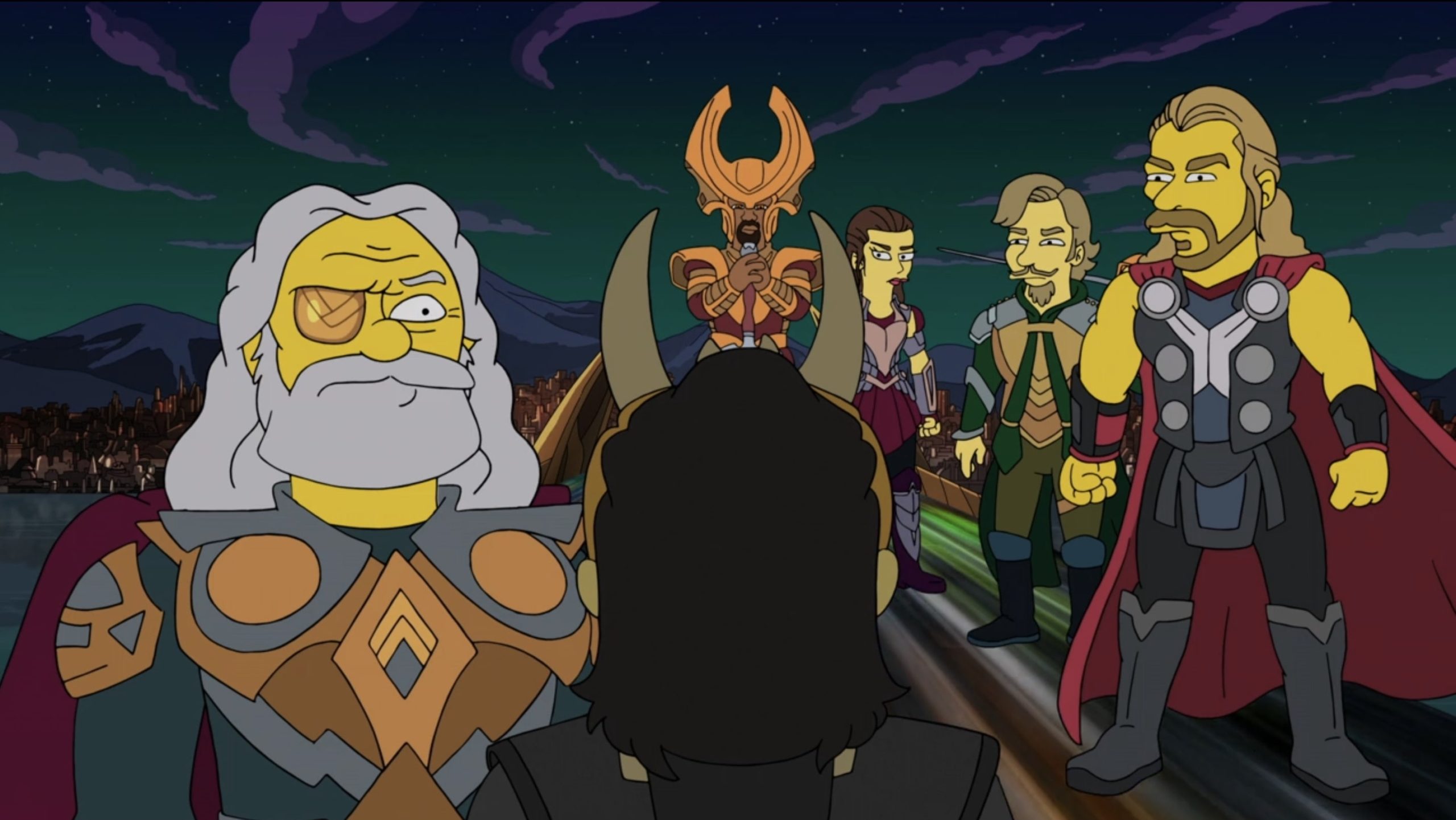 Disney+ wasn't lying when they said that Wednesday would become the new Friday. Who needs to count down until TGIF when hump day brings us so much? In addition to getting the highly-anticipated fifth episode of Loki, the streaming platform also dropped a new short film entitled The Good, the Bart, and the Loki. And yes, it's exactly what it sounds like. This unexpected crossover pairs our favorite Marvel baddie, Loki, with The Simpsons. It may be short in time, but it gives us more than we could have hoped.
While we're sure that you're not as afraid of spoilers for a Simpsons event as you would be for a regular episode of Loki, it is worth noting that this post won't be entirely spoiler-free. But don't worry, there are parts worth watching that we couldn't spoil if we tried.
A Short Review of Short Film The Good, The Bart, and the Loki
We have seen Loki and Odin have their fair share of disagreements, and this short is nothing new. We open up on Asgard with the not-so-functional family that we all know and love, including an Odin voiced by Maurice LaMarche and Thor standing off to the side. Loki, voiced by the always charming Tom Hiddleston, is immediately banished for whatever crime he has decided to go for this time, and he is, to his dismay, sent to Springfield. Anybody should be surprised to have the God of Mischief appear before them, but the Simpson family isn't too fazed, especially after Loki proves his powers. But after making a quick friend in Bart Simpson, Loki follows his lead and banishes Lisa to Asgard.
Does anybody remember the massive debates that ensued on the internet when it was rumored which other MCU characters could wield Mjolnir? The hammer, which can only be held by those worthy, is picked up by Lisa with ease. Captain Marvel, who? After a conveniently mischievous switch-around with Bart, Loki manages to elude capture, taking the young boy's place in Springfield. What remains is a content Loki, who is more than pleased to be tucked into bed by Homer. Finally, a functional family… Until he realizes what he's gotten himself into.
Image via Disney+
The Disney+ Short Plays With On-Brand Marvel
Not only is the short film The Good, the Bart, and the Loki filled with references to other Avengers and moments within the MCU, but they also take a page from their books when it comes to post-credit scenes. The main plotline wraps up in mere minutes, but some hilariously on-brand moments occur throughout each of the three post-credit scenes. One even plays directly into Loki, featuring some familiar characters.
Though the short film may not be as enjoyable to fans who prefer The Simpsons over Marvel, it is filled with enough easter eggs and commentary that we're left feeling pleased. It's wholesome, fun, and very in character for a pre-Loki Loki. Though, we think that the release may have done better while Loki was debuting its first episodes, as it's hard to step out of the feelings that come with the penultimate episode released on the same day as this short.
Image via Disney+.
Where On Asgard Did This Come From?
We definitely didn't expect to see Tom Hiddleston meeting Bart Simpson happening in the scared timeline, but this event isn't too unusual that it should cause a Nexus Event. The Simpsons crossed over with another big Disney property with The Force Awakens from Its Nap that dropped earlier this year. The 3-minute short film is all about Maggie Simpson as she goes on an adventure through the stars.
The Good, the Bart, and the Loki also won't be the last Disney+ and The Simpsons short film to release this year. The streamer has plans to release various promotional shorts throughout 2021, giving tributes to other titles. So, what could come next? Something for Hawkeye, The Book of Boba Fett, or Night at the Museum: Kahmunrah Rises Again? Only Bart knows.
Readers, let us know what you think about the short film The Good, the Bart, and the Loki. And if you feel like you need even more drama, check out our review for episode 5 of Loki.
Featured image via Disney+.
Meghan Hale is the kind of movie lover that has a "must watch" that is a mile long... and growing. When she isn't talking about the latest film and television news she is writing one of her many in-process novels, screaming film trivia at anybody who will listen, and working as a mental health care professional. Follow her on Twitter @meghanrhale for some fun theories and live reactions to all things entertainment.
Leave a comment