The Future Of Black Adam And Superman In DCEU
Black Adam star Dwayne "The Rock" Johnson shares the future of Black Adam and Superman in DCEU.
After the opening weekend of Black Adam, the internet went wild with Henry Cavill's announcement. Following Superman's cameo in Black Adam, Cavill confirmed that he's back in DCEU as the franchise's Superman. Cavill last appeared as Superman in 2017's Justice League.
Now, a new powerful character from DC Comics has made his way to DCEU. Black Adam's introduction in the DCEU will question the power dynamics between the heroes in DCEU.
 In the comics, Superman and Black Adam have an interesting relationship. While Black Adam isn't necessarily Superman's archnemesis, the two would often see themselves against each other. Black Adam's personality and how he deals with things constantly clash with Superman's beliefs and principles.
Black Adam and Superman first had their comic book battle in issue C-58 of "All-New Collectors' Edition." The limited comic series would make unlikely DC character pairings fight against each other. The events in this issue started when Black Adam, using a spell, disguised himself as Captain Marvel and started destroying Metropolis. Superman rushes to the rescue but finds it difficult as Black Adam would use Red Sun Radiation — one of the few weaknesses of Superman. Their rumble ended when the real Captain Marvel showed up and explained the situation.
Black Adam would then partner up with Karmang the Evil to destroy the world. Luckily, the duo of Superman and Captain Marvel thwarted the evil plans of Black Adam and Karmang. Since this first comic book brawl, the two would often clash against each other.
With Cavill's confirmation that he's back in the DCEU, it'll be exciting to see if the franchise would make an on-screen fight between Black Adam and Superman in DCEU. And the Black Adam star has some things to say about this possibility.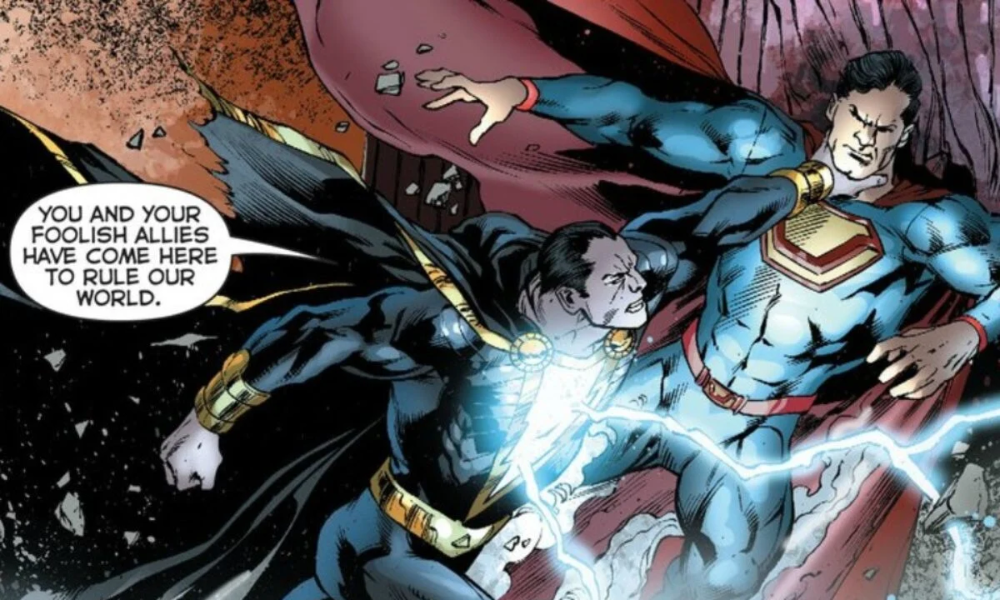 Image: DC Comics
The clash between Black Adam and Superman in DCEU
In a recent interview with JOE.ie talks about the interesting relationship dynamics between Black Adam and Superman in DCEU. Johnson agrees that there would be plenty of things that the two characters won't agree with. 
"So when all that does go down… um because look at the end of the day… you have to be clear. You have the most powerful force in the universe and his name is Superman. No one will ever be able to match that and then you also have a very disruptive force, who can go toe-to-toe with Superman. And there are a lot of things that they're going to agree on and even more interesting down the road in our storytelling, there's a lot of things that they're not going to agree on, so that's gonna… I see that eyebrow raise, you're like, 'Oh!' You know it's coming. So that's all going to come down the road. And when that time comes then I'm sure, to bring it all the way back to your great question, myself and Henry Cavill, I'm sure we'll get after it in the gym and as you said we will in fact break the internet."
The presence of two powerful beings with somehow polar opposite principles is a recipe for a destructive brawl. And it seems like Johnson is already teasing us about the possibility of seeing a full-on fight between Black Adam and Superman in DCEU.
In the same interview, Johnson also mentions his excitement about the possibility of him working alongside Henry Cavill in future DCEU films. He notes that the "showdown down the line is fun to say."
"And this idea of Henry Cavill and I working out together for a possible showdown down the line is fun to say. But the truth is, and for all your fans watching, the truth is a Black Adam-Superman showdown no doubt Earth-shattering."
It'll be up to DC how they'll play their cards right for these powerhouses to meet in DCEU. Hopefully, the future Superman 2 film and the other DCEU films will establish a comprehensive storyline that will permit the clash between the two god-like creatures.
Black Adam is still showing in theatres worldwide.
Paul is many things. He's a fan of anime, superheroes, and everything in between. He dedicates his downtime to annoying the heck out of his cats and dog.
Leave a comment