The French Dispatch Review – Nous T'Aimons, Wes Anderson
Movie theaters were home to a few different kinds of clubs on a late October evening in 2021. The first is filled with sci-fi fanatics, book adaptation lovers, and Timothée Chalamet fans. They are sitting in packed theaters for the first time in ages to watch Dune. Down the hall, there are the quieter but less forgiving ticket holders that love symmetry, pastels, and Timothée Chalamet. We're there to see The French Dispatch, of course. While it may stand in the shadow of some of the other new releases, the latest film by Wes Anderson deserves far more than second place. We'll explore why in this review of The French Dispatch.
The French Dispatch Review – A Little French, A Lot Of Stars
The French Dispatch of the Liberty, Kansas Evening Sun takes viewers on a stroll through the pages of a newspaper. Both a love letter to journalism itself, as well as director Wes Anderson's personal favorite, The New Yorker, the film quite literally brings the stories on the pages to life. At the heart of it all is the French Dispatch office, filled with quirky staff (like Jason Schwartzman's cartoonist character, Owen Wilson's bicycling travel writer, and Elisabeth Moss' copy editor) and edited by the great Bill Murray's Arthur Howitzer Jr (based on Harold Ross, the co-founder of The New Yorker.)
A brief bicycle tour by Wilson's Herbsaint Sazerac takes viewers through Ennui-sur-Blasé, the fictional French city of our upcoming featured stories. Then, page by page, writers at the French Dispatch sell us their stories.
Image via Searchlight Pictures.
What Stories Are Told In This Newspaper?
Tilda Swinton's J.K.L. Berensen goes first. Her artistic piece, "The Concrete Masterpiece," follows Moses Rosenthaler, a prison inmate (played by Benicio del Toro) who has fallen in love with a guard (Léa Seydoux's Simone.) Adrien Brody's Julien Cadazio becomes inspired by the work of art, a modern take on abstract expressionism, and forces Moses to continue to find the beauty behind bars.
The pages are then given to "Revisions to a Manifesto" by Lucinda Krementz (Frances McDormand.) She is meant to profile student revolutionaries and is particularly drawn to Chalamet's Zeffirelli. So much so, in fact, that she finds it tough to maintain journalistic neutrality.
Finally, we have "The Private Dining Room of the Police Commissioner" by Roebuck Wright (Jeffrey Wright.) This writer is meant to be cooking up a piece about food but instead finds himself in the middle of a kidnapping case before the dessert comes.
The anthology of vignettes eventually finds its way back to the authors who penned them, and The French Dispatch reminds us about the spirit of journalism once more.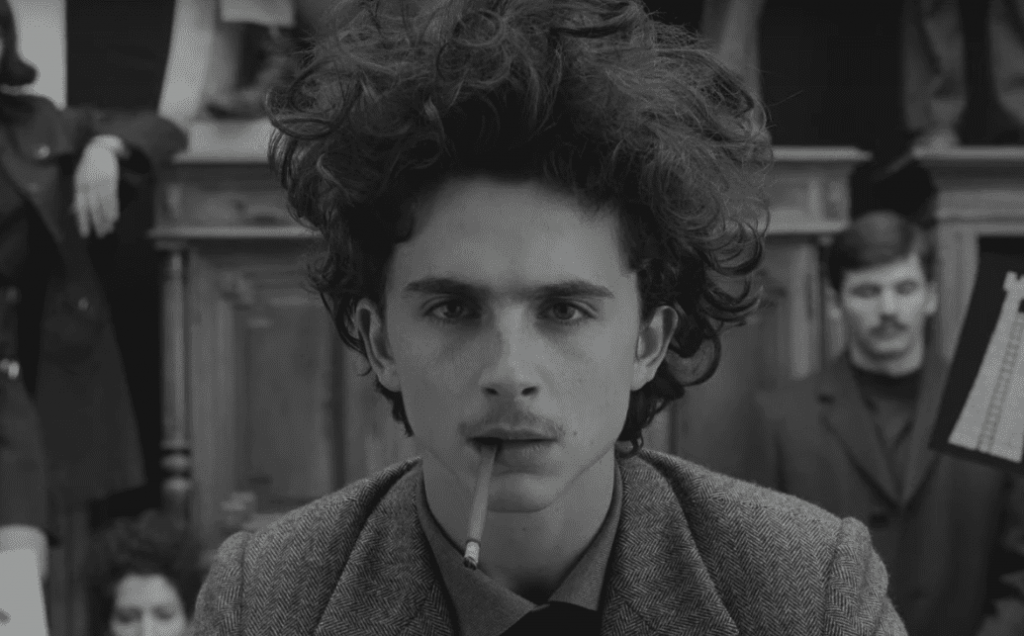 Image via Searchlight Pictures.
Is It Wes Anderson At His Absolute Most?
From afar, the film appears like your usual Anderson flick. The traditional ensemble cast features long-time collaborators like Bill Burry, Owen Wilson, and Edward Norton. Its trailer features the usual quips, monotone narration, and distinct use of color palette. So, it's safe to say that fans are going into this movie expecting the director's auteur voice.
These assumptions are more than fair, and viewers will quickly be proven correct. From the first frame, the film takes us on a journey through the Wes Anderson checklist. And if you're a fan of the almost pretentious appreciation for the arts, you're in for a delight. But those who had troubles getting through pieces like The Grand Budapest Hotel or Moonrise Kingdom may find themselves nauseated at every turn.
Why bother with this one, then, if his touch is the same as always? Despite some of the same old things, our review of The French Dispatch must touch on humor. The film competes for the funniest of the director's films, finding laughs in every moment,  no matter how awkward or tragic.
We're also able to see true visionary art. Many directors may stumble when tasked to create a film that is more like their wildest film fantasies than anything else, but Wes Anderson thrives. He takes joy in making things uniquely his own, with no room for anything beyond it. Each moment is a clear display of his labors, and it's hard to imagine anyone doing it like him. There is a niche for this sort of film, and we're right at home with it.
Image via Searchlight Pictures.
A Treat That's Not For Everyone
Sure, there is wiggle room that might suggest the film lacks any emotional core. We aren't given enough time to bond with any singular character above the rest, but we still find delights in our understanding of them. Just like you might never know the writers behind your favorite newspapers (or comic book entertainment sites), you'll never fully meet the writers at The French Dispatch. But they make themselves known, and we find delight in their unique styles of storytelling.
The French Dispatch Review That Was Worth The Wait
A film so fun that it's worth seeing twice, The French Dispatch includes so many surprise frames or brief moments of color changes that make us afraid to close our eyes. We often think of the big sci-fi epics and superhero flicks as the ones that deserve to be seen on the big screen, but this weird little bubble of a movie begs you to buy a ticket, too. There is almost a command for labor to the eye for detail in every scene, so you'll need the setting of a dark and crowded room to force your attention to it.
If you want to see what this review of The French Dispatch is talking about, then head to select cinemas now.
Readers, do you agree with our review of The French Dispatch? We want to hear your thoughts about the iconic director's latest film. What is it that draws you in? Drop your thoughts in the comments below. And if you weren't a fan, then head over to our review of Dune and get your weekly quota of Chalamet.
Featured image via Searchlight Pictures.
Meghan Hale is the kind of movie lover that has a "must watch" that is a mile long... and growing. When she isn't talking about the latest film and television news she is writing one of her many in-process novels, screaming film trivia at anybody who will listen, and working as a mental health care professional. Follow her on Twitter @meghanrhale for some fun theories and live reactions to all things entertainment.
Leave a comment