The Dead Don't Die – And Neither Will The Zombie Genre
As I walked out of the theatre following my viewing of Jim Jarmusch's The Dead Don't Die, I overheard someone tell his friend that he couldn't believe that he'd wasted two hours of his life watching the film. Now, if you go into the theatre expecting a gory but sexy zombie tale like those of the past, you may agree with the sentiment. Jarmusch's style isn't for everyone. Like most of his films, there is little in terms of plot, and not much going on with character development. What The Dead Don't Die does provide you with is 104 minutes of deadpan, dark humor. You also get a hearty dose of Tilda Swinton being a badass. This movie proves that the zombie-comedy genre, or, "the zom-com" isn't going anywhere. People will always pay to watch celebrities slash the heads off of the undead, no matter how little actually happens throughout the film.
This film doesn't have to work hard to showcase just how small of a town its living in. The opening scene shows police chief Cliff Robertson (portrayed by the always endearing Bill Murray) and officer Ronnie Peterson (played by the ever-so-versatile Adam Driver) on the job. Their investigation is on a stolen chicken, and they don't seem to care very much. For two of the only officers in the town to spend their day hunting chicken-thieves immediately teaches us just how little goes on around town. We get to watch their views as they drive through town, showing the few shops, the juvenile detention center, and the rest that Centerville has to offer. Their town sign also serves as a reminder of our small-town setting, showing the small 700-something population number.
How Many Celebrities Are in The Dead Don't Die?!
Following our introduction to our small town, we're served with the opening title sequence. Every star's name appears solo on screen with a basic black backdrop. It's almost like the editors were begging us to think, "Wow, he's in this, too?!" On top of Murray and Driver, we also get to watch stars like Steve Buscemi, Chloe Sevigny, Danny Glover, Selena Gomez, and Tilda Swinton. Playing over their names is Sturgill Simpson's "The Dead Don't Die" (or as Driver's character points out, "the theme song"). Despite such a heavy list of well-known names, each is given a fair amount of time to showcase their zombie-fighting abilities (or lack thereof). What they lack, however, is any clear character development. Some may chalk this up to lazy writing. But any Jarmusch fan knows that you don't need plot progression to showcase good characters.
So, Who Gets to Fight the Zombies?
"This isn't gonna end well," Adam Driver's character repeats throughout the film. The typical zom-com often has some overarching goal. Zombieland has characters taking a road trip to find their families. World War Z seeks to find an antidote to what's causing the zombie pandemic. The Dead Don't Die, however, just wants to show a small town getting destroyed by its own past residents. You never really learn why Tilda Swinton's character moved to town. You don't find out why Selena Gomez and her friends are passing through. A kid tells her friends that she knows a good hiding spot, but you never find out where, and if they even get there safely. All that this movie gives you is a town's immediate reaction to finding out that zombies are real, and one night of them fighting them. There is no end-goal. Sevigny's character is the only one who seems disturbed. We just watch zombies being zombies.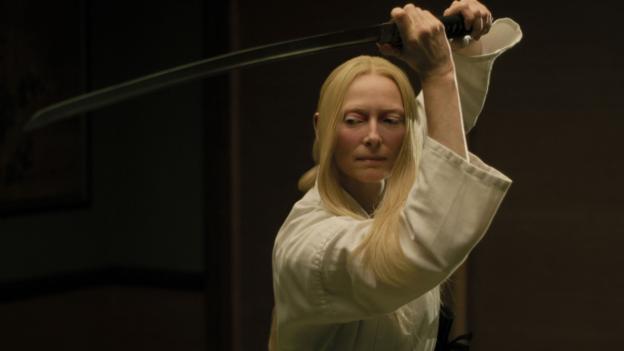 While little may happen in terms of plot, we get to watch some solid zombie fighting. Tilda Swinton, wielding a samurai sword, moves through the bodies like they're nothing. Adam Driver's character, a previous baseball player, impresses Bill Murray with his swing. And through it all, Tom Waits narrates all of the metaphorical meanings behind it.
So, Who Is This Movie For?
This movie is not for everybody. If you're like me? Seeing tall Adam Driver sitting in a red convertible smart car is enough to make the admission price worth it. For many, the A-list cast is enough to pull you in. If you're a fan of deadpan comedic delivery and some meta-commentary on the state of movies, then this might also be for you. It certainly won't pull in big numbers like the new Toy Story. It's still a must-see for fans of the genre, and a reminder that zombie movies will forever be made.
Meghan Hale is the kind of movie lover that has a "must watch" that is a mile long... and growing. When she isn't talking about the latest film and television news she is writing one of her many in-process novels, screaming film trivia at anybody who will listen, and working as a mental health care professional. Follow her on Twitter @meghanrhale for some fun theories and live reactions to all things entertainment.
Leave a comment