The Dark Knight Retro Review – A Timeless Classic of Superhero Cinema
Plenty of films are good enough to have you talking about it for weeks afterward. Though, how many movies are so good that you find yourself up at night thinking about it years later? Christopher Nolan's The Dark Knight is undeniably that movie. It gave Batman plenty of genuine and constructive conflict. It was the highlight of Nolan's entire trilogy. And most notably, it solidified Heath Ledger's Joker as one of the best performances of all time. With Joker up for so many awards at the Academy Awards, it begs us to go back and look at the Joker that gave such a good performance that audiences doubted it could ever be lived up to. So, in this retro review, we'll be looking back at The Dark Knight and understanding why it made such an impact on the world of cinema and superheroes.
The Dark Knight (And Nolan's Trilogy) Recap
Like most superhero films these days, The Dark Knight finds its plot within others. It follows Batman Begins (2005) and comes before The Dark Knight Rises (2012). All three films were considered box office successes, all being featured in the top 10 highest-grossing films from their respective years. To refresh your memory, here's a quick recap of how we got to The Dark Knight before we proceed with a review.
Image via Warner Bros.
Batman Begins
Batman has been done plenty of times before. The character wasn't new to the world. Though, the film did re-introduce the character in a unique way that reminded us how he fits amongst other superhero legends. Plus, the team behind the film was already enough to warrant some watches. Nolan and David Goyer wrote the screenplay. Hans Zimmer and James Newton Howard were behind the score. Stars include Christian Bale, Michael Caine, Liam Neeson, Gary Oldman, and more. The aim of the film was to aim for a more dark, gritty, and realistic tone in comparison to other superhero films.
Batman Begins gives Bruce Wayne an upsetting backstory. He had fallen down a dry well as a child before being attacked by a swarm of bats. We also watch as his parents are murdered in front of him. He's eventually motivated to train in combat and learn all about the criminal underworld. Bruce becomes consumed with his vigilante identity and goes on to save Gotham. The Joker is alluded to briefly at the end.
The Dark Knight
The second film in Nolan's trilogy maintains the same tone as the first film, but it's even more convincing. We're immediately introduced to the Joker (Heath Ledger). He's ruthless and willing to do anything for the sake of chaos. His newest mission is to release Batman's identity, and he won't stop killing until he does. In order to get Batman's attention, the Joker kidnaps Harvey Dent (Aaron Eckhart) and Rachel Dawes (Maggie Gyllenhaal, who replaced Katie Holmes). Things go wrong, and Dent starts to turn to a similarly murderous lifestyle.
What Separates The Dark Knight From Other Superhero Films?
The trilogy was created by Warner Bros. Pictures and DC Comics, yet manages to succeed where other DC films had failed. Marvel has built up a reputation for creating a complex franchise and has found massive success. Though, DC has had a hard time pulling things together in a similar way. Their post-Nolan Batman stories have not managed to do what this one did. This is in part due to storylines being forced together that could have succeeded with better planning. The Dark Knight manages to exist on its own, while still keeping up with the characters that fans have always known. It does suffer from needing to join anything more than its trilogy.
Christian Bale manages to embody Batman perfectly. He nails the vigilante and the millionaire playboy. Though, The Dark Knight would not have such a great review,  nor would it have solidified itself amongst some of the greatest films of all time had it not been for a flawless portrayal of the Joker. Heath Ledger is terrifying, yet fun and exhilarating to watch. The movie breathes chaotic energy. And while you feel like you have to root for Batman, you're excited for what the Joker does next.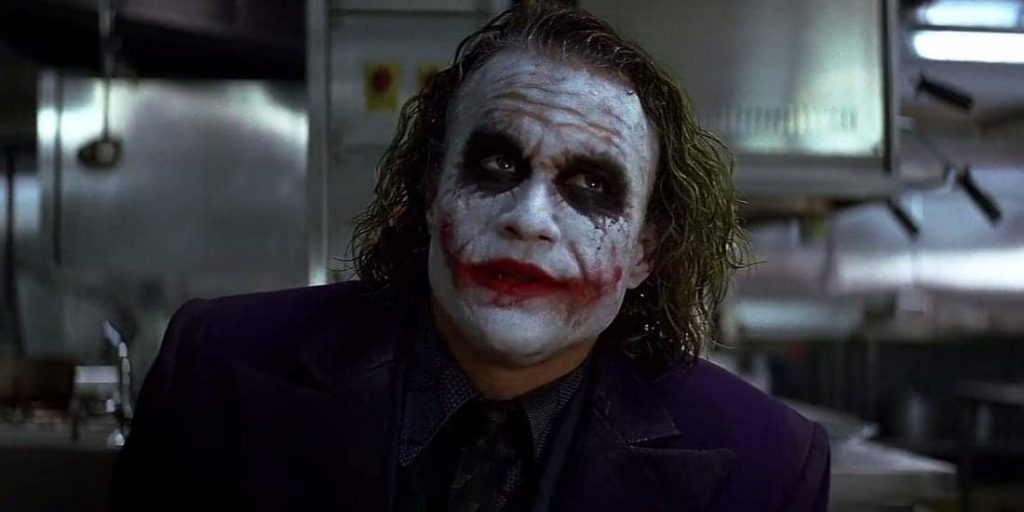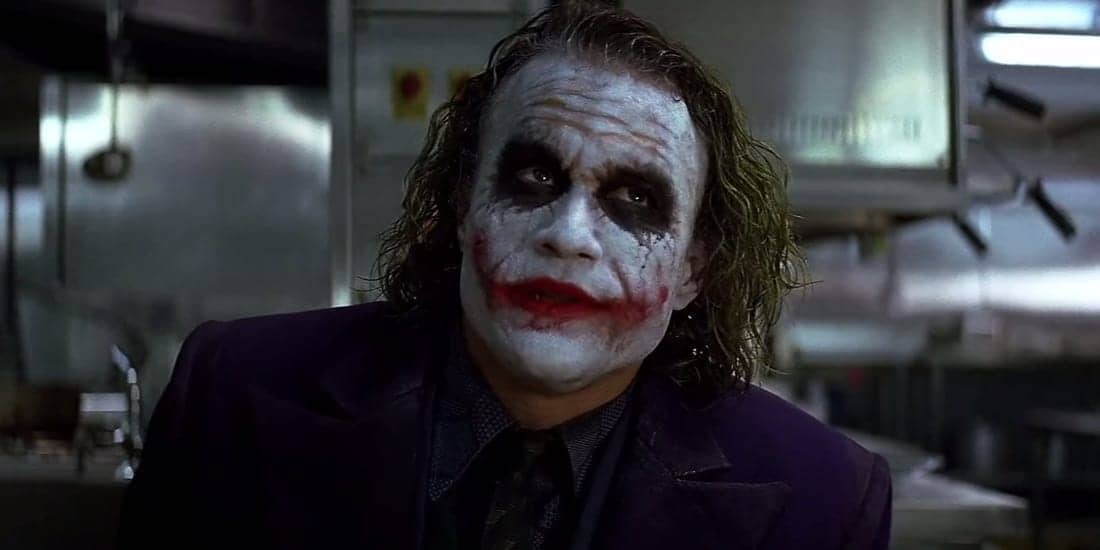 We're still wondering how he got those scars. Image via Warner Bros. Pictures.
The Dark Knight Will Forever Be The Batman Standard
Batman is a big enough character that anybody who plays him will have plenty to live up to. Ben Affleck was the next to take on the character, being dubbed "Batfleck". Reactions to the casting were mixed. Some still maintain that Batfleck was a strong choice that failed due to some weak plot elements. Others blame the chemistry between him and Henry Cavill's Superman. Batfleck's first appearance was in Zack Snyder's Batman v Superman: Dawn of Justice (2016). Justice League didn't do too well either. It's apparent that Christian Bale's Batman is going to be hard to beat. Though, we know studios will keep trying.
As with the universal acclaim for Bale's portrayal, Ledger's has also had an impact on future Joker actors. When Jared Leto was cast as the character in Suicide Squad (2016), fans weren't exactly excited. The film was received poorly, with Margot Robbie's Harley Quinn being the only stand-out. When it came to casting, Ryan Gosling was also rumored for the role of the Joker, though he apparently wasn't ready to sign a contract for more than one film at a time. It's likely that they had made big plans for Leto's Joker, which clearly didn't pan out.
The Newest Joker
Plenty of people have played the Joker in the past. Joaquin Pheonix has been the most recent to play the role in 2019's Joker. Pheonix has been an established actor for long enough to give fans more ease than with Leto's casting. Pheonix has a history of taking on complicated roles and delivering unique performances in films like Her (2013), Walk the Line (2005) and The Master (2012). So when his casting was announced, fans had a spark of hope for a new impactful Joker. Clearly, he delivered.
Image via Warner Bros.
Pheonix has been nabbing awards left and right this awards season, and is a clear front runner for the Oscar. As Ledger won a posthumous Best Supporting Actor Oscar, Pheonix may join him with a Best Lead Actor win. So, why does this character manage to win so many awards compared to literally any other character based on a comic book? There are plenty of factors. The character has genuine darkness that translates well on screen, and actors have the ability to go big with the role. So, when done right, the Joker is a force to be reckoned with.
We'll Keep Watching The Dark Knight 
Christopher Nolan is a true auteur when it comes to directing films. His films always manage to deliver, and his vision is always clear. Giving a superhero trilogy to such a respected and visionary director was a smart move. That, the all-star cast, and a gripping script made The Dark Knight the legendary movie that it's become today. And, whether you like Batman or not, you'll still be able to find something enjoyable from the film.
Readers, do you agree with our retro review of The Dark Knight? Is it a film that had enough of an impact on you to keep you thinking about it all these years later? We'd love to hear your thoughts. And if you like reading reviews for some older films, check out our Silence of the Lambs retro review!
Featured image via Warner Bros. Pictures.
Meghan Hale is the kind of movie lover that has a "must watch" that is a mile long... and growing. When she isn't talking about the latest film and television news she is writing one of her many in-process novels, screaming film trivia at anybody who will listen, and working as a mental health care professional. Follow her on Twitter @meghanrhale for some fun theories and live reactions to all things entertainment.
Leave a comment