The Batman 2022: Barry Keoghan Might Bring The Joker To Life Again
There are plenty of movie roles out there that are hard to cast. Some are tied to ridiculously high expectations. Others have to live up to past performances. There are few characters out there that are harder to replace than that of the Joker. From iconic voice performances to various Oscar-winning portrayals, it's a character that is bound to be the talk of the town. The latest rumors suggest that Barry Keoghan might bring back Joker in 2022 with The Batman. Nothing is confirmed, but it's news that we're excited about.
Could Barry Keoghan Bring the Joker Back in 2022 with The Batman?
Matt Reeves' The Batman is the latest film to bring a new Bat-actor to the big screen. Robert Pattinson is welcomed as the face of the DC franchise, and the film promises an even darker take on the already-gritty world of Gotham City. We're only a few months away, and fans are starting to wonder if we're going to see Joker.
Recent news from The Hollywood Reporter suggests that Warner Bros. is looking at adding the villain. This comes after recent rumors of Barry Keoghan having a larger part in the film than anticipated. He is already listed in the film's credits as Stanley Merkel, a Gotham Police Agent, but others think that it'll be a more important role. See what The Hollywood Reporter has to say about it all:
"You've made this far into the newsletter and you know what? You deserve a treat. Last month, the internet went a little crazy about Barry Keoghan maybe, maybe not, playing the Joker in Matt Reeves' upcoming The Batman.

Don't look to us to answers on that one. But we can tell you this: Multiple sources tell us that Warner Bros. has been testing two different cuts of The Batman, one with a certain actor, one without. And the final test screening occurred last week, with the decision now made as to which version the studio likes, says one source."
Joker has a long history of impressive Joker performances, like those of Joaquin Pheonix and Jack Nicholson. Others, like Jared Leto's, weren't as well received. Nonetheless, it's a role that has to be done to perfection in order to earn even the smallest bit of praise.
Image via Warner Bros.
Why We're Happy That Barry Keoghan Might Be the Joker
Have you ever watched a villainous performance that was so well done that you couldn't help but hate the actor? Jack Gleeson faced these feelings after playing Joffrey Baratheon in Game of Thrones, and he's one of many that were so good at being worthy of hate.
Another actor with this experience is Barry Keoghan. Those who have only watched the Irish actor in Eternals might be confused about how we could possibly hate the lovable Druig. However, his performance as Martin Lang in Yorgos Lanthimos' 2017 film The Killing of a Sacred Deer is the thing of nightmares. Martin decides to balance the scales of justice after the death of his father, and his methods are quiet but maniacal.
Keoghan has had plenty of other roles since his acting debut in 2011, but it's The Killing of a Sacred Deer that has us convinced he could do something incredible with Joker.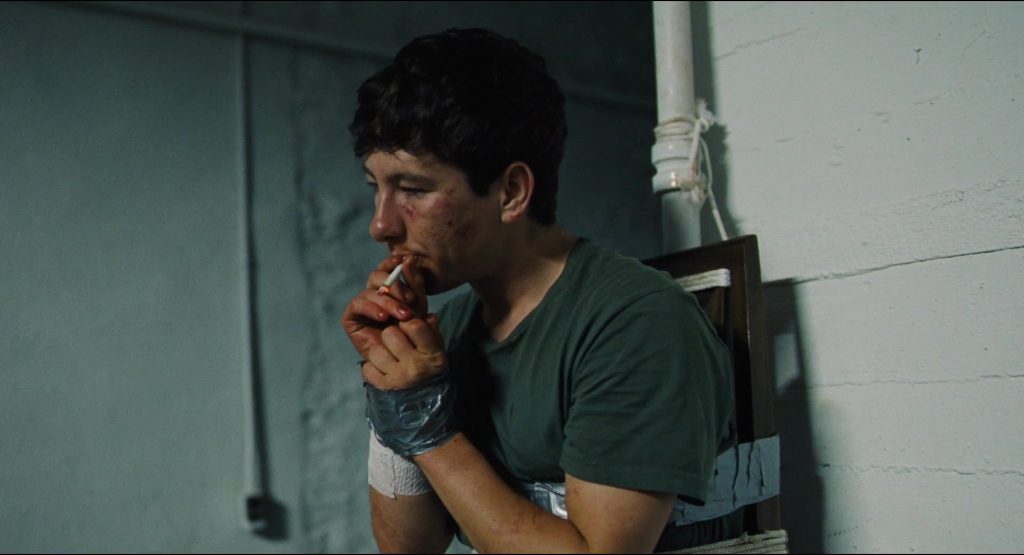 The Killing of a Sacred Deer. Image via Curzon Artificial Eye
Would The Joker Appear in The Batman Right Away?
While many plot details remain under wraps, The Batman already promises to be packed with evil. Paul Dano's Riddler will be the main villain and knowing that he's based on the Zodiac Killer doesn't make us expect much charm. Other characters, like Zoe Kravitz's Selina Kyle and Jeffrey Wright's James Gordon, don't leave a lot of room for more side characters.
If we had to place bets, we expect Barry Keoghan to be introduced as the Joker in 2022 as a post-credit scene in The Batman. That, or a small role at best. The studio has already planned on some sequels, and this is where we expect to see Joker at his best.
Find out of Barry Keoghan is playing Joker in The Batman on March 4th, 2022.
Readers, do you think that the rumors are true? Could Barry Keoghan be playing Joker? Let us know what you think of this potential performance. And remember to circle back to us to find out if the rumors are true because Comic Years is going to cover all the news about The Batman.
Featured image via Marvel Studios.
Meghan Hale is the kind of movie lover that has a "must watch" that is a mile long... and growing. When she isn't talking about the latest film and television news she is writing one of her many in-process novels, screaming film trivia at anybody who will listen, and working as a mental health care professional. Follow her on Twitter @meghanrhale for some fun theories and live reactions to all things entertainment.
Leave a comment