The Bat And The Cat Trailer Gives Us The Batman, The Catwoman, And The Riddler
Matt Reeves' The Batman is going to the cats, at least after watching The Bat and The Cat trailer that just dropped giving us more of The Batman but also Catwoman and the Riddler. Fans were treated to long looks at Catwoman (played by Zoë Kravitz) and Penguin (played by Colin Farrell) during DC FanDome, but this new trailer delves deeper into the Bruce Wayne and Selina Kyle relationship. The trailer also gives us insight to what the Riddler wants and if Catwoman is working with or against Batman.
What Did We Learn From The Bat And The Cat Trailer?
Image via Warner Bros.
The Batman is going to look at a Bruce Wayne that's still very early in his vigilante days and "the dual role of Gotham City's vigilante detective and his alter ego (as a) reclusive billionaire." The official synopsis is as follows:
Two years of stalking the streets as the Batman, striking fear into the hearts of criminals, has led Bruce Wayne deep into the shadows of Gotham City. With only a few trusted allies — Alfred Pennyworth, Lt. James Gordon — amongst the city's corrupt network of officials and high-profile figures, the lone vigilante has established himself as the sole embodiment of vengeance amongst his fellow citizens.
When a killer targets Gotham's elite with a series of sadistic machinations, a trail of cryptic clues sends the World's Greatest Detective on an investigation into the underworld, where he encounters such characters as Selina Kyle/aka Catwoman, Oswald Cobblepot/aka the Penguin, Carmine Falcone, and Edward Nashton/aka the Riddler. As the evidence begins to lead closer to home and the scale of the perpetrator's plans becomes clear, Batman must forge new relationships, unmask the culprit, and bring justice to the abuse of power and corruption that has long plagued Gotham City.
Much like all the other films about him, it looks very dark and sinister, but it's layered with an inexperienced Caped Crusader who seems to be struggling with fighting crime the "right" way. What The Bat and The Cat trailer shows us more of, though, is the relationship between Catwoman and Batman. It appears they're teaming up together to take down the bad guys, with Selina saying in the trailer, "If we don't stand up, no one will." A little while later, she says, "The Bat and The Cat. It's got a nice ring." While it's unclear whether Selina has ulterior motives, Bruce and Alfred seem to be cautious, with Alfred asking, "New friend of yours?" to which Bruce replies, "I'm not so sure."
It also looked at a potentially sinister past between the Wayne family and Paul Dano's The Riddler. There's a scene in the trailer where Batman is below ground and is checking out a message painted on a door: WHERE IT ALL BEGAN. We can then hear Bruce telling Alfred, "All these years, you lied to me." Intriguing…it appears that the Wayne family might've been involved in some shady business before, which is why the Riddler is targeting them and would answer Alfred's question of why he's targeting Bruce. The plot thickens even more when the trailer reveals that the Riddler already appears to know that Bruce Wayne is Batman. Dun dun dun!
The Relationship Between Bat And Cat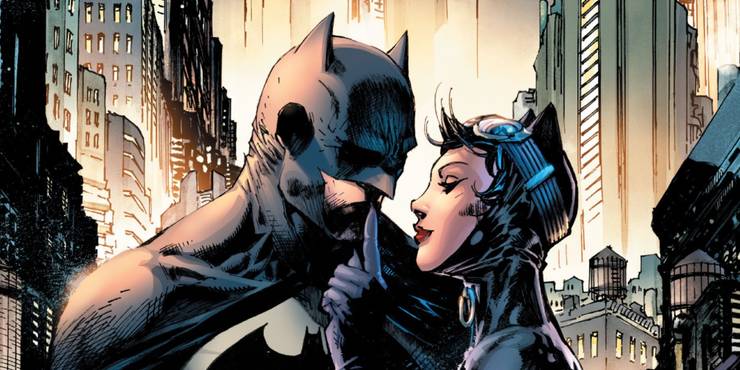 Image via DC Comics
As many DC Comic fans know, Bruce Wayne and Selina Kyle have a rather rocky on-again, off-again relationship. They've been engaged several times and even have had kids together, depending on which Batman iteration you're following. Reeves has said that The Batman is not part of the DCEU, but if Pattinson's Batman and Kravitz's Catwoman become involved, it seems they may be on their way to fulfilling some plotlines from the multiverse. In the Batman: Hush storyline, Batman and Catwoman briefly work together and have a romantic relationship, during which he reveals his true identity to her. Unfortunately, he breaks off the relationship when he suspects that she's been manipulated by the Riddler and Hush (an antagonist to Batman who was a former surgeon and friend to Bruce Wayne). Is it just me or does it seem like The Batman is the perfect setup for this story? Of course, Reeves could always make a The Bat and The Cat rom com if he insists on it not being part of the DCEU. It's not too farfetched, right?
Also, We Now Know When The Batman Is Coming to HBO Max!
Image via Warner Bros.
In more The Batman news, we also have a streaming date! Following in the footsteps of other studios such as Disney, Warner Media (and its subsidiaries, Warner Bros. and HBO Max) announced that The Batman has an HBO Max streaming date: April 19, 2022. Previously, WarnerMedia had been doing a release practice known as day-and-date, where a movie would be released in theaters and on the streaming platform simultaneously. In an interview with Vox's Recode, WarnerMedia CEO Jason Kilar confirmed that The Batman, as well as others such as Black Adam and The Flash, will return to a more traditional theatrical release window, streaming 45 days after its theatrical premiere. Kilar said:
"Think about when movies would show up on HBO, which is eight to nine months after theatrical premiere. The Batman is going to show up on day 46 on HBO Max. That is a huge change from where things were in 2018, 2017, 2016. I feel really, really good knowing that The Batman, and Black Adam, and The Flash, and Elvis, and a whole host of other movies, are literally going to be showing up on day 46 on HBO Max in a variety of territories all over the world. That is a very, very big change that I don't think people appreciate, and I feel really good about it."
The Batman stars Pattinson as the titular character, Kravitz as Selina Kyle/Catwoman; Dano as Edward Nashton/Riddler; Jeffrey Wright as the GCPD's James Gordon; John Turturro as Carmine Falcone; Peter Sarsgaard as Gotham D.A. Gil Colson; Jayme Lawson as mayoral candidate Bella Reál; with Andy Serkis as Alfred; and Colin Farrell as Oswald Cobblepot/Penguin.
Reeves directed from a screenplay by Reeves & Peter Craig, based on characters from DC. Dylan Clark (the Planet of the Apes films) and Reeves produced the film, with Michael E. Uslan, Walter Hamada, Chantal Nong Vo, and Simon Emanuel serving as executive producers.
Watch the full The Bat and The Cat trailer below:
The Batman comes out in theaters March 4, 2022 and will be on HBO Max starting April 19, 2022. 
What are your thoughts on The Bat and The Cat trailer, and what we know about Batman, Catwoman, and Riddler? Is Selina Kyle friend or foe? Does Riddler know Batman's identity? Let us know your thoughts, theories, and reactions in the comments below!
Featured image via Warner Bros.
Keilin Huang is a freelance writer that likes the Oxford comma, reading from her neverending pile of books from the library, and Reeses peanut butter cups. She thanks her Dad for introducing her to his Superman comics and probably majored in Journalism because of Lois Lane. Contact her at [email protected]
Leave a comment