The First Teaser for Spider-Man: Across the Spider-Verse (Part One) Is Here
We're all hooked on theories about what the multiverse has in store for us as we head further into the Marvel Cinematic Universe. But what's going on in another another universe? The first look teaser for Spider-Man: Across The Spider-Verse (Part One) is here, and there's a lot to talk about. Watch the trailer below to get excited with us.
Watch The First Teaser For Spider-Man: Across The Spider-Verse (Part One) Below
When the world finally thought that they'd seen enough versions of Spider-Man, 2018's Spider-Man: Into the Spider-Verse premiered, and everybody realized that there were no limits to the Spidey stories that we'd want to hear. The final was an overwhelming success, and it even went on to win an Academy Award.
The animated film from Sony Pictures and Marvel Entertainment introduces the world of pulling in heroes from other dimensions. When Miles Morales (voiced by Shameik Moore) is bit by a mutated spider, the young boy is given the mantle of Spider-Man. Except, he's not the only one.
The friendly neighborhood Spider-Man exists in many neighborhoods. We meet Peter Parker, Peter B. Parker, Qwen Stacy, Peter Porker, and more, all of whom are variations of the hero. They go up against new versions of some recognizable villains, including Kingpin and Olivia Octavius, and the good guys save the day once again.
Our different spiders return to their dimensions when the film is through, but one does her best to stay around. Gwen Stacy/Spider-Woman (voiced by Hailee Steinfeld, who is having a pretty good year in comic book adaptations) isn't ready to be through with Miles. That leads us to our next film.
Where Part One Will Take Us
The new teaser sees Miles Morales brought face-to-face with his obvious crush, Gwen. He has been drawing pictures of her in her absence and is both surprised and pleased to have her dropping into his childhood bedroom. He almost turns down her offer to go elsewhere, but being grounded is never a good enough reason to stop a superhero.
The rest of the teaser doesn't give us too many plot points to follow, but it does show Morales falling through to another dimension. He tumbles into a world that features even more of the immersive transmedia art style that has helped the first film be so widely adored. It looks like another, potentially more dangerous, Spider-Man is there to try and stop him.
Fans will recognize the new Spider-Man from the post-credits scene of the previous movie. He is Spider-Man 2099, also known as Miguel O'Hara. This futuristic take on the character is voiced by Oscar Isaac, who is also having a darn good time in the world of adaptations, after Dune and Marvel's upcoming Moon Knight.
There Is Enough Story To Be Split Into Two
We rarely get two-parters these days. Sequels, sure. After all, this one is a sequel. But the "Part One" in the film's title leaves much to theorize about. According to the writers/producers, Phil Lord and Chris Miller, there was just too much plot to fit into a single film. So, they're splitting it in two.
The duo also confirmed that the second part is being worked on at the same time as the first. While Part One will drop in 2022, we won't have to wait long until the second, which is anticipated in 2023.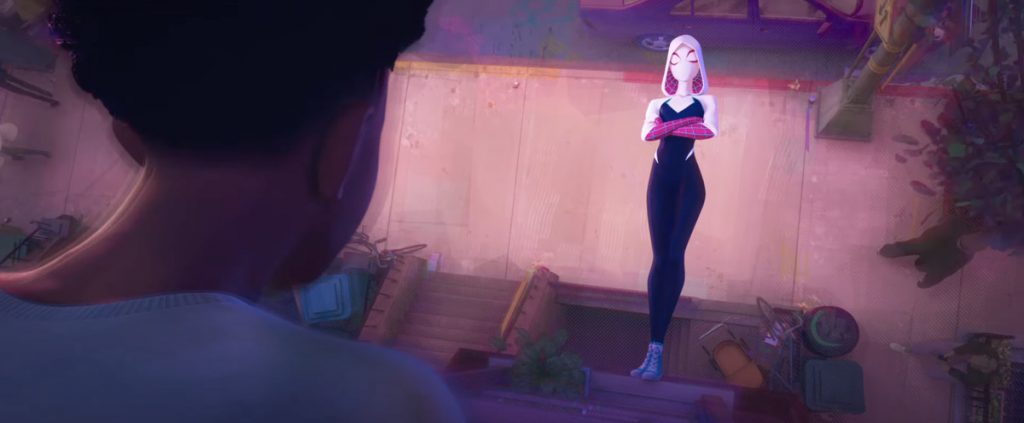 Image via Sony Pictures Releasing.
Spider-Man: Across The Spider-Verse (Part One) premieres in theaters on October 7th, 2022.
Readers, we're ready to talk about a Spider-Man that isn't Tom Holland, Andrew Garfield, or Tobey Maguire. After watching the first teaser for Spider-Man: Across The Spider-Verse (Part One), drop your early predictions in the comments. What storyline could be so deserving of two parts? And what other variations of the hero do you hope to see in this sequel? Let us know.
Featured image via Sony Pictures Releasing.
Meghan Hale is the kind of movie lover that has a "must watch" that is a mile long... and growing. When she isn't talking about the latest film and television news she is writing one of her many in-process novels, screaming film trivia at anybody who will listen, and working as a mental health care professional. Follow her on Twitter @meghanrhale for some fun theories and live reactions to all things entertainment.
Leave a comment