Was Leia Meant To Be The Last Jedi In Star Wars Episode 9?
Who is the last Jedi? Was it Luke Skywalker, force-projecting halfway across the galaxy at the end of the last Star Wars film? Is it Rey, his final apprentice who acts as the main protagonist for the new trilogy? Could it somehow be Ben Solo, if he is ever redeemed from his Sith persona as Kylo Ren? Maybe it is none of these characters. Perhaps it was Leia who was always meant to be the last Jedi in Star Wars. But with the untimely death of Carrie Fisher in 2016, this will never come to pass in the Star Wars universe. And that might just be the biggest tragedy in Star Wars history.
Image via Lucasfilm
Todd Fisher Reveals Details About Carrie Fisher's Role In Star Wars: Rise of Skywalker
In a recent interview for Yahoo Entertainment, Todd Fisher spoke about his late sister and her destiny in the Star Wars canon. According to him, Leia was supposed to become a Jedi in the upcoming Star Wars: Rise of Skywalker. "She was going to be the big payoff in the final film," claims Todd Fisher in the interview. "She was going to be the last Jedi, so to speak. That's cool right?"
This claim tracks with prior statements from Rian Johnson and JJ Abrams that promised a focus on Leia in the final movie of the new trilogy. When Carrie Fisher died, those plans clearly changed. Director J.J. Abrams has apparently worked with footage of Carrie Fisher left over from the previous two films. Todd Fisher claims: "They had eight minutes of footage. They grabbed every frame and analyzed it… and then reverse-engineered it and it into the story the right way. It's kind of magical."
It makes you wonder, was Leia the Skywalker destined to rise? (And if that plot has changed due to Carrie Fisher's death, why does the title remain?)
Image via Lucasfilm
The Tragedy Of A Story Untold: Leia Was The Female Jedi We Never Got In Star Wars
An entire generation of Star Wars fans (including yours truly) grew up wondering what became of Luke and Leia, and Han. For answers, we turned to the Expanded Universe (now called Star Wars Legends, and never considered canon by Star Wars creators). But, Leia never got to become a Jedi in the EU either. She received some Force training from Luke, but her role in Legends was primarily acting as head of the post-Empire government. Sure, Leia got to be president of an entire galaxy, but she still never got to make her own damn lightsaber.
The sequel trilogy was a second chance for Lucasfilm to do right by Leia, and show us what she is capable of. This is why I am such a big fan of the controversial scene in The Last Jedi where Leia uses the Force to propel herself through the vacuum of space. I love that scene, because it shows that Leia had clearly learned to use the Force in the 30 years since we last saw her. It implies that Luke trained her, although we never got to see it. It also demonstrates her strength in the Force, to have such mastery over her own body at that moment.
Star Wars: Episode IX was apparently going to show even more of Leia's Force mastery. But now, that will never happen. Leia will not get to be the heroine of her own Star Wars movie, the way Han and Luke were in the previous two. Fans will not get to see her as a Jedi, or wielding a lightsaber. We will never get to see her fulfill her destiny, or rise as a Skywalker. For young women looking up to our Star Wars icons for a female Jedi to light the way, at least now we have Rey to guide us.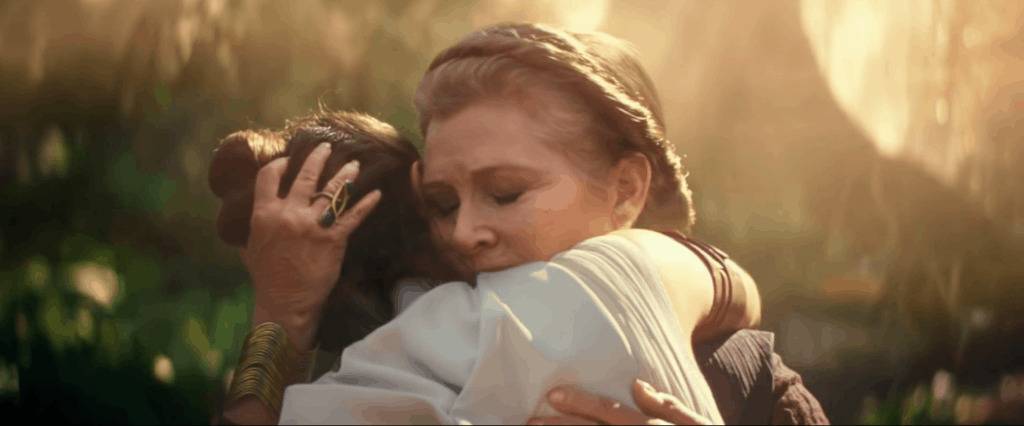 Image via screengrab
"No One's Ever Really Gone"
Todd Fisher feels that his sister's best acting work was in The Last Jedi and that she had finally reconciled her notoriously difficult feelings about the character that made her famous. "She had really come to grips with who Princess Leia was," Todd says. "That she – and her – were one."
Despite her untimely death, Carrie Fisher's legacy lives on in the Star Wars universe. Her brother Todd stated it eloquently, in the same interview. Talking about his sister's role in Rise of Skywalker, he says: "This is, in its own way, a payoff… It's Carrie talking to us all from beyond. The beautiful thing about the concept of the Force is that there is no real death; you just exist in another dimension. So Carrie is looking down (or sideways or wherever) and she is still part of us. To be able to see that – it's magical stuff only in the movies."
Star Wars: Rise of Skywalker will be released on December 20th. Carrie Fisher will recieve top billing in the credits.
For all the Star Wars news you need, be sure to follow Comic Years on Facebook and Twitter.
(Featured image via Lucasfilm)
Emily O'Donnell is a writer and photographer with roots in some of the earliest online fandoms. She cut her genre teeth on the Wizard of Oz books at the tender age of 6 years old, and was reading epic adult fantasy novels by the age of 10. Decades later, she still consumes genre fiction like there is no tomorrow. She is delighted to be living through the golden age of sci-fi and fantasy popularity. She is unashamed of the amount of fanfiction that still lingers online under her name.
Leave a comment