Spider-Man: No Way Home Suit Revealed In New LEGO Set
As part of Marvel's exciting Phase 4 lineup (starting with Black Widow July 9!), Spider-Man: No Way Home has largely been kept under wraps. While Tom Holland has gained a bit of a reputation for not being able to keep his mouth shut when it comes to Marvel surprises, he's been pretty good about keeping mum about the No Way Home movie, even tricking fans into thinking the new title for the next Spider-Man film was going to be Spider-Man: Phone Home. Well, it looks like LEGO has pulled a Tom Holland and revealed the new Spider-Man No Way Home suit on their new LEGO set box.
The new set, titled "Spider-Man at the Sanctum Workshop," has 355 pieces and includes a myriad of props to recreate Dr. Strange's headquarters, including:
4 minifigures of Spider-Man, MJ, Wong, and Dr. Strange (fabric cloak included!)
Cool tools, bicycles, a candelabra, a boom box, and a mystical glowing stone to inspire you to create your own scenes
A giant bug monster with gripping claws that you build yourself
On the box though, you can see Spider-Man in his new suit, which looks like a combination of the Spider-Man: Far From Home suit and the Iron Spider suit that Tony Stark gave Peter in Avengers: Infinity War.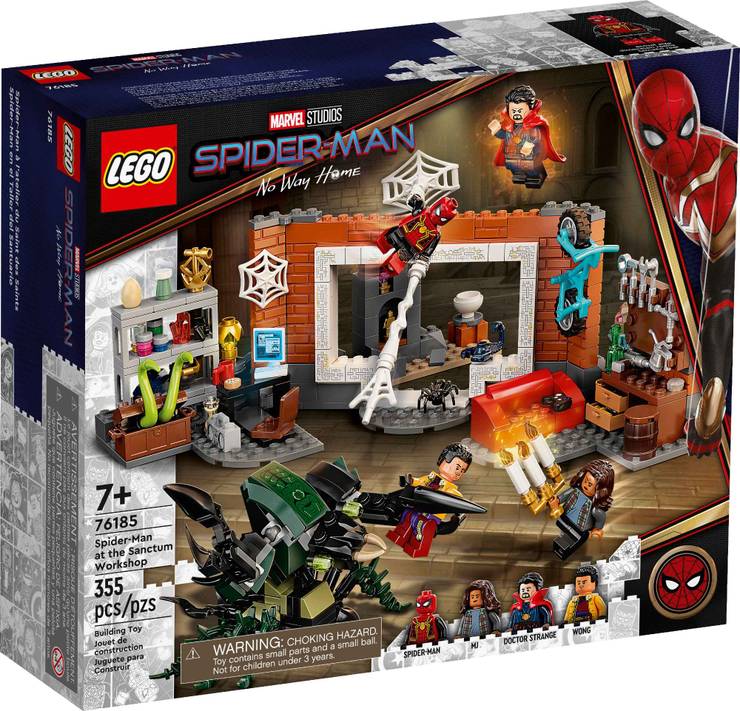 Image via LEGO
The gold web-shooters were definitely part of the Iron Spider suit as was the golden spider symbol across the chest and shoulders. It's interesting that these Iron Spider elements are now laid on top of the more recent black and red suit.
The scene on the box shows MJ and Wong struggling to fight off the "giant bug monster with gripping claws" while Spider-Man and Dr. Strange are seen coming in to help from above. While LEGO boxes are not always accurate when it comes to depicting plotlines, we do know that Dr. Strange (Benedict Cumberbatch) will be a major co-star in the movie. Will he bring other Spider-Men from the multiverse into No Way Home? Maybe the Spider-Man on the LEGO box set isn't even the Tom Holland Peter Parker version! Given the bombshell ending in Spider-Man: Far From Home, we'll just have to wait patiently for more information.
Spider-Man: No Way Home will premiere on December 17, 2021.
What do you think of the new No Way Home suit? Let us know in the comments below!
Featured image via Sony Pictures
Keilin Huang is a freelance writer that likes the Oxford comma, reading from her neverending pile of books from the library, and Reeses peanut butter cups. She thanks her Dad for introducing her to his Superman comics and probably majored in Journalism because of Lois Lane. Contact her at [email protected]
iron spider
lego
spiderman
spiderman no way home
Leave a comment