Spider-Man: Lotus Fan-Film Just Released! All You Need To Know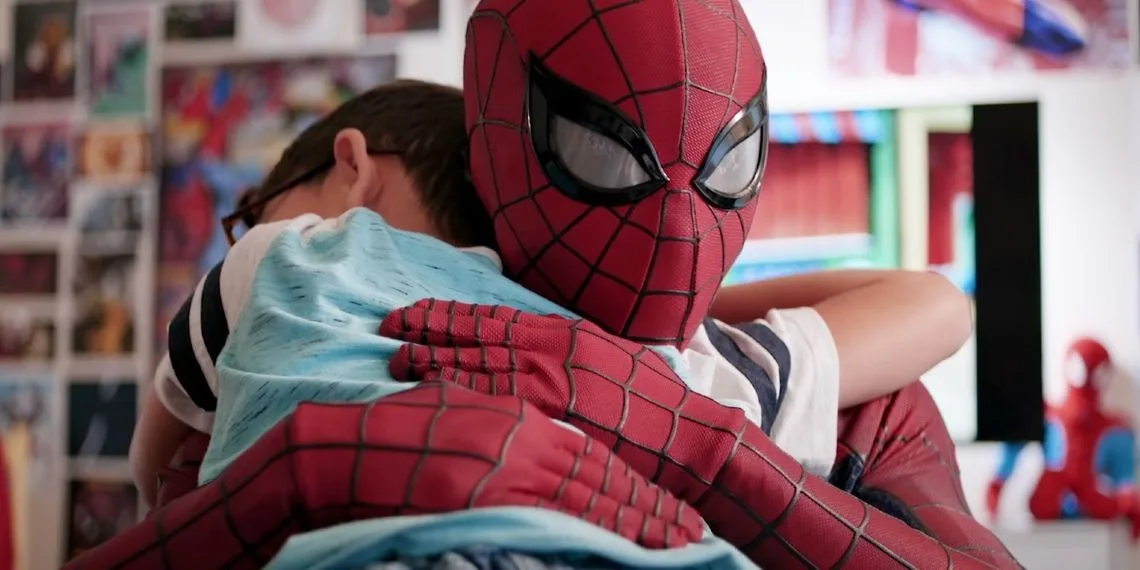 As a big Spider-Man fan, I would like to comment on something about the movie. An attribute of this kind of production is that they are usually short and have poor-quality visual effects due to their lack of budget. In the case of this movie, its effects are incredible, and its duration is no less than 2 hours. What struck me most about Spider-Man: Lotus was never of these things but its narrative depth. No arachnid movie I've seen before has ever moved my emotions so much. The plot delves into the feelings of each character, and you get to empathize with them in a way I've never seen in a live-action Spider-Man movie.
The fan-film Spider-Man: Lotus, a new production that narrates the adventures of the arachnid in movie format, has just been released. However, this is not just any fan-film. This project involves years of work, fundraising, actors, animators, and much, much work.
The film also has a rich plot that grabs you from the beginning. The story mixes several stories from the comics and is a continuation of The Amazing Spider-Man 2. Our superhero is debating between remaining Spider-Man or returning to a normal life. 
Also, it should be noted that this movie is outside of the Sony and Marvel environment and have no connection to their plots.
What is Spider-Man: Lotus?
It is an independent production by director Gavin J. Konop, who managed to raise the money needed for this production after a project and a small short film. It will show a version resembling a combination of Tobey McGuire and Andrew Garfield's Spider-Man. In the film, we will also see Mary Jane Watson, Gwen Stacy, The Green Goblin and Harry Osborn.
The movie narrates how Spider-Man, played by Wayne Warden, faces a terrible event. We don't want to go into spoilers, but it was a traumatic event that we already saw in the comics. Maybe by telling you the cast that integrates Spider-Man: Lotus, you can imagine what it is. 
This movie had its first trailer in 2021 and was announced to be streamed on Konop's YouTube channel on Thursday, August 10, 2023. However, there was a change of plans at the last minute, causing it to be pushed back to the next day by the same medium.
The Spider-Man: Lotus Controversy
Indeed, this production had some controversy. First, there were leaks of strong arguments between the director and the actor of the main character. However, everything was solved, and now you can watch this extraordinary production for free.
In the fans' quest to learn more about the film, they discovered something disturbing. The content of the controversy was some old comments with racist content by the main actor, Wayne Warden. This guy had to write a statement apologizing, although this did not have a very positive impact. Fans began to call for the cancellation of the project. Some even asked for their money back for the film.
Faced with this avalanche of problems, director Gavin J. Konop recorded a video explaining the whole situation. Here we leave you the video of the public apology about the situation with Spider-Man: Lotus. 
Gavin J. Konop's Movie Plot
Before we start, we warn you there may be some movie details (Spoilers). In the plot, we see how Spider-Man fights and defeats the Shocker and returns to his double date with Gwen Stacy, MJ and Harry Osborne. In this one, we can see that Peter Parker is looking for the best way to ask Gwen to be his wife, and we can burst when his friend gives him a ring to propose to her.
Later, they reference how everything can change quickly, and everyone is torn apart. Peter Parker (Spider-Man) cries for not being able to save Stacy. He also has a guilty conscience about destroying his friend's life for murdering his father in his goblin version. This also tears MJ apart as she watches her boyfriend walk away and is sad about losing her friend.
We watch as Spider-Man struggles to figure out what he should do, whether to go ahead or give up and hang up the webs once and for all. In that, he goes to a boy who has only days to live due to an illness, who is his hero and seeks to meet him to talk to him.
This meeting makes Pete think about what he did, not just the bad experiences, but the good ones and continue with his hero duties. We see how they all start to rebuild their lives little by little and how the group comes together again. However, it all comes back to the beginning; with great power comes great responsibility. This motto means that Peter must sacrifice his personal life to continue being Spider-Man, thus coming full circle. 
Can this Production be Distributed? 
Despite not belonging to the MCU universe, Spider-Man: Lotus is based on several Marvel comics, according to the director's statements. This production has ideas from The Death of Gwen Stacy. The Kid Who Collects Spider-Man and Spider-Man: Blue. However, they would not be the only bases since it has some plots similar to the animated series of the arachnid.
As mentioned above, Spider-Man: Lotus is a non-profit film, meaning that no one can make money from broadcasting it. Nor can it be sold, whether on Blu Rays, DVDs or any other format you wish to use. Therefore, you cannot download it from YouTube or charge to enjoy it.
Will we be Able to See Spider-Man Lotus Part 2?
Seeing a sequel of this movie is unlikely, considering all the problems surrounding this production. In 2022, the director and the lead actor had a fierce argument, which resulted in discriminatory and racial insults. The insults were on the part of the director towards the actor, which, although it has normalized the situation, at first glance, it does not seem so.
The insult was to have used the N-word and the R-word, and the director indicated that it was a word he used a lot in his past, but now it did not fill him with pride. On this he commented:
"While I can't attest to all of them, I can say that some pretty disgusting screen-recordings & screenshots out there are real. In my early years of middle school & high school, the R-word, along with other unacceptable terms such as the F-word, were part of my vocabulary, and I had used them fairly frequently. I'm not proud of it, and I wish I had been more mature to know better than to use them, along with several other immature & nonsensical statements".
All this added to the problems stemming from the racist comments and the problems with the production, making the film's mere release a miracle. With all this negativity and conflict, it is unlikely that there will be a sequel, at least with the same actors and directors.
Featured Image Via Gavin J. Konop
I am a circus aerialist influenced by Dick Grayson and Spider-Man. Fortunate to write about the characters that inspired me. I also have a Bachelor's degree in Political Science and a Master's degree in International Trade.
Leave a comment