SET LEAK: Madame Web Set Video Shows Detailas Of Dakota Johnson's Character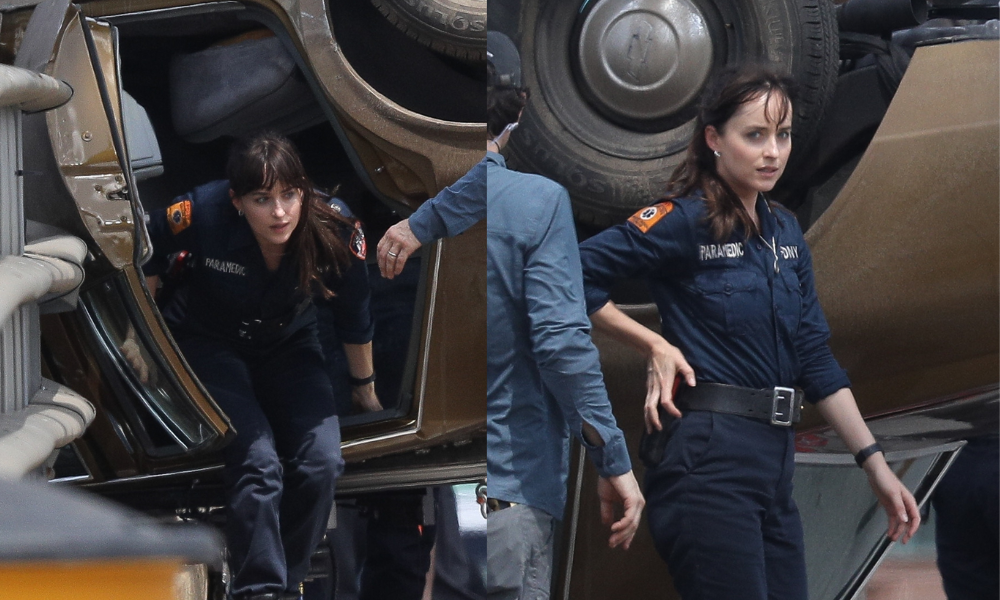 Madame Web set video and photos reveal new details about Dakota Johnson's character in the upcoming Spider-Man spinoff movie.
Sony is on the run on expanding their Spider-Man universe with new spinoff movies. The upcoming movies are Kraven the Hunter , El Muerto , and Madame Web . Kraven the Hunter had found his lead actor in the guise of Aaron Tyler-Johnson. Johnson previously played Pietro Maximoff / Quicksilver in Marvel's Avengers: Age of Ultron . Meanwhile, Bad Bunny will headline his first superhero movie with El Muerto . 
But if there's one Spider-Man spinoff movie fans are highly expecting to come out, that's Madame Web . The movie will feature Dakota Johnson, who rose in popularity with the 50 Shades of Gray franchise and has starred in many great films like Cha Cha Real Smooth and Persuasion . 
Aside from Johnson, Euphoria breakout star Sydney Sweeney and American Horror Story lead actress Emma Roberts join the cast. However, Roberts' role in the film is unclear yet. Meanwhile, rumors say that Sweeney will play Black Cat in the spinoff film. Adam Scott is also in the movie, and many speculate that he'll be playing a variant of Peter Parker. 
 But a new Madame Web set video might prove those speculations wrong.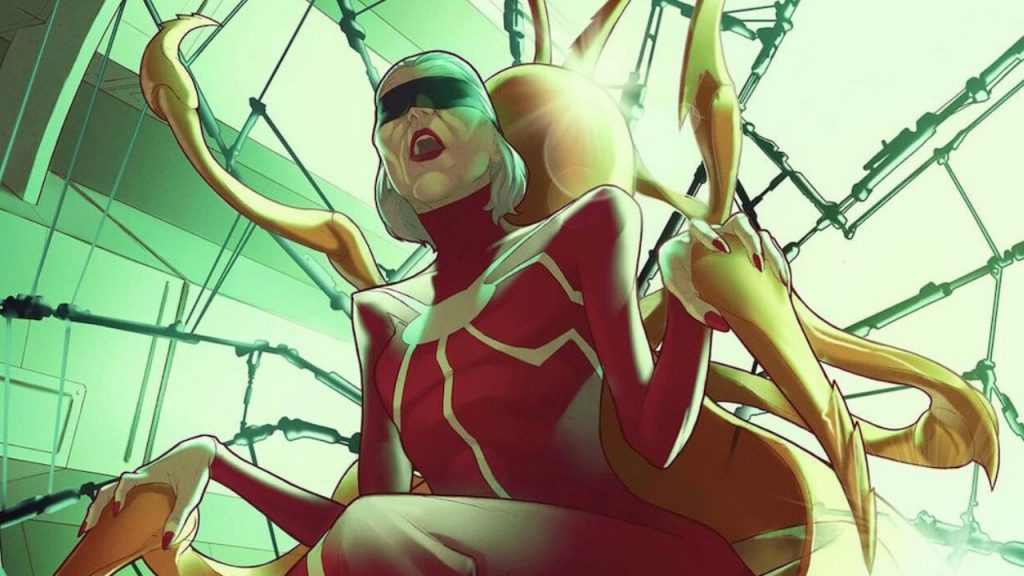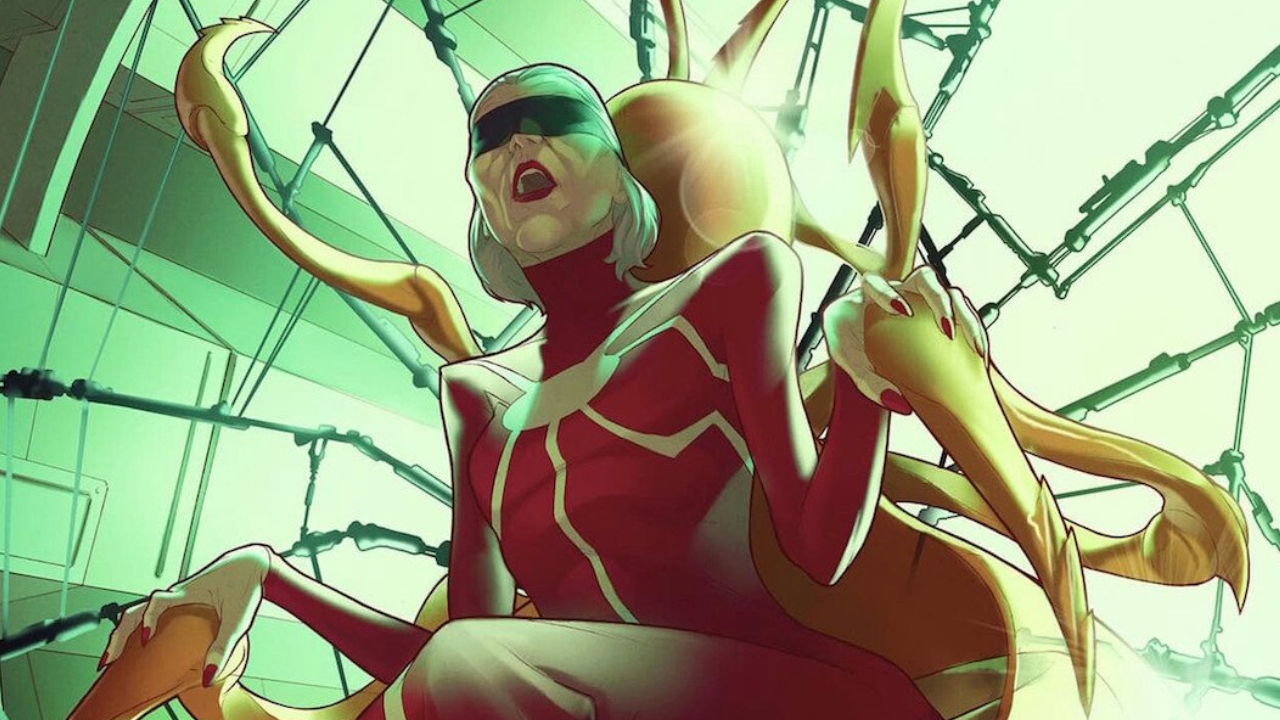 marvel comics
Madame Web set video leaked online
Madame Web is set to premiere in October next year and is currently filming in Boston. The movie will act as an origin story for one of the most enigmatic characters in the Spider-Man comics named Madame Web. She is a clairvoyant and a psychic, and her abilities allow her to help Peter Parker in her heroic adventures.
Recently, a Twitter account leaked a Madame Web set video, giving us a better look at Johnson's character. 
Dakota Johnson el día de hoy en el set de Madame Web en Boston, Massachusetts. -06/08. pic.twitter.com/js4SE4f8RP

— Dakota Johnson Argentina (@DakotaJArg) August 6, 2022
In the newly leaked videos and photos, we can see Johnson and Scott rushing to rescue the car crash victims. They are wearing dark-colored uniforms with the letters "FDYN" written on them.
POR DIOS! Dakota Johnson fue vista el día de hoy en el set de Madame Web en Boston, Massachusetts. – 06/08. Más fotos: https://t.co/70nXdBqoUk pic.twitter.com/I2LbnwI6sU

— Dakota Johnson Argentina (@DakotaJArg) August 6, 2022
There's no official confirmation which version of Madame Web Johnson will be playing. She could be playing a younger version of Cassandra Webb, the original Madame Web. Perhaps, she plays Cassandra Webb's protégé Julia Carpenter who'll take on the mantle of Madame Web after the former's passing of her.
We know that the Madame Web set videos show that the characters of Johnson and Scott are paramedics working for "FDYN" who appear to respond to people in trouble. In the comics, Julia Carpenter is part of an operative called the Commission on Superhuman Activities (CSA), which is associated with the Avengers.
Twitter
Spider-Man spinoff movie details 
Before the Madame Web set video leaked, set photos of the movie also made their way online. In the leaked set photos , a part of a city in Boston was transformed to appear like New York in the early 2000s. Details like Beyoncé's 2003 album Dangerously in Love and the pay phones on the street give us a solid hint that the movie's events will take place in the 2000s.
Interestingly enough, the original Spider-Man trilogy led by Tobey Maguire's Spider-Man happened also in the 2000s. Given that the other Sony's Spider-Man appeared in Marvel's No Way Home , it's only natural to think that Madame Web has a connection to Sam Raimi's Spider-Man one way or another. 
The news that Sony will make a spinoff movie about Madame Web came out in 2019. The writers for Morbius , Burk Sharpless, and Matt Sazama, will be writing its script, which we hope is not a bad omen for the movie, given that Morbius didn't get a warm reception.
What do you think about the new Madame Web set video leaks? Who do you think Johnson's character will be? Share your thoughts in the comment box below. 
Madame Web will hit theaters on October 6, 2023.
Paul is many things. He's a fan of anime, superheroes, and everything in between. He dedicates his downtime to annoying the heck out of his cats and dog.
Leave a comment