Scream 6 Trailer: New York, New Rules
It's finally here! Paramount just dropped the trailer for the next installment of the Scream movie franchise. The film, which is titled Scream VI, is a direct sequel to the 2022 film, Scream. 2022's Scream was the fifth entry in the series and also a reboot to the franchise. Naturally, many of the actors from Scream will return for Scream VI. Although Paramount isn't releasing the film until March 10th, 2023, they've been teasing the film for several months on social media. Yesterday, the official Scream Twitter account tweeted a train emoji, which left many fans confused. Now the Scream 6 trailer has dropped, everything make sense.
In the Scream 6 trailer, we learned that the killer (or killers) has moved location. Unlike the other films in the franchise, this newest entry is set in New York City. Previously, the other films took place in the fictional town of Woodsboro in California. Along with the new city, the trailer showed off the movie's new look as well. In it, we can see the murderous Ghostface chasing their victims on the subway. On the car, there are also several other people who are all masked-up for Halloween. You can check out the trailer below.
It'll be interesting to see how this new location could change things for the franchise. Of course, there are some things that are sure to remain the same. Namely, the gruesome kills and tense moments! Additionally, we're also expecting to see plenty of meta references like from the previous films. In 2022's Scream, they cleverly referenced the film's own position as a "requel" to the franchise. It was a sequel to the original film while also a reboot – hence the name, "requel".
Scream 6 Trailer
In the Scream 6 trailer, we saw several of the returning actors from 2022's Scream and previous movies. Courtney Cox plays reporter Gale Weathers, while Melissa Barrera is Sam Carpenter, Billy Loomis's daughter. Jenna Ortega is Sam's half-sister, Tara, and Hayden Panettiere will be Kirby Reed. Jasmin Savoy Brown plays Mindy Meeks-Martin and Mason Gooding is Chad, Mindy's twin brother. Other cast members include Dermot Mulroney, Henry Czerny, Samara Weaving, Tony Revolori, Jack Champion, Devyn Nekoda, Liana Liberatro, and Josh Segarra. And, of course, Roger L. Jackson as Ghostface's creepy voice!
However, one character that's notably absent from the Scream 6 trailer and film is Sidney Prescott. Originally, Neve Campbell played the role of Sidney in all previous entries of the franchise. However, Campbell chose not to return for Scream VI. Here's her statement from June, where she spoke about her reasons for not returning:
"As a woman I have had to work extremely hard in my career to establish my value, especially when it comes to Scream. I felt the offer that was presented to me did not equate to the value I have brought to the franchise.

It's been a very difficult decision to move on. To all my Scream fans, I love you. You've always been so incredibly supportive to me. I'm forever grateful to you and to what this franchise has given me over the past 25 years."
As such, there's a lot riding in this next entry, as it will prove if the film series can survive without its main protagonist. The Scream 6 trailer gives a good indication that it will! Of course, the series has done this before with the television series. Also titled Scream, this short-lived TV series only got 3 seasons before it wrapped up. All three seasons took place outside of Woodsboro.
Scream VI New York City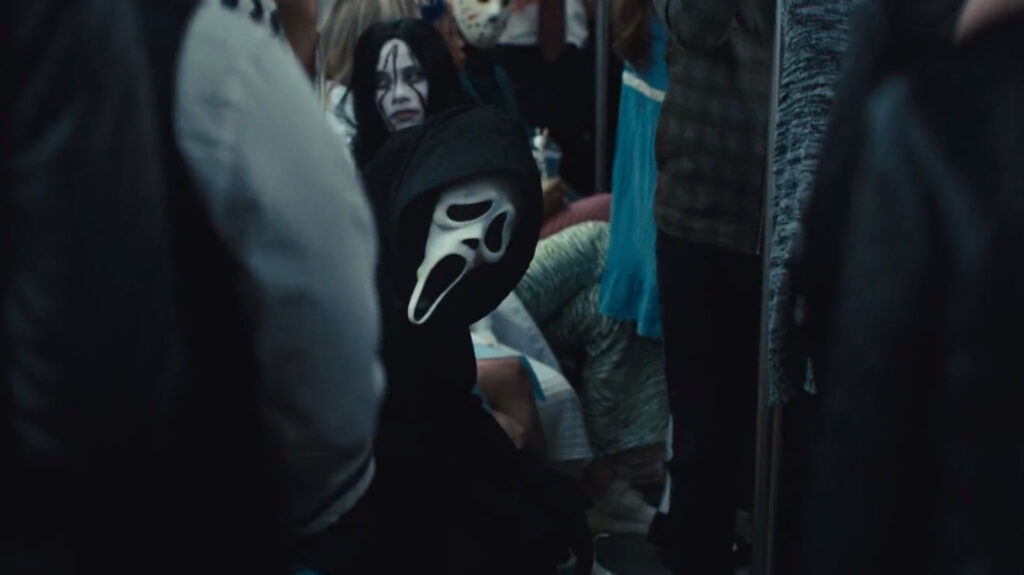 Image: Paramount
Also, in the Scream 6 trailer, we got a look at the movie's version of New York City. However, this isn't the first time that a horror movie or slasher villain has taken a trip to the Big Apple. In Friday the 13th Part VIII, for example, killer Jason Voorhees goes to Manhattan. However, many fans and critics hated this movie. Naturally, the film's poor box office performance reflected this idea. Let's hope that Scream VI does better!

Additionally, several other notable horror films took place in New York. Rosemary's Baby from 1968, for example, occured in Manhattan. 1990's Jacob's Ladder primarily occurred slap-bang in the middle of New York City, 2000's American Psycho occured in Manhattan. Clearly, taking a trip to New York is a staple of the horror franchise, and we can't wait to see what happens in this film!
Hi! I'm Arvyn, and I'm an English teacher from the UK. I've been teaching English online for over 4 years to students from all across the world and all ages. Outside of work, I'm a huge fan of reading, video games, and playing with my adorable kitties. See ya!
Leave a comment