Renfield Dracula Movie: Comments on Nicolas Cage's Count Dracula Costume Inspiration
The character of Count Dracula always showed extravagance in his costumes, whether in the 1980s or the movie based on Bram Stoker's '92 book. The new Renfield film about Dracula is no exception. This movie was marked by its costume director, Lisa Lovaas, who had several inspirations for this character's outfit.
Even though Dracula is not the main character of this film, the production invested great efforts in the Count's appearance. Lovaas commented that the entire environment, such as scenery and other aspects, were accommodated to his costume. So they carefully chose it.
Renfield's costume, a Dracula Inspired by David Bowie and the 80s
Image: Universal Pictures
Director Lisa Lovaas stated about the Renfield series and the costuming of the character Dracula, played by Nicolas Cage. She commented that the outfit they used was inspired by singer David Bowie and the classic costumes the Count wore in the 80s versions.
The costume designer sought to eulogize or honor the Count to his fullest. She did this especially at the end, using an ultra-luxurious deep burgundy velvet gown precisely before the showdown with his former servant Renfield. Using a mix of 80's costumes and Bowie, the specialist gave Nicolas Cage a unique style. In this final scene, Lovaas commented as follows:
"I loved the monochrome style of that iconic red suit of his from the late '80s. Such a bold and powerful look which I thought worked well for Nic. It just felt like a strong dramatic flourish for the end". She continued later, adding:
"The character has developed over time, and there's a continuity to the look that's been established. It was important to me to maintain that continuity, and hopefully to build on it, with respect for its history."
Lovaas emphasized that although Nicholas Hoult's character, i.e. Renfield, is the title character, his character's costume depended exclusively on the look of Count Dracula. On the latter, he said, "Specific costume choices were largely driven by what worked best for Nic on any given scene".
Nicolas Cage's Costume Choice Process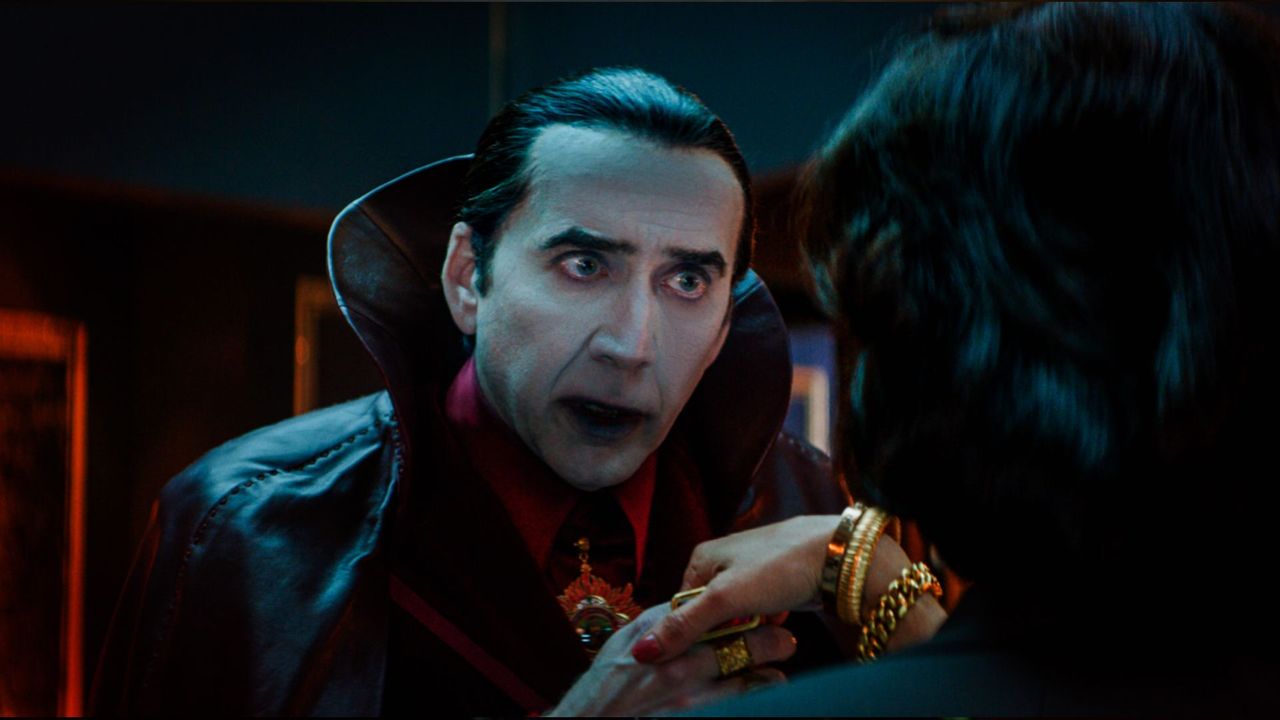 Image: Universal Pictures
For Renfield's costume choice, Lovaas commented that he tried many variations of Count Dracula's costume just to be sure. Therefore, they tried several layers Nicolas Cage wore with 100% readiness. On this, the costume director commented.
"The silk, the brocade, the velvet, the shiny leather, all brought a kind of elegant richness that we wanted to portray for Dracula, a man of wealth, taste and elegance."
Lovas commented on Renfield's appearance and his contrast to Dracula. While the Count displayed a somewhat striking appearance, this was changing the slave's clothing from a monochromatic combination signifying oppression to a colorful shirt, implying his freedom from the vampire. On Renfield's comment, he remarked as follows:
"There's a kind of naivety and innocence there, which ties in with her character and the sense of hope she has for the future. And there's nothing like patchwork cakes to tie it all together."
Lovaas culminated, "Renfield's story comes full circle, and I wanted to reflect that in the costume. I felt that introducing elements from his previous life at the end helped reinforce the sense that he's starting over."
Featured Image Via Universal Pictures 
I am a circus aerialist influenced by Dick Grayson and Spider-Man. Fortunate to write about the characters that inspired me. I also have a Bachelor's degree in Political Science and a Master's degree in International Trade.
Leave a comment