Quiet Place Prequel Footage Shows Apocalypse's Start
Hey, horror fans, guess what? We've got some exciting news for you! A Quiet Place Prequel footage just premiered at CinemaCon. From what we've seen so far, let's just say we're in for a real treat. As we know, the A Quiet Place franchise has been keeping us on the edge of our seats, and this prequel will reveal how it all started.
So, what's the buzz? Well, attendees at the star-studded CinemaCon got a first glimpse of the highly-anticipated Quiet Place Prequel footage. And from what we've heard, it's going to be nothing short of spectacular. Of course, we couldn't wait to share this exciting news with our readers! 
First off, the prequel will take us back to the terrifying beginning of the alien invasion that changed everything. Remember the tense, heart-pounding moments from the first two films? Yeah, we can expect even more of that in this prequel. The Quiet Place Prequel footage showcased at CinemaCon gave us a glimpse of how humans first encountered the terrifying creatures that hunt by sound. Just imagine how terrifying it must've been to experience that for the first time!
Moreover, the prequel will introduce a whole new cast of characters. Naturally, some incredibly talented actors will play these roles. As a result, we'll see new faces and new stories. This will make the film an exciting addition to the A Quiet Place universe. Although, we can't help but feel a little nostalgic for our original heroes from the first two films.
Additionally, the visuals look stunning. The Quiet Place Prequel footage revealed breathtaking shots and an eerily beautiful world. It seems that the prequel will not only focus on the story but also on the environment and the haunting atmosphere that has become a signature of the franchise.
A Quiet Place Prequel Franchise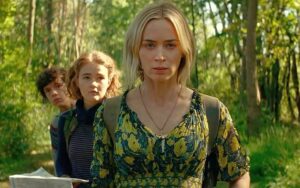 Image: Paramount Pictures
Now, let's talk about the A Quiet Place franchise for a bit. Since the first film's release in 2018, it has become a massive success. Fans worldwide have been captivated by its unique blend of horror and suspense, with a strong focus on the power of family. Many people praised the series for its refreshing take on horror. In particular, they loved using sound to create a terrifying atmosphere!
Furthermore, the franchise has garnered critical acclaim and has raked in serious box-office numbers. As a result, it's no surprise that the studio greenlit a sequel, which hit theaters in 2021. Like its predecessor, A Quiet Place Part II was a smash hit, leaving audiences clamoring for more. From the Quiet Place Prequel footage, it seems like the prequel will deliver!
But wait, there's more! Along with the prequel, rumors are swirling about a potential third installment in the main storyline. Fans of the franchise are undoubtedly thrilled by the prospect of more thrilling adventures in this terrifying world.
So, what does the future hold for the A Quiet Place franchise? Well, with the Quiet Place Prequel footage making waves at CinemaCon, it's clear that the franchise is far from over. With each new film, the world expands, and the story deepens, keeping audiences hooked and eager for more.
2023 Upcoming Horror Films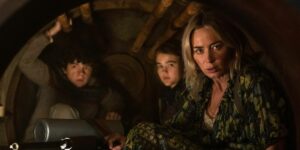 Image: Paramount Pictures
Clearly, the Quiet Place Prequel footage premiere at CinemaCon has left us all buzzing with excitement. This prequel promises to take us back to the very beginning and reveal the origins of the sound-hunting creatures that have haunted our nightmares. With new characters, stunning visuals, and more nail-biting suspense, we can't wait for the film's release.
So, stay tuned for more updates and news about the A Quiet Place franchise. Trust us; you won't want to miss a thing!
Hi! I'm Arvyn, and I'm an English teacher from the UK. I've been teaching English online for over 4 years to students from all across the world and all ages. Outside of work, I'm a huge fan of reading, video games, and playing with my adorable kitties. See ya!
Leave a comment