Pieces Of A Woman Review – An Intimate And Devastating Portrayal Of Trauma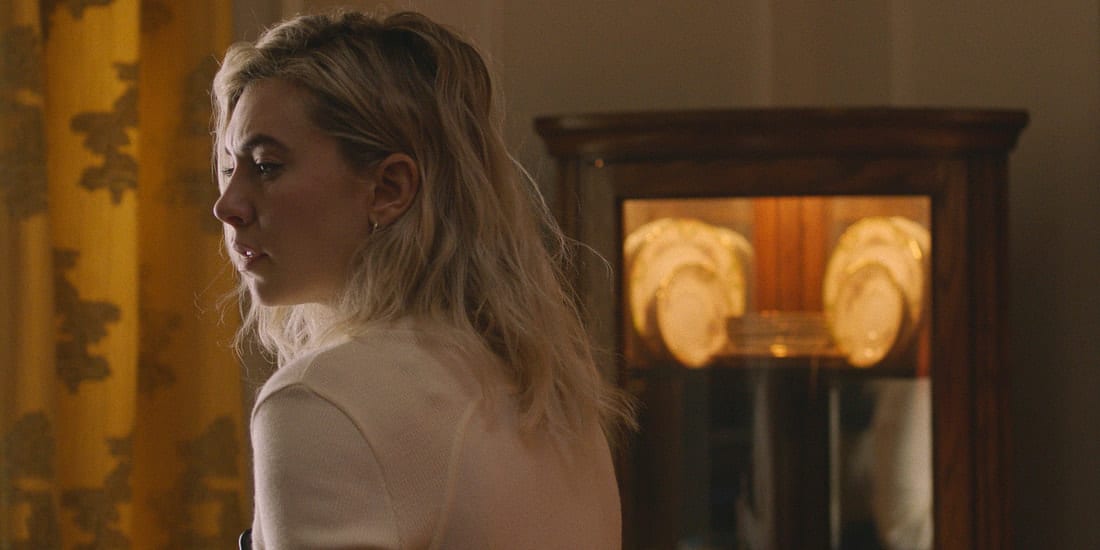 We all have a connection to the act of birth-giving. Whether we have children of our own, will never have them, or have held somebody's hand as they've gotten news (good or bad) about their reproductive health, our society is founded upon what is both a simple and completely complicated act. Pieces of a Woman, a film by director Kornél Mundruczó and writer Kata Wéber, pulls a heart-wrenching story about the devastation that can follow such an event. In this review of Pieces of a Woman, we'll explore how the film navigates one of the hardest topics to talk about: loss during childbirth.
Pieces of a Woman Review: The Loudest, Quietest Movie You'll Watch This Year
Pieces of a Woman begins at what most consider to be one of the most terrifying and exciting times in the life of a child-wanting couple. Martha Weiss (Vanessa Kirby) and Sean Carson (Shia LaBeouf) are ready to bring their much-desired first daughter into this world. Choosing to go the route of home birth, things quickly fall out of place. Their midwife, Eva, is ultimately unsuccessful in safely delivering their child, and she is lost in childbirth. This all plays out in a single shot, documenting every step of Martha's labor. It feels so real that you almost feel like you're peeping in on one's actual delivery.
Trauma impacts us all in different ways. For Sean, this looks like desperation. He wants justice in the form of putting their midwife behind bars and to keep up the spark that he previously had with his partner. His deceased child does not leave his mind. He seeks out an affair and rekindles a substance dependence in an attempt to spend a second not thinking of her.
Meanwhile, Martha does her best to continue living her life. She returns to work the second she is needed. Groceries are shopped for. Hobbies are continued. At first glance, it appears as if she is succeeding in moving on. Though, the ever-increasing amount of dirty dishes in her sink, dying plants hanging from her windows, and always-chipped nail polish tell us a different story.
Pieces of a Woman is not a movie where things happen. There really is no climax, nor are there shocking reveals. Rather, it is a movie where things are felt. In exchange for grand revelations or moments of clarity, we watch as emotions are processed, life moves on, and people keep doing their best at surviving.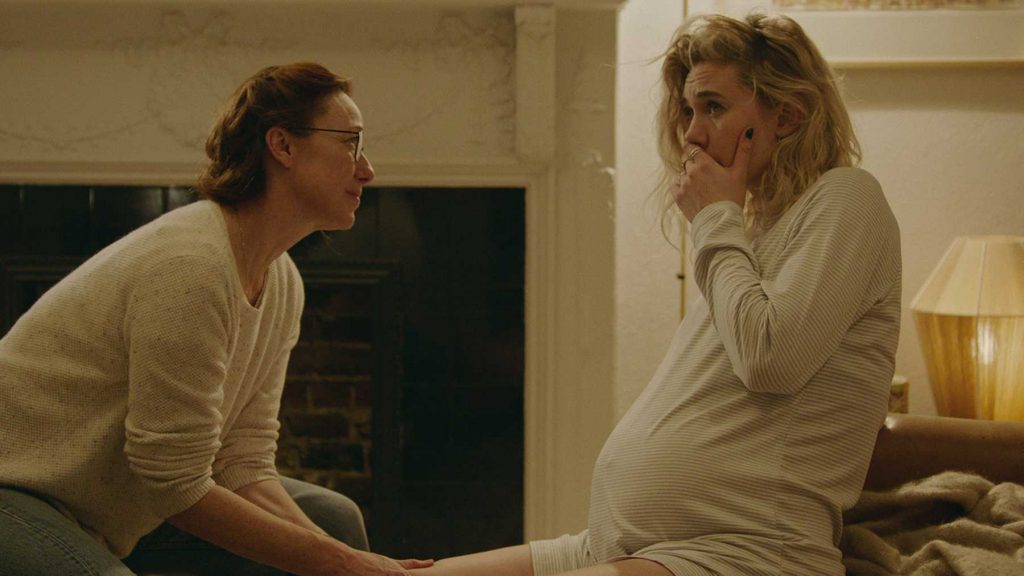 Image via Netflix.
Vanessa Kirby Puts Every Piece of Hers Into Martha
Kirby, best known for her portrayal as Princess Margaret in The Crown, is what holds this movie together. She is absolutely mesmerizing in every second of screentime that she commands. This is partially from the director's decision to keep the camera on her. Regardless of what is happening around her, from shouting matches to important plot details, we're glued to her as she moves around the home, processes her surroundings, or tries her best to keep emotions from spilling out.
There is a scene early on in their process of grief that perfectly captures what the rest of Martha and Sean's relationship will look like. She comes home, quietly takes off her shirt, and collects frozen bags of vegetables to hold to her still-recovering chest. She says nothing, yet we understand that her body continues to ache for motherhood. Meanwhile, Sean begs her for what he wants, overlooking the hurt of his partner. From here on, we continue to hear what his feelings are. We are not told hers: rather, we are shown.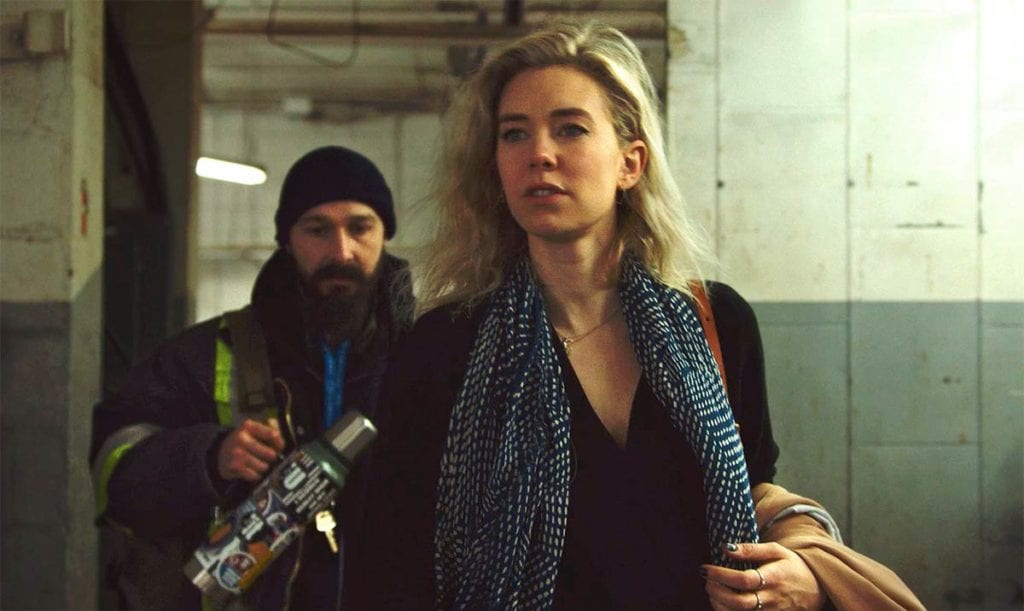 Image via Netflix.
A Netflix Film Not To Be Missed
Shia LaBeouf, who we last saw in TIFF Honey Boy, has recently been accused of sexual battery, among other abuse allegations towards a partner, FKA Twigs. Justifiably so, many are cautious about approaching this movie for fear of separating art from the artist. Netflix has even removed LaBeouf from their awards campaigns. We stand in solidarity with FKA Twigs and will not be praising LaBeouf for this film. And whether his acting is impressive or not doesn't change just how magnificent this film is with or without him.
Ultimately, our review of Pieces of a Woman is that the film is worth watching for Vanessa Kirby's powerhouse performance alone. Trust me; this film is tough to watch. But millions of infants die within hours of their entrance into this world, and it's important to explore this devastating tragedy through the eyes of the people who are the most closely impacted – mothers. This story is honest, uncomfortably intimate, and beautifully hopeful.
For those of you who have watched the film, do you agree with our review of Pieces of a Woman? If you haven't, you can stream it on Netflix now.
Featured image via Netflix.
Meghan Hale is the kind of movie lover that has a "must watch" that is a mile long... and growing. When she isn't talking about the latest film and television news she is writing one of her many in-process novels, screaming film trivia at anybody who will listen, and working as a mental health care professional. Follow her on Twitter @meghanrhale for some fun theories and live reactions to all things entertainment.
Leave a comment