Peter Sohn Shares How He Came Up With Pixar's Elemental
American animator and director Peter Sohn talks about the origins of Pixar's Elemental.
Peter Sohn has been providing Pixar Animation Studios his incredible work since 2000. Since then, he has worked on many popular Pixar films as an animator, including The Incredibles and Ratatouille. In 2015, he made his directorial debut with The Good Dinosaur.
Years after his directorial stint in The Good Dinosaur, Sohn returns with Pixar's Elemental. The film follows the story of Ember, who lives in Element City, where fire, water, air, and land-residents live together. Ember has this fiery and uncompromising attitude that clashes with his friend Wade. Unlike Ember, Wade is a more go-with-the-flow kind of person. And their unlikely friendship brings out discussions about the kind of world they live in.
Pixar's Elemental will showcase stories of diversity and clashes in culture. Sohn's upbringing influences the background of the story. He's the son of a Korean immigrant and grew up in New York. Sohn encountered a culture clash having an Asian descent living in America.
In the recent Disney Content Showcase in Singapore, Sohn gave the audience a closer look at his childhood. During his presentation, he showed a picture of him with his parents, thanking them for their sacrifices.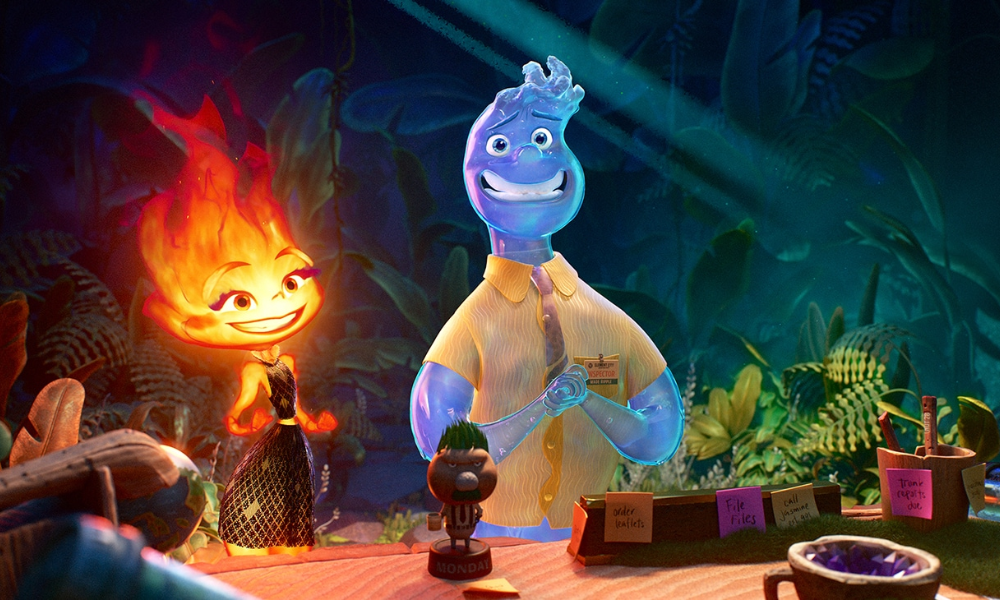 Image: PIXAR
Director Shares Background of Pixar's 
Elemental
In an interview with Variety, Sohn recalls his upbringing in America. He also mentions his interest in making an animation that will represent how two cultures clash against each other. And even that thought was influenced by his marriage and his life. Read Sohn's full statement below:
"Maybe it's because when I was a kid, I really didn't appreciate or understand what it meant to be an immigrant, to come to the U.S., and all the hard work that they did to give my brother and me our lives. That was one big nugget that was just sitting with me. On the other side, I married someone that wasn't Korean, and there was a lot of culture clash with that in my world. And that brought to me to this idea of finding opposites. And the question of what if fire fell in love with water came. As an animator, what could be a fun world to play with… so the fire and water is one thing. But then tying that to culture clash, was part of that metaphor. And then in that world, all of a sudden this idea of sacrifice, and understanding what our parents had given started to make the soup of what this film is."
Pixar's Elemental isn't the studio's first film to portray diversity. In fact, many animated movies have been becoming more and more diverse. Movies like Coco, Turning Red, and Luca have featured characters with distinct cultures. Hopefully, Elemental would be a great addition to the roster of films that will push representation and diversity.
What's Next for Pixar Animation?
Pixar has produced iconic animated films, with Toy Story being their first. Since then, they have made twenty-six feature films, many of which received awards and nominations. The studio has released Turning Red and the Toy Story spin-off movie Lightyear this year.
Aside from Pixar's Elemental, the studio is also working on two announced projects. Elio will center on the story of an 11-year-old who can't fit in. However, his adventure led him to meet aliens and become the ambassador for Earth. The film will hit the theatres on March 1, 2024.
Also, in 2024, Pixar will be releasing Inside Out 2. The film will be a direct sequel to 2015's Inside Out. There are no other details about the feature film, but the story follows Riley in her teenage years as she encounters new emotions. Amy Poehler will be reprising her role as Joy in the upcoming sequel.
Are you excited about Pixar's Elemental? Share your thoughts with us in the comment box below!
Paul is many things. He's a fan of anime, superheroes, and everything in between. He dedicates his downtime to annoying the heck out of his cats and dog.
Leave a comment