The Nicolas Cage Horse Story – How Rain Man Tried To Kill Him
Interviews are entertaining to read, but the old-fashioned format leaves room for scripted responses or predictable questions. Recent trends, including The Hollywood Reporter's annual roundtable discussions, have just enough room for more fun and off-topic tales. These regular events always bring up conversations that range from amusing to insightful. This year's group brings Nicolas Cage, Peter Dinklage, Jonathan Majors, Simon Rex, and Andrew Garfield to the circle, and there are plenty of stories and tidbits to go around. Our favorite is a Nicolas Cage horse story, where one named Rain Man tried to kill him.
The Nicolas Cage Horse Story Involves Rain Man And Jonathan Majors
During an interview with The Hollywood Reporter, the above-mentioned actors get into everything from the importance of vulnerability and not being afraid of failure. Nicolas Cage has been promoting his latest film, Pig, but has plenty of other stories to share. One of them is about horses.
After Simon Rex shares his speedy casting process for Sean Baker's Red Rocket, Jonathan Majors chimes in with a horse story. His horse on The Harder They Fall, Cinco, was the type to take off, just like Baker's acting career. But someone else at the table has a story about a horse that wasn't quite as nice, and we aren't surprised when it is Nicolas Cage.
Nicolas Cage's horse story anecdote is about Rain Man, with who he filmed Butcher's Crossing. He shares the following words about his experience:
"Rain Man kept trying to knock me off and would try to run my head into roofs, and then I'd get off and try to be nice to him, and he would headbutt me. It was not fun. I've always had good experiences with animals. I always had great experiences with horses, but Rain Man wanted to kill me."
The actor claims to be happy just making it through the shoot alive. Apparently, it's caused quite the stir to his emotions. And understandably so, as anyone who has had a negative experience with a horse can comment on. However, he isn't the only actor at the roundtable who knows Rain Man.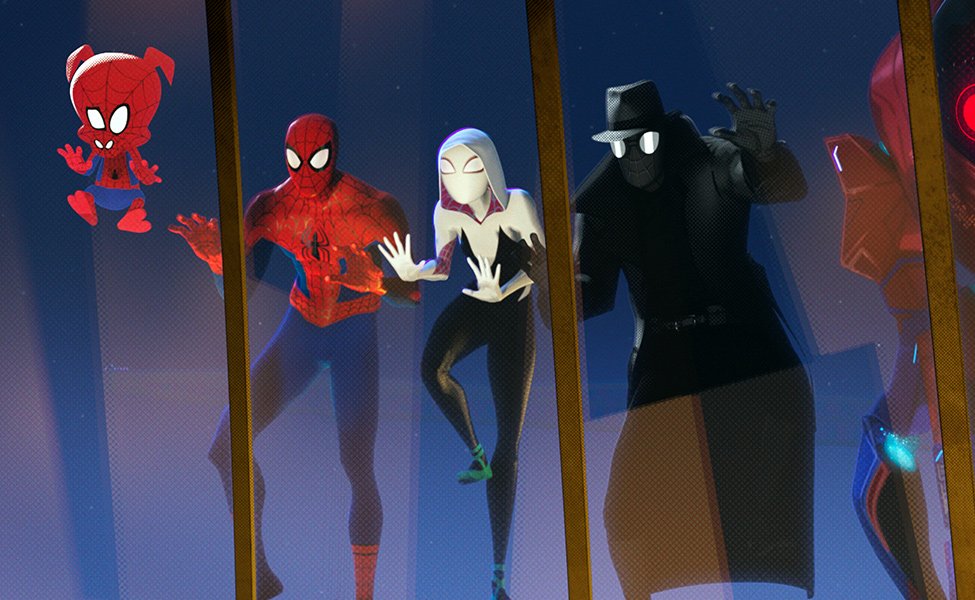 Our favorite Nicolas Cage role is Spider-Man Noir in Into the Spider-Verse. Image via Sony Pictures Releasing.
Jonathan Majors Also Has a Horse Story with Rain Man
The name Rain Man would usually have us thinking about the 1988 film starring Dustin Hoffman and Tom Cruise. But Cage's story brings back memories for Jonathan Majors, who recognizes the horse from a previous experience. Cage presses for more information, demanding to know if Rain Man was nicer to Majors than he was to Cage. And apparently, he was.
Andrew Garfield brings up the idea that the personality change might be related to the energy that each actor brings to the horse. But Cage is adamant that he is good with animals. It must have been a "clear decision on Rain Man's part" that he wanted to kill Cage.
The interviewer switches up the question despite Garfield's desire to keep talking about the widely dramatic horse. Though, that doesn't stop the actors from bringing him up later in the interview. Majors and Garfield jokingly blame Rain Man for leaking an earlier karaoke video of Nicolas Cage singing, and the horse story is finally behind us.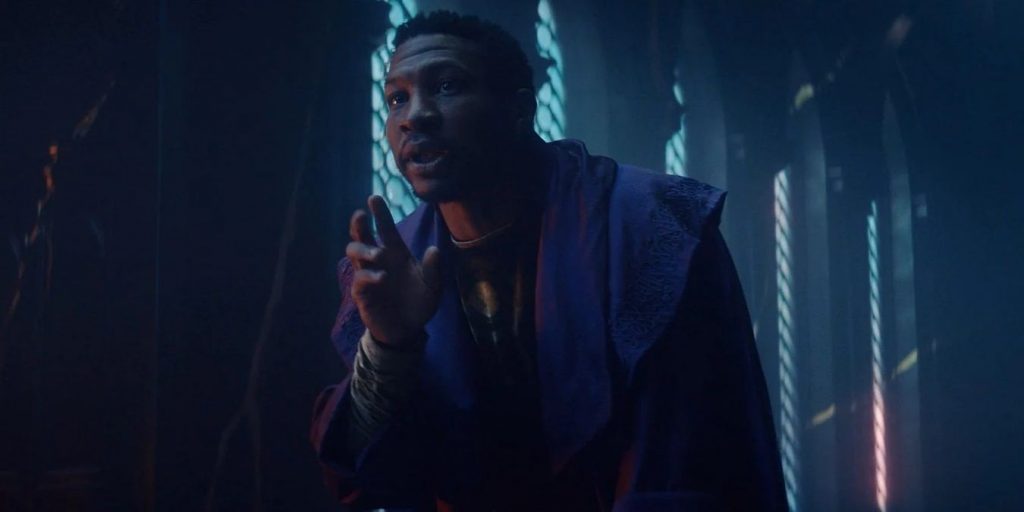 Jonathan Majors in Loki. Image via Marvel/Disney+.
What Movie Did Nicolas Cage Need to Film with a Horse?
The film that caused the story, Butcher's Crossing, recently wrapped filming. Directed by Gabe Polsky and based on John Williams' 1960 novel of the same name, it promises to be a western epic that follows a Harvard drop-out after he joins a group of buffalo hunters.
The story includes themes of man versus nature, making us wonder if the wild horse story with Nicolas Cage and Rain Man helped add a layer of truthfulness to the final product. Cage explains a terrifying time of the shoot, sharing the following:
"They wouldn't give me another horse. And then we were being chased by a herd of bison, and I'm on Rain Man, and I'm not sure he's going to get me out of here. I don't know. I'll stop talking."
The story seems to come across as part joke, part drama. Though, we can imagine some real fear behind such an experience. Equestrian injuries are common. They're even more frequent when folks aren't trained properly, and we can't imagine that many actors have significant horseback riding experience. We're glad that Rain Man and Nicolas Cage have ended their relationship and hope that the horse's future interactions are more similar to the one he had with Majors.
You Can Stream Nicolas Cage in Pig, Available Now
Butcher's Crossing, where Nicolas Cage found his horse story with Rain Man, currently does not have a release date. But we're eager to see the on-screen dynamics once it releases. Readers, do you have any favorite equestrian scenes in films? Let us know your favorites in the comments!
Featured image (Pig) via Neon.
Meghan Hale is the kind of movie lover that has a "must watch" that is a mile long... and growing. When she isn't talking about the latest film and television news she is writing one of her many in-process novels, screaming film trivia at anybody who will listen, and working as a mental health care professional. Follow her on Twitter @meghanrhale for some fun theories and live reactions to all things entertainment.
Leave a comment