Nicolas Cage Dracula: Renfield Movie Trailer Shows New Version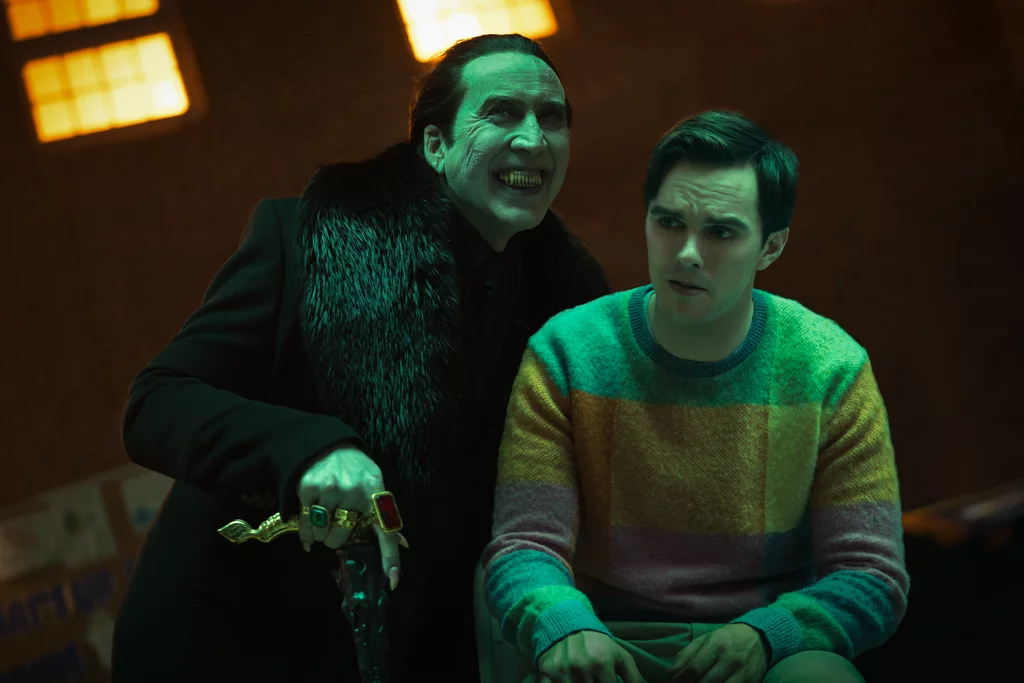 The character of Dracula appeared in countless productions as a leading and supporting character. His first appearance was in 1958 with Hammer Film Productions' Dracula. From that moment on, films continued to be released until the 1992 masterpiece Bram Stoker's Dracula. Although he has traditionally been linked to horror, the latest production has a different tone. Starring Nicolas Cage as Dracula, the Renfield movie will offer a more comedic and satirical take on the most famous vampire in history. 
The movie is centred on his assistant, or henchman, named Renfield. In the plot, we will see how the character struggles to avoid Dracula's abuses and tries to find his own way. 
Nicolas Cage Dracula Renfield Movie Trailer Just Released
Image: Universal Pictures
A new film in the style of horror and comedy, Renfield, will be released soon with Nicolas Cage as the king of vampires, Dracula. This one shows a more modern version of this vampire with his relationship with henchman Renfield. Nicholas Hoult is the actor in charge of bringing the henchman to life. Universal Pictures has just released the trailer of this production, as well as a promotional image.
In the image, we see how annoyed Nicolas Cage Dracula tries to sink his fangs into the henchman Renfield while he flees in panic. On the other hand, the trailer tells a somewhat different story than what we have seen so far in the King of Vampires franchise. This is because Renfield is the main character and not the character played by Cage.
We can see in the trailer how Nicolas Cage Dracula controls Renfield and turns him into his henchman. The Count tortures and forces the young man to do things for him, like getting him dinner and moving his things, among other things. However, this character seeks to free himself from the vampire's yoke with the help of a city detective.
So they set out to confront and defeat Cage's character, although it will not be easy. In one part, it seems that Renfield became a vampire of sorts or at least has the ability to possess supernatural powers momentarily. The question would be who will win Dracula or Hoult's character.
Details of the New Vampire Count Movie
Image: Universal Pictures
Nicolas Cage's new film as Dracula, Renfield, is a comedy/horror production depicting a modern-day plot of the vampire's life and his henchman. In this we can see the modern cities, as the servant brings even gangsters for the vampire to suck all their blood. This one is developed by Universal Studios and directed by Chris McKay.
As for the vampire, Nicolas Cage stated in an interview that his character is based on several variations of Dracula. For example, he took Bela Lugosi's performance in the 1931 edition. He also used part of Frank Langella's character in the film of the same name in 1979. Finally, he used Gary Oldman's performance in Bram Stoker's Dracula.
Ryan Ridley wrote the film's plot. He was the screenwriter who created Fox's Ghosted and Adult Swim's Rick and Morty. This script was based on a story developed by The Walking Dead plot writer Robert Kirkman.
We also have a production team made up of McKay and Kirkman. David Alpert, Bryan Furst and Sean Furst support them. 
Nicolas Cage's new Dracula movie Renfield is set to be released in cinemas on April 14, 2023, by Universal Pictures. If you don't know the character and want to catch up, now is a perfect time. We will have the character in theaters in less than a month. 
Featured Image Via Universal Pictures  
Leave a comment