New TMNT Movie – Teenage Mutant Ninja Turtles: Mutant Mayhem Teaser Released!
The new Teenage Mutant Ninja Turtles (TMNT) movie has a teaser trailer. The Ninja Turtles franchise, which originated in the comics of Kevin Eastman and Peter Laird, continues despite the time. It will have a new edition driven by Seth Rogen called Teenage Mutant Ninja Turtles: Mutant Mayhem. This will be an animated movie with  100% 3D computer technology.
Recently, we saw the teaser for this movie, and it didn't disappoint. The Teenage Mutant Ninja Turtles: Mutant Mayhem teaser showed the team in a new adventure, a little more outspoken and mischievous. Leonardo, Donatello, Raphael and Michelangelo will face evil again. This new movie will likely provide us with not only action but also laughs because of the crazy things these four brothers can do.
Image via Paramount Pictures
New Teenage Mutant Ninja Turtles: Mutant Mayhem Teaser
In the trailer, you can see how the turtles are protecting the city of New York. However, they are at a somewhat young age, almost in their pre-teen years. We confirm this by the adult appearance of Master Splinter himself. We can see how the Teenage Mutant Ninja Turtles surface, etch themselves and begin to develop their skills. In short, we can see a young April O'Neil who helps them show themselves in the city and is grateful for having supported them. However, they will have to face a new threat, a criminal syndicate that threatens the streets of New York and will depend on them.
The teenage heroes will have other enemies that will be a headache. In fact, they will be mutants just like them, but with not-so-good intentions. We will see the four brothers fight against them as they slip into the night to protect the city from the shadows.
One detail to note is the absence of Destroyer, the mortal enemy of these four brothers. However, we see Baxter Stockman, the scientist who used the mutagen and created several mutants that attack the city.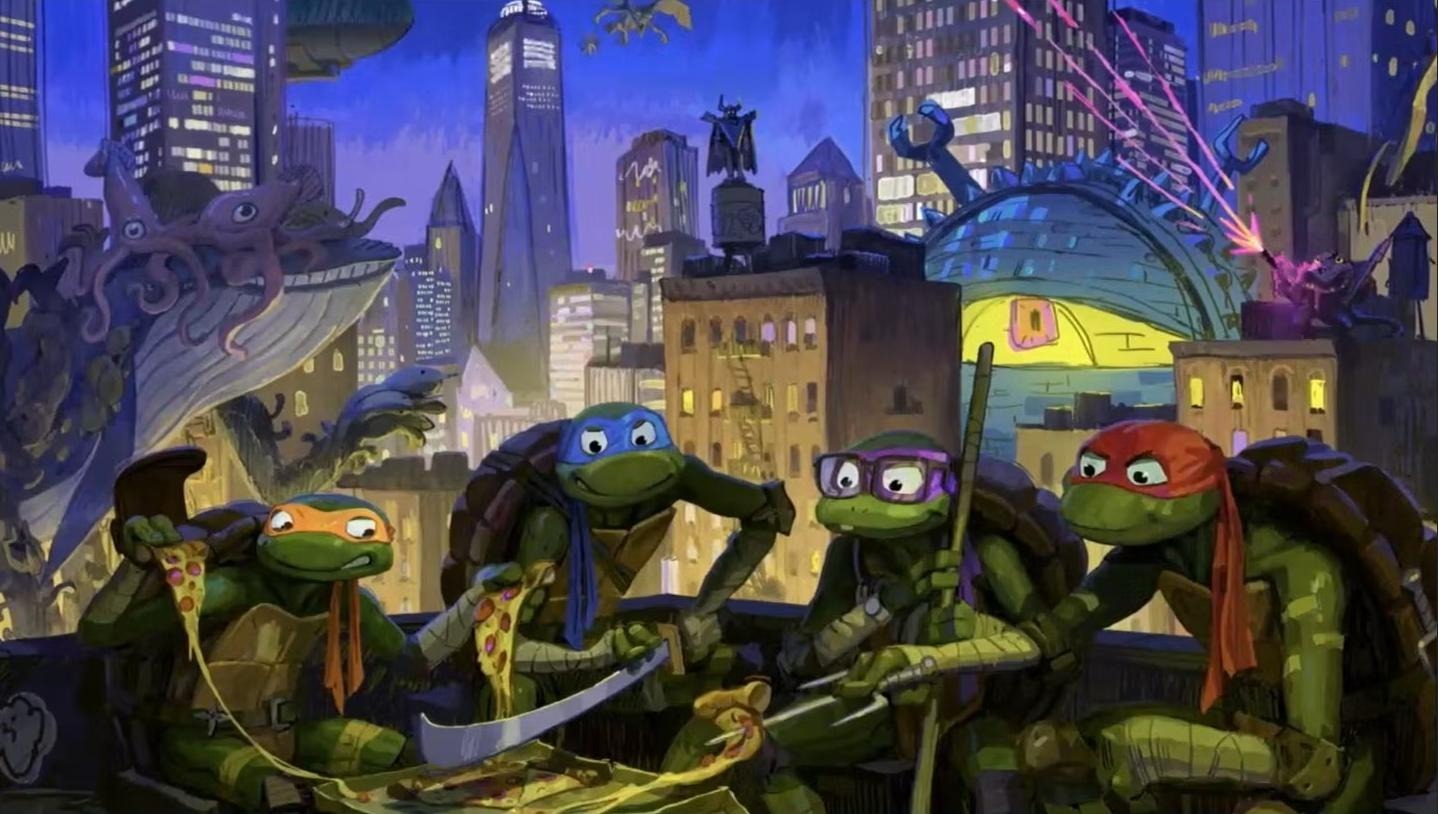 Image via Paramount Pictures
Heroes in a Half Shell, Turtle Power!
There are several details about the new animated TMNT movie. Jeff Rowe, the director of The Mitchells Vs The Machines, will guide this film along with Kyler Spears. You can tell Rowe's touch on Teenage Mutant Ninja Turtles: Mutant Mayhem by the style of the teaser scenes.
Several voices used for the film's characters had already been announced at the Nickelodeon Kids' Choice Awards. Jackie Chan used his voice to portray Master Splinter, and Paul Rudd played the role of Mondo Gecko.
Other actors who stand out in this movie are John Cena as Rocksteady and Seth Rogen as Bebop. As for the four brothers, we have Micah Abbey as Donatello, Shamon Brown Jr as Michelangelo, Nicolas Cantu plays the lead role as Leonardo, and lastly, we have Brady Noon as Raphael.
Among other characters in the new TMNT movie, we have Ayo Edebiri as April O'Neil, Rose Byrne as Leatherhead, Maya Rudolph as Cynthia Utrom, Giancarlo Esposito as Baxter Stockman, Ice Cube as Superfly, Hannibal Buress as Genghis Frog, Natasia Demetriou as Wingnut and Post Malone as Ray Filet.
This film will be released in theatres worldwide on August 4, 2023. In the meantime, watch the teaser trailer below:
Leave a comment