New Terminator Film "In Discussion," Says James Cameron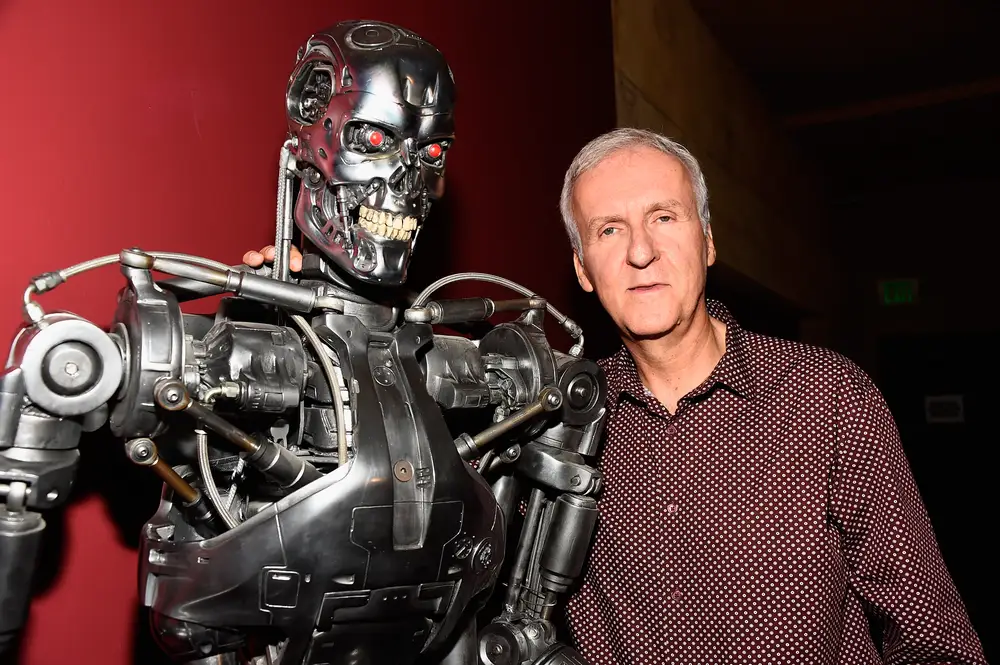 It's time for some good news, Terminator fans! In a recent interview, director James Cameron said he's currently "in discussion" for a new Terminator film. Of course, this doesn't mean we'll get anything soon, but knowing they're talking about a new film is exciting! James Cameron mentioned the film while talking on the "SmartLess Podcast." The hosts and James Cameron began talking about artificial reality and AI. Naturally, the conversation soon switched to the Terminator franchise, which is probably one of the most famous franchises of artificial intelligence. Later, James Cameron discussed the status of the franchise at the moment, as well as his hopes for its future.
Additionally, James Cameron clarified that he is very interested in artificial intelligence. However, he also made it clear that although he enjoys the franchise, there's no certainty on whether a new film is coming. Even so, it's clear that James Cameron is keen to make a new one, as he already has a few ideas about a new Terminator film. Here's exactly what he said:
"If I were to do another Terminator film and maybe try to launch that franchise again, which is in discussion, but nothing has been decided, I would make it much more about the AI side of it than bad robots gone crazy."
The fact that he's even talking about it is exciting. What's more, James Cameron's already got some ideas for the franchise, which means we might be closer to a new Terminator film than you think!
Of course, James Cameron is no stranger to the Terminator franchise. He directed, wrote, and produced the first film! He also worked on Terminator 2: Judgment Day and Terminator: Dark Fate.
Terminator: Judgment Day Reviews
Image: Paramount/20th Century Fox
However, James Cameron only worked as a writer and producer for Dark Fate and did not direct it. Paramount released this film in 2019, designed as a direct sequel to Judgment Day. This was mostly because James Cameron didn't work on any of the other Terminator sequels, so he wanted to continue the storyline that he created. Unfortunately, the film was both a critical and commercial failure, grossing only $261 million against the $196 million budget. As such, the film lost around $130 million, so many people speculated that the studio canceled other films. But the rumors of a new Terminator film suggest these rumors are untrue!
Even so, James Cameron said he was "reasonably happy" with the film, though he claims it could've used some tweaks:
"The movie could have survived having Linda in it. I think it could have survived having Arnold in it, but when you put Linda and Arnold in it and then, you know, she's 60-something, he's 70-something, all of a sudden it wasn't your Terminator movie, it wasn't even your dad's Terminator movie, it was your granddad's Terminator movie."
The film's director, Tim Miller, shared similar thoughts on the movie. The new Terminator film was meant to relaunch the franchise at the time. However, it failed to do this. Later, Tim Miller said: 
"Terminator's an interesting movie to explore, but maybe we've explored it enough. I went in with the rock hard nerd belief that if I made a good movie that I wanted to see, it would do well. And I was wrong. It was one of those f**king Eureka moments in a bad way because the movie tanked." 
New Terminator Film Rumors
Image: Paramount/20th Century Fox
So, considering these comments, maybe the new Terminator film won't feature any of the original characters. Perhaps James Cameron will create some new characters to go with this film, along with the focus on AI in robots. After all, this is a pretty hot topic in the news, especially the conversation about AI creating art. So, dealing with these issues on the big screen could be quite interesting!
James Cameron will likely produce and write the film, although we're not sure he'll want to direct it. After all, he's quite busy at the moment, what with Avatar: The Way of Water and the other Avatar sequel films lined up! Let's hope he comes back for another Terminator film, too.
Hi! I'm Arvyn, and I'm an English teacher from the UK. I've been teaching English online for over 4 years to students from all across the world and all ages. Outside of work, I'm a huge fan of reading, video games, and playing with my adorable kitties. See ya!
Leave a comment