The Netflix Pinocchio Teaser Is Here From Guillermo del Toro
Disney is in the process of re-creating almost all of its past work, and so the idea of eventually getting a live-action Pinocchio film didn't seem too far-fetched. However, what we're getting is going to be a little different, especially because it's not coming from the Mouse House. The Netflix Pinocchio teaser gives us a glimpse at what to expect from the upcoming Guillermo del Toro film, and we're here for it.
The Netflix Pinocchio Teaser We Didn't Expect
Most of us were introduced to the tale of Pinocchio thanks to the 1940 Disney film. Though, the story's origins go back a lot further. It was based on Carlo Collodi's 1883 novel, The Adventures of Pinocchio, and features some themes that are much darker than the eventual animated feature (though, they aren't quite as dark as the original stories that other Disney flicks are based on, like Sleeping Beauty.)
No matter what version we've read or watched, we all know the basics of Pinocchio. It is about a marionette named Pinocchio that is created by the woodworker Geppetto. And when Pinocchio tells a lie, his nose grows. His sidekick in the Disney film is Jiminy Cricket. Meanwhile, in the original novel, he is named the Talking Cricket – and Pinocchio kills him early on in the story. But don't worry, because he comes back as a ghost and encourages Pinocchio to do good.
Similar to the Disney film, and hopefully not-so-similar to the original novel, the Netflix Pinocchio teaser shows us that the Talking Cricket will reappear as the narrator once again.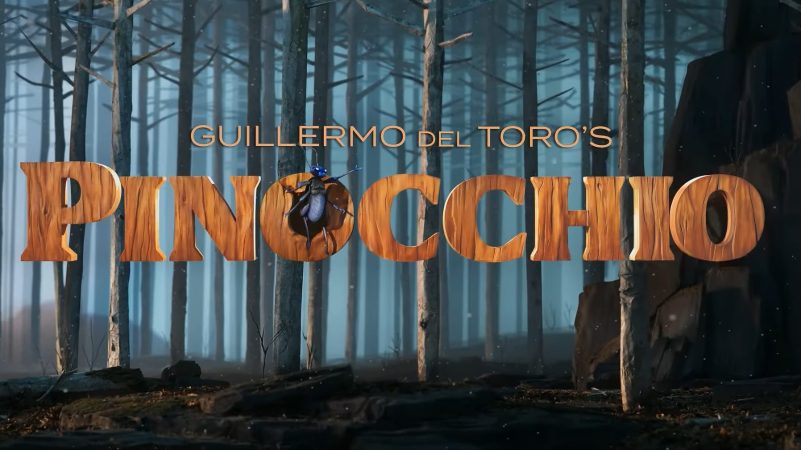 Image via Netflix.
Guillermo del Toro Creates The Next Pinocchio
The latest re-telling of Pinocchio will mark director Guillermo del Toro's (The Shape of Water, Pans' Labyrinth) animated feature debut. It is co-directed by Mark Gustafson. It will reportedly be a darker retelling, focusing on the mischief and mayhem that the puppet creates. Gregory Mann will voice the iconic marionette, while Ewan McGregor voices the renamed Cricket, Sebastian J. Finn Wolfhard, David Bradley, Cate Blanchett, Ron Perlman, Christoph Waltz, and Tilda Swinton also join for an all-star voice cast.
The teaser is a welcome sight, since the Guillermo del Toro Pinocchio film for Netflix comes after years of developmental hell. del Toro has been working on the project since 2008, and released concept art back in 2012. Despite his hard work, the director struggled to find a studio to finance the project. Netflix went on to acquire the film in 2018, and the hard work is finally about to pay off.
In addition to ShadowMachine and Necropia Entertainment, the Jim Henson Company will be producing the film. Based on their specialization in puppetry (from Kermit the Frog to Labyrinth) we're eager to see how the stop-motion animation comes to life.
Check out the teaser for the Netflix Pinocchio film below!
Pinocchio Releases on Netflix in December of 2022.
Readers, we know that the Netflix Pinocchio teaser doesn't give us a lot of information. We're sure that they're saving the best bits for the eventual full-length trailer. But based on what we know so far, including our expectations from Guillermo del Toro, we have high expectations on this project.
Let us know what you think and if you have any theories for how the film will play out! Will it be as dark and fantastical as other del Toro films, or do you think it will stick to something a little more family-friendly? And how do you think the musical aspect will play out? Drop your thoughts in the comments below.
Featured image via Netflix.
Meghan Hale is the kind of movie lover that has a "must watch" that is a mile long... and growing. When she isn't talking about the latest film and television news she is writing one of her many in-process novels, screaming film trivia at anybody who will listen, and working as a mental health care professional. Follow her on Twitter @meghanrhale for some fun theories and live reactions to all things entertainment.
Leave a comment