Netflix Movie Slate 2022 List And Cancelations
Despite the reported loss of subscribers to its streaming platform, Netflix continues to produce its movies. In fact, today was announced the Netflix Movie Slate 2022, which includes films such as Hustle and Senior Year. Everything seems to indicate that the streaming giant wants to counteract the negative results with quality productions.
Since May and until August this year, we will have premieres on Netflix. According to the Netflix summer schedule, they'll release at least four premieres per month. These new films range from drama to thrillers and sci-fi and have some big names as part of their cast.
Netflix announces movies for summer 2022
Let's see what premieres Netflix will have in the upcoming months.
We will have several premieres in May, such as Along for the Ride, coming on May 6. We will also see The Takedown and Thar that same day. On May 11, Operation Mincemeat will premiere in selected territories only. Rebel Wilson's Senior Year releases on May 13, while A Perfect Pairing and The Photographer: Murder in Pinamar will be available from May 19.
Among the films for June is Interceptor, which will be on the platform from June 3. Another upcoming film is Hustle, which will premiere on June 8, starring Adam Sandler and Queen Latifa. 
Also available will be Halftime from June 14. Other premieres will be the Argentinian film The Wrath of God on June 15, Chris Hemsworth's Spiderhead on June 17, and the Italian Love & Gelato on June 22.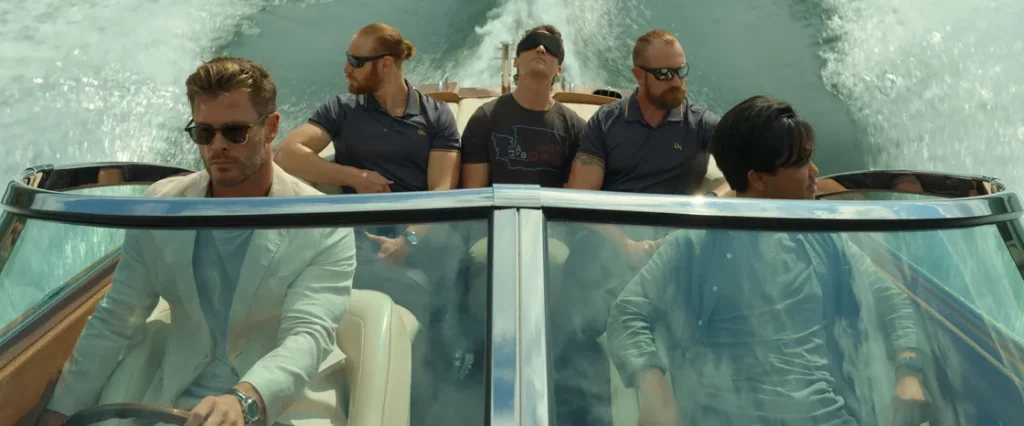 Image via Netflix
July will start with the release of Hello, Goodbye and Everything in Between, which you'll get from July 6. The Sea Beast and Dangerous Liaisons on the 8th and Persuasion on July 15. If you are a fan of thriller, suspense, and fear, The Gray Man is a movie you will surely want to see on July 22. 
The other releases through August are as follows:  Rise of the Teenage Mutant Turtles on August 5, 13: The Musical, and Jamie Foxx's Day Shift on August 12. This summer, the last film to hit Netflix will be Me Time, scheduled for August 26.
Seven Netflix Shows Canceled
Just as they announced the Movie Slate for 2022, Netflix decided to withdraw several productions from its series lineup. We are still unaware if this is due to the loss of subscribers and its shares dropping. Some had not been running for a long time, although others had been running for several seasons. Let's see which were the unfortunate productions.
The first was Gentefied, produced by America Ferrera, which will not have a third season. Another withdrawn production is Cooking With Paris, which only had one season. Netflix also canceled Another Life after culminating its second season in February.
I'd like to thank everyone single person who watched & supported Another Life on @netflix To our crew & cast thank you for always working so hard & being prepared. I wish we could do more seasons but sadly it's just not in the cards 🚀 See you on the next adventure ❤️ Love Niko

— Katee Sackhoff (@kateesackhoff) February 21, 2022
Another series that will no longer run is The Baby-Sitters Club which was suspended in March after the second season. Archive 81, which premiered in January of this year, was canceled after only one season. On the Verge was also canceled on April 9 after only one season. Finally, Raising Dion was withdrawn on April 26 at the end of its second season.
Netflix has lost a massive amount of subscribers lately, and people argue that this could cause it to withdraw some of its shows. Nevertheless, this hasn't stopped Netflix from releasing their 2022 movie slate, including some promising titles. In the coming days, we will see premieres of the productions transmitted and their effect on the platform.
Which one of these upcoming films excites you the most and why? Tell us in the comment section!
Featured Image via Netflix
Leave a comment